THE FLAMINGOES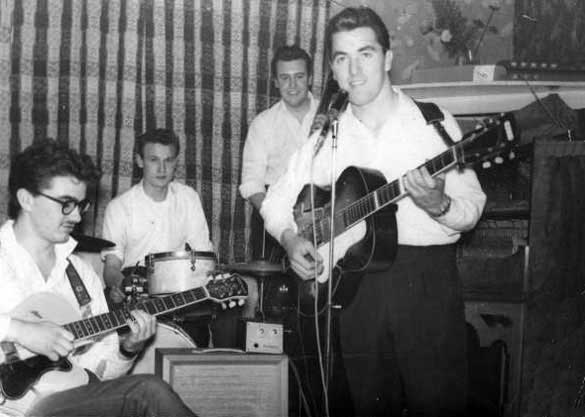 The Flamingoes with Roy Potter on lead guitar, Jack Taylor on drums, Malcolm Green on bass guitar and Bill Turnbull on rhythm. This was taken at the Queen public house in Easington Road, Hartlepool. The Queen was a regular venue for Hartlepool bands at the time with The Hartbeats and Rock-Avons regular visitors. The Queen, like many of the 'music pubs' of those days, is no longer there. The Catcote, too, has gone and the Touchdown is now a Chinese restaurant.
The Flamingoes at the Queen public house in Easington Road, Hartlepool during late 1959 or early 1960. The photograph (above left) shows Jack Taylor on drums, Bill Turnbull on rhythm guitar in the centre with Malcolm Green on bass. On the right is Malcolm Green on stand-up bass and Bill Turnbull.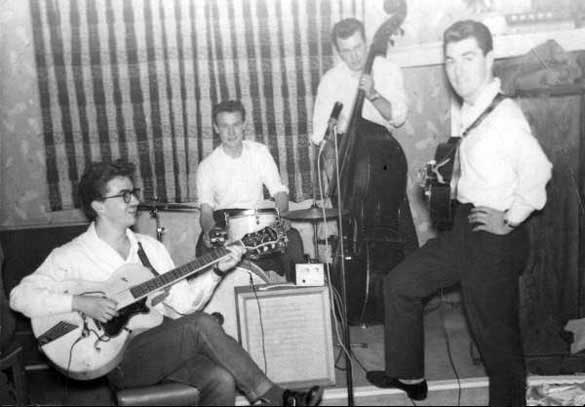 Roy Potter, Jack Taylor - who was also known as Wacky Jacky - Malcolm Green and Bill Turnbull.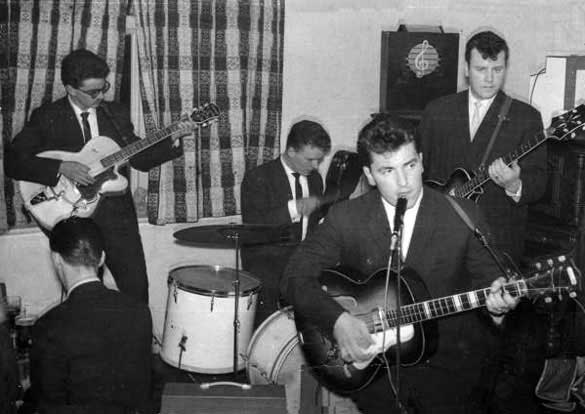 This photograph of The Flamingoes is from 1961 and also at The Queen. Drummer Jack Taylor had left the band and was replaced by Peter Allen.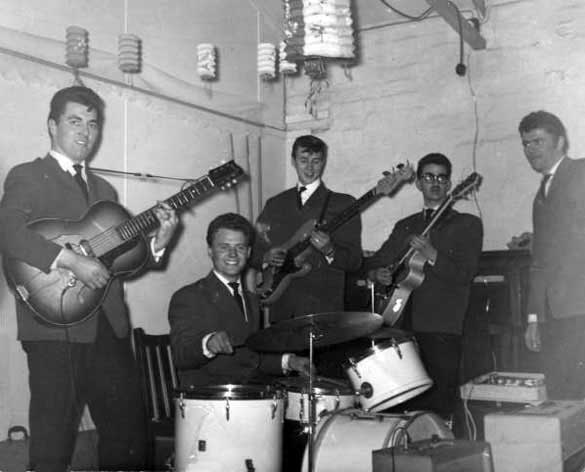 The Flamingoes photographed around 1962-63 with Bill Turnbull, Peter Allen, Keith Berry on bass, Roy Potter and Ian (Shane) Shaw. Bill's son, Philip, who sent us this collection of photographs, is not sure whether this was a permanent line up of the band or Shane appeared as a guest. The guitar that Bill is using was not his own - but the D'Armond pick up was! Note Keith Berry's bass. It was the first ever Fender Precision Bass in Hartlepool and dates to about 1961/2. We are reliably informed that he went all the way to London to get it!
Footnote: David Griffiths tells us that Ian "Shane" Shaw did play with The Flamingoes when the Ravons split up, the original bass player, Malcolm Green was known as "Red" and the last we heard lived in Billingham and Jack Taylor's real name was Robert.
Photographs on this page are © copyright to their respective owners and must not be copied, or used, in any way without prior written permission.
This page is dedicated to the memory of Billy Turnbull, who passed away in 1994, and to Keith Berry who passed away on Monday, June 8th, 2020.

You can search this site with Google
The bass playing monkey on this page was created by Dave Sutton - graphics and free 3D animated gifs for web sites.
This website is not responsible for the content of external internet sites
Copyright © Stan Laundon.com