THE BACHELOR BOYS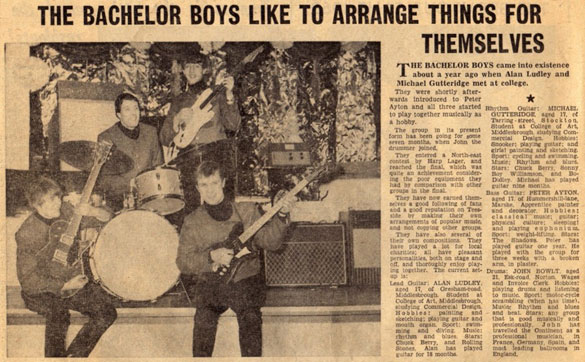 Thanks to former Rink band member, Terry Metcalfe, for this press cutting which was in the Evening Gazette, Middlesbrough, on Saturday, March 7th 1964.  It shows John Bowlt on drums and rhythm guitarist, Mike Gutteridge at the back with a very young Alan Ludley (front left) and Peter "Tubby" Ayton (front right) in a band called The Bachelor Boys. To see a larger version of this cutting, click on the picture.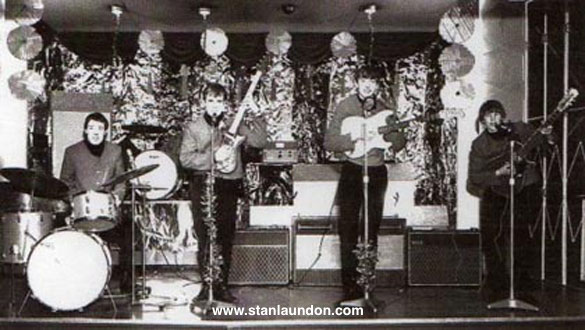 The Bachelor Boys in 1964. This photograph, which was sent to us by John Bowlt, was taken at the Astoria Ballroom, in Middlesbrough. It shows, left to right, John Bowlt on drums, Peter 'Tubby' Ayton on bass, Mike Gutteridge on lead guitar and Alan Ludley on guitar and vocals. Peter Ayton says: "Also in the picture is my bass speaker cabinet built by Mick Gutteridge's dad, with quite a few of the parts from Stockton Corporation (as it was known) bus depot!"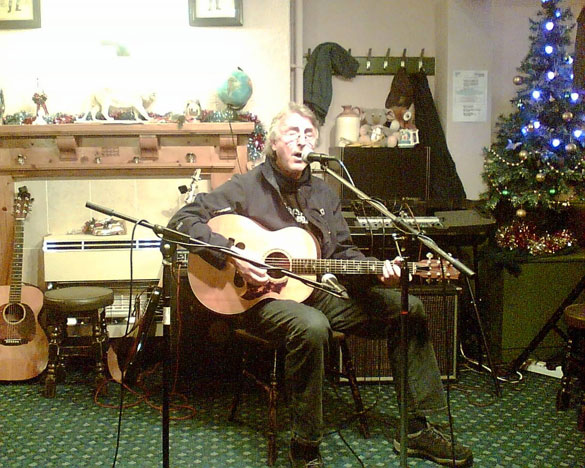 Mike Gutteridge photograph by Colin Burns.
Mike Gutteridge, who travels the country playing American acoustic folk music these days, reminisces about The Bachelor Boys:
"I was a founder member of the Bachelor Boys. Alan Ludley and myself were in the same class at Middlesbrough Art College. We were introduced to Peter Ayton by another class member and so the Bachelor Boys were formed. I was the lead guitarist with Alan Ludley on guitar and Peter on bass. We advertised in the Gazette for a drummer and we were subsequently joined by John Bowlt. After about a year, Bill Randall came on to our course at Art College and we invited him to be our singer. We changed the name to the Denmen as our manager was opening a club in Middlesbrough called the Den. John Bowlt left after about a year and we were joined by Dave Ritchie. He eventually left us to become the drummer with Wee Willie Harris. I left the group when they were offered a contract in Germany. I felt it was time to knuckle down to my studies."
John Bowlt, who later went on to be a member of The North Country Four, can be heard presenting "The Country Show" on North Cotswold Community Radio each Saturday at 12.00pm.
You can see Mike Gutteridge on YouTube with his composition "Buddy Holly Plays The Globe" - please leave a comment if you can.
In memory of Alan Ludley - always remembered and never forgotten.
This website is not responsible for the content of external internet sites
Copyright © Stan Laundon.com