JOHN WHITTINGHAM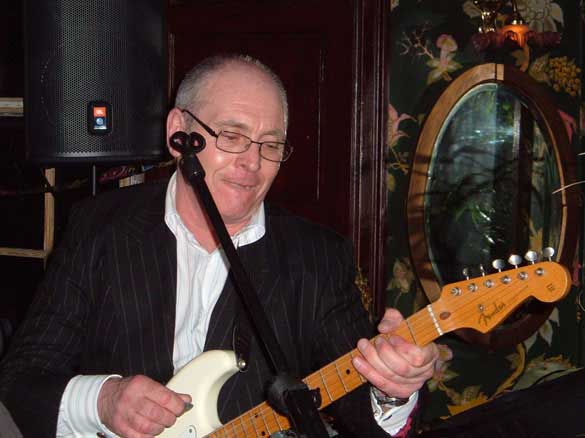 A tribute to John Whittingham by Nev Reed:
John was the guitar player and vocalist for a number of bands dating from the 1960's (Down & Out, Elastic Band, Cycle, Desperado and Raised on Rusks – sorry if I have missed any). He passed away in hospital on 23rd January 2015.
In my other entry for the NSU Sound I have mentioned that my first real encounter with John was on New Year's Eve in 1968 when I was 15 years old. My band were supporting Cycle at Middlesbrough Town Hall and this was a huge gig for us in that we were the young upstarts supporting a band of musical "legends". I do recall the gig well – Cycle were awesome (they always were) and it was a memorable night.
Over the following years I went to see John and Cycle play whenever I could and I was always impressed with their style and delivery. It was no wonder that other bands in the area had difficulty getting gigs – Cycle seemed to have a monopoly of all available work.
Even though I followed John and his bands a lot I always felt a little shy in trying to talk to John (too much hero worship got in the way) but he certainly had a big impact on the way I approached the task of playing guitar.
Over the last few years we spoke quite regularly and met up to go and see other bands and it was only then that I realised that there was only a three year age gap between us. Three years is a lot when you are 15 years old but not so much when you are in your 60's. We had a lot in common and I am pleased to say that I could call him a friend.
A few years ago we were invited to a 60th birthday function at the Cleveland Tontine where some of us got up for a play with Pete Gilgan's band. Fortunately photographs were taken and some of them are shown on this page.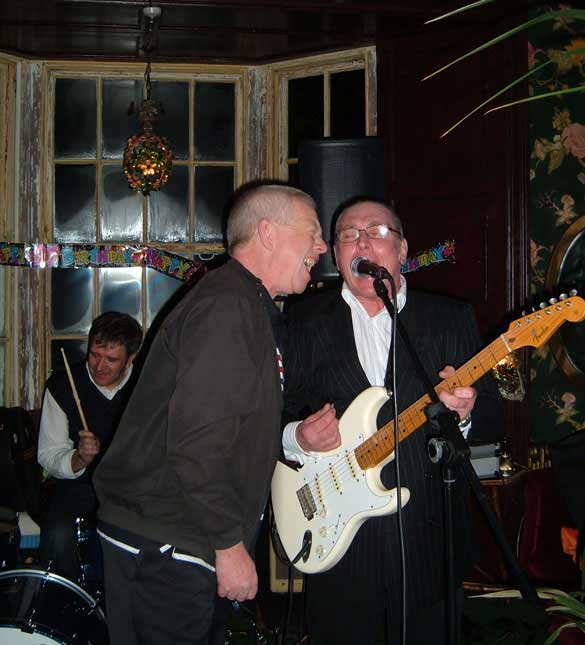 Nev Reed & John Whittingham in perfect harmony.
John Taylor, who played with John in a couple of bands, paid this tribute:
I first met John in 1965 when he was playing with The Down and Outs but they split in late 1965 and Collie (drums),myself (trumpet), Rob Atkinson (tenor sax), Jeff Tisbury (bass), John Ord (vocals) and Peter White (guitar) started a band rehearsing at Jeff's parents farm in Hemlington. The band never gigged but Rob and I use to go and watch bands like the Crawdaddies and Denmen whose band members were much older than ourselves and they were the bands we aspired to.

Then The Elastic Band appeared with lads our age. We first saw them at the Sacred Heart on Linthorpe Road with another band called The West Coast Promotion. The Elastic Band Line up was Eugene McCoy on vocals, Tony Relph on drums, Andy Strickland on bass, Bob Evans tenor sax, Barry Robinson on keyboards with John Whittingham on guitar. John had replaced Jim Cairnes on guitar. When talking to John he said the band were looking for a baritone sax player and Rob had just bought one so he was invited to Mr.McCoy's Club in Bottomley Street for an audition by Will Grimston who was the roadie/manager. It was a Sunday night and I went along with Rob and thought I'll take my trumpet - not that they were looking for a trumpet player - but if Rob left the band we were rehearsing with, what was I going to do? No local soul band at that time had a trumpet player so I must have been the first. At the audition they gave Rob a couple of numbers to rehearse but asked me to have a blow also. Well it was such a big sound Rob and I were asked to join leaving Collie and Jeff much to their disappointment. As The Elastic Band we had a great local following but were probably only together a year and in that time Jeff Tisbury replaced Andy Strickland on bass and I stood in for John on guitar (I'd bought a guitar at this point and learnt a few chords and was also watching John play which was helpful) when he got tonsillitis. It was hard to double on guitar and trumpet but John never came back and the band split. Rob, Jeff and myself then started Soul Supply with Collie on drums, Ray Johns on keyboard, Bob Gray on tenor sax, Al Todd on guitar) and Paul Cattermole on vocals. I lost touch with John after The Elastic Band until Cycle appeared but we kept bumping into each other through old band mates like Norman Smith and Colin Bradley.

I played with John again in 2012 when Colin Bradley came over from Canada and wanted to gig with our band of geriatric pensioners "Old School" but I thought what about a reunion with some Colin's old band mates - so I contacted John and said let's do it as Desperado which had also included our bass player Geoff O'Donnell so there was Alun Edwards on vocals & percussion, John Whittingham on guitar & backing vocals, myself on guitar & backing vocals, Colin Bradley on guitar and vocals, Geoff O'Donnell on bass & backing vocals and our drummer Geoff Peacock. We played the Cleveland Tontine on a Thursday and the George and Dragon, Yarm on the Sunday. We had one rehearsal of six songs without Colin but when we played Colin and John remembered a twin guitar solo they played together in the seventies on "Still the One" by The Orleans, happy memories. I had tee-shirts printed with "Desperado Reunion 2012" and Colin has photos and a video of the band performing. We've lost an old band mate and great guitarist. You can enjoy a video clip here from YouTube which was recorded at the Cleveland Tontine on Thursday, May 17th, 2012 which has John Whittingham on guitar, Barry Hagan on harmonica, Geoff O'Donnell the bassist, Steve Cooper on drums, Colin Bradley on guitar & vocals, Alun Edwards on percussion & vocals with John Taylor on guitar.
Colin Bradley, now living in Canada, has also offered the following:

"Alun Edwards and myself had just finished an 18 month residency with the house band at Testo's Bowl and Nightclub in Consett in 1976 when we decided to make some changes in our lineup and try the club circuit again, and were fortunate enough to persuade Norman Smith to join on drums, and his former Cycle colleague John Whittingham on second guitar, and so began Desperado. I had known John from the old Elastic Band days at Mr. McCoy's where the Road Runners often shared rehearsal space with Eugene McCoy's band. John's guitar style was radically different than my own, but we bonded from the start and people invariably commented on how our differing styles made a huge statement in the Desperado stage show. John also contributed an important third vocal element and once we had recruited Geoff O'Donnell on bass (later replaced by the late Mick Sandbrook) we had a formidable line up which could perform challenging material from the catalogues of bands like Steely Dan, Orleans and The Eagles of course. I enjoyed playing with John immensely and he often told me that the feeling was mutual. He was a good friend, an awesome guitarist and the most decent human being you could ever meet."
John's funeral was held on Monday, February 9th at Middlesbrough Crematorium and was very well attended by his family, friends and his colleagues from his time working as a head teacher at a school in Middlesbrough. He is sadly missed by all who knew him.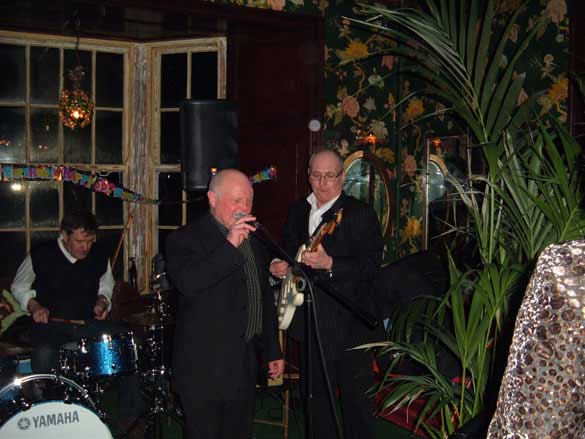 John Taylor on vocals with John Whittingham on guitar.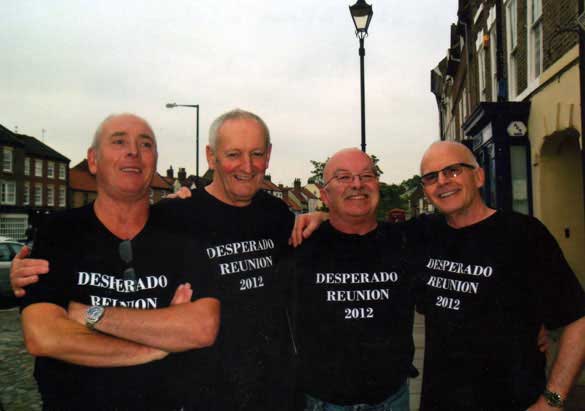 More wonderful memories with this photograph of the Desperado reunion 2012 which was held at the George & Dragon in Yarm and facilitated by John Taylor. The smiling faces are, from left to right, John Whittingham, Geoff O'Donnell, Alun Edwards and Colin Bradley.

Copyright © Stan Laundon.com