TONY AND THE MEAZZIS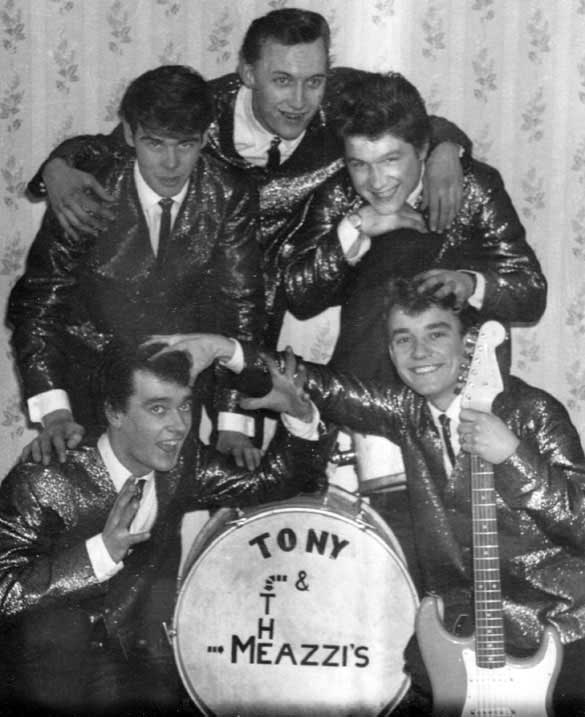 Tony & The Meazzis with Bob Ferry at the top of the photograph with his right arm around Tony (Alf) Hext. Below him is Fred Lowther the bassist. Bob's left arm is on Geordie Jones' shoulder and below him is Terry Edwards. The band, who hailed from Shotton, Peterlee and Wheatley Hill, had Tony Hext on lead vocals, Bob Ferry on rhythm guitar, Terry Edwards on lead guitar, Fred Lowther on bass and George Hine on drums.
More publicity material from Tony & The Meazzis with this business card shot.
The above photograph shows a little more publicity material with, top to bottom, Geordie, Bob, Fred, Terry with Alf in the front. On the right is Tony - Alf to his friends - Hext and Bob Ferry on stage at the Elite Ballroom in Crook, County Durham.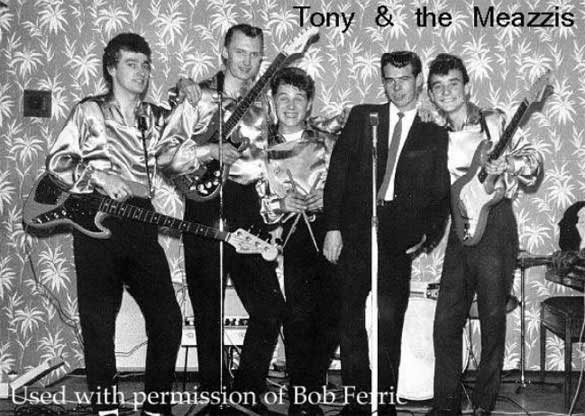 All the photographs on this page are used with kind permission of Bob Ferry - not just this one! Left ro right here are Fred, Bob, George, Alf and Terry.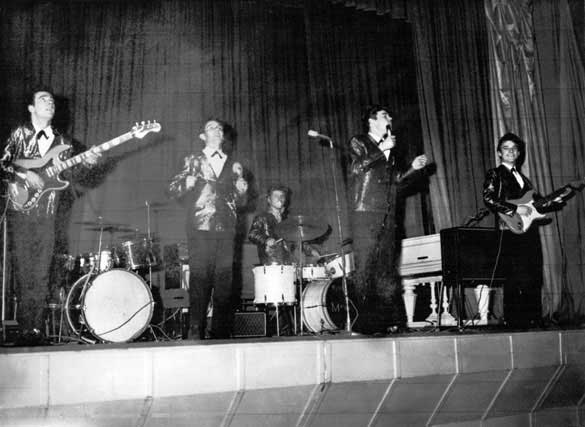 The Meazzis minus Bob Ferry, who's out of the picture, on stage in the Newcastle area in the 60's. From left to right we have Fred Lowther looking to the heavens, in the centre is the band's manager Mervyn Hodgson playing the maracas. Bob says "This happened once or twice to our embarrasment". Mervyn lived in Penryn Street near Burn Valley in West Hartlepool. On the drums is Geordie Hine (who sadly died in 2011) then Tony - or Alf Hext - and last, but not least, is Terry Southward the lead guitarist.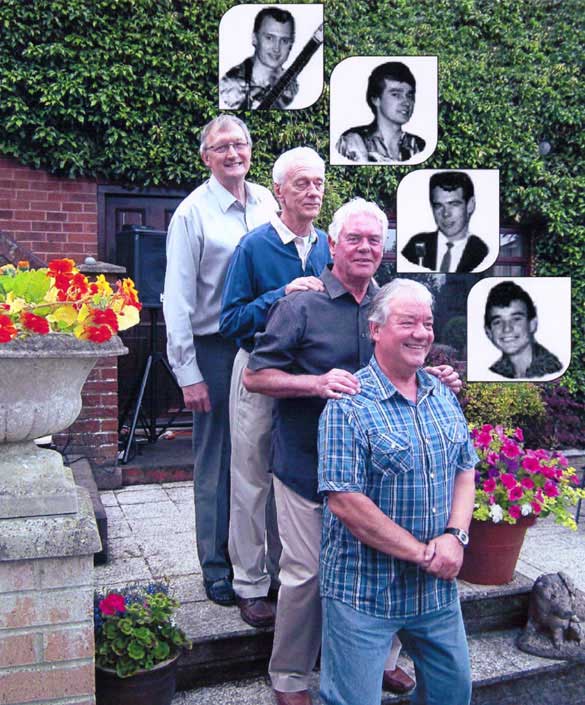 In July 2012, Mrs. Pauline Carr, a lady who was very close to Tony and the Meazzis in the 60's, allowed them to use her house in Wheatley Hill to host a 50 year re-union of the band and the result was a tremendous success, as two of the group had not met for nearly 50 years and almost didn't recognize each other. At the top of the picture, with the neck of a Hofner Verithin almost in his earhole, is Bob Ferry. Next down is Fred Lowther, who has spent most of his life working abroad, but now resides in Hart Village. Alf (Tony) Hext is next, still rockin' with "Remember When" and living in Norton. At the bottom is Terry Southward, who lives in Blackhall and incidentally, has a son called Graeme, who is currently keeping himself very busy entertaining a large section of the Northeast with songs from the 60's, 70's and 80's.

A brief history on Tony & The Meazzis as told by Bob Ferry:
In the early sixties, in Shotton Colliery, myself and a couple of mates who were interested in playing guitar, got together regularly "jamming" at each others houses and as the group grew and amplification was introduced we had to, eventually, try to find somewhere to practice. This was resolved by my father managing to convince the committee of the Palms Workingmens Club to let us use their hall when it wasn't being used.
This worked fine until a few weeks later they asked us to do a little spot on Saturday night. We were terrified! It was great to play amongst ourselves, but to perform in front of an audience, well, it fairly fazed us at the thought, but we couldn't very well refuse. As it happened, it went very well as most of the audience was made up of family, friends and relations.
Several more shows led to other clubs in the area wanting a slice of this new, live and modern music to attract the younger people to their venues and in a comparatively short space of time we found that we were booked weeks and sometimes months in advance. At the time the line-up was, I think, around seven. A lead guitar (myself, although I was happier with chords, and still am), two rhythm guitars, a double bass (when he could make it; he was a student at Durham University) a drummer with a dance hall kit and two singers.

We chopped and changed and trimmed over the first year until we got a tight line-up and called ourselves The Desperadoes. The bookings either came from enquiries in person or to the two members of the band whose parents had a phone. A Hartlepool Music Shop owner, who had a shop in Wingate and called Mervyn Hodgson, decided that he would take us under his wing became our Manager and fancied himself as a budding Brian Epstein.
This was great, for as well as doubling and sometimes tripling our earnings (we were working for around 15 quid a night), he decided that we would have the best gear so in no time at all we had Fender guitars, Vox and Binson amplification and what I believe to be, one of the first commercial PA Units, a Meazzi Factotum. Mervyn then told us that our name was wrong. The Desperadoes incurred that we were in dire straits (not the band), so after a brainstorm, someone suggested we use Meazzi as it sounded different. Alf (Hext) and the Meazzis didn't sound right, so Tony was adopted as it sounded more Italian.
For two or three years we had a real good time travelling down as far as York and up as far as Ashington and supporting acts like: The Searchers, Johnny Kidd and the Pirates, The Outlaws, The Undertakers, The Big Three and also The Animals (when they were The Alan Price Set). After getting married, I left and eventually the group disbanded, going their own ways.
I returned to the Club scene in the seventies with Whiskey Mack (a Hartlepool Band) and when they disbanded, Trish and Alan Jacques and myself formed The Three Wishes and had a very successful few years as a trio on the club circuit. I now live in Norton and am more inclined towards country music as my wife is a line-dancing instructor as I see to her music and stage equipment.
Our lead guitar Terry Edwards (or Southwards as he was sometimes called) still lives at Blackhall. Freddie Lowther (bass) took to working abroad we have lost touch with him, but the last I heard (20 years ago), he was living at Hart Village. George Jones (or Hine) unfortunately died last year of a massive heart attack. He was living on the Isle of Wight as, after our "Glory Days", he joined the Prison Service and settled there after several other postings. Alf Hext (Tony, our singer) although a qualified electrician, also joined the Prison Service and would you believe, after 50 years, he is still singing around the North East with an award winning rock 'n roll tribute duo called Remember When. I see Alf very regularly as his lives just around the corner from me.

Brian Pounder, of The Corantos says: "When The Meazzis group broke up Terry Edwards and Bob Ferry joined my group with Pauline Cairns and Ken Nicholson, the original bass player of the Corantos, to reform the Corantos. "Tony and The Meazzis took their name from an echo machine that their manager Mervyn Hodgson who was owner of a music shop in Wingate, imported from Italy and was called a "Meazzi Factotum".
This page is dedicated to the memory of Geordie Hine and Fred Lowther.
This website is not responsible for the content of external internet sites.
Copyright © Stan Laundon.com