THE KAVEMEN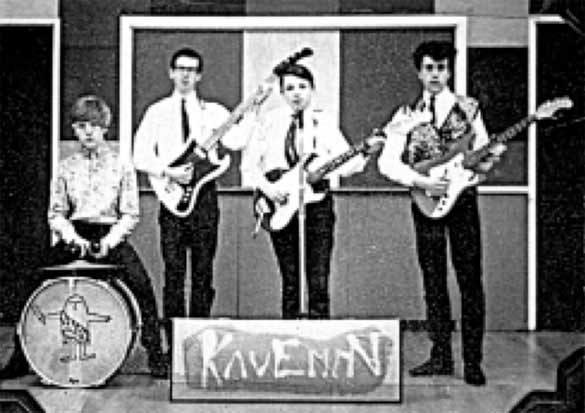 The Kavemen, from Peterlee, taken around 1963 in Peterlee Community Centre. They are, left to right, Ian Byron drums, Dave Batten with a Fenton Weill bass guitar, Steve Burnett with an Antoria guitar and Terry Smith with a Vox  Dominator guitar.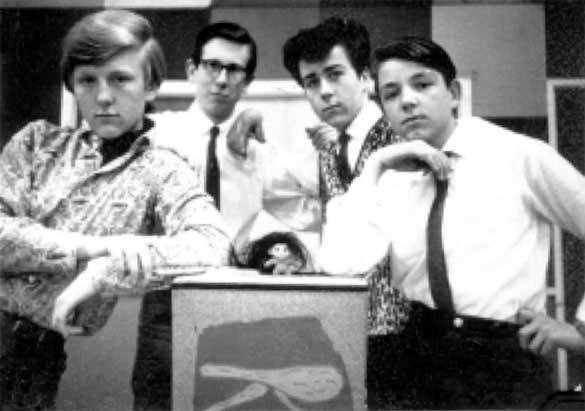 The Kavemen pose for the camera - with Ian Byron, Dave Batten, Terry Smith and Steve Burnett.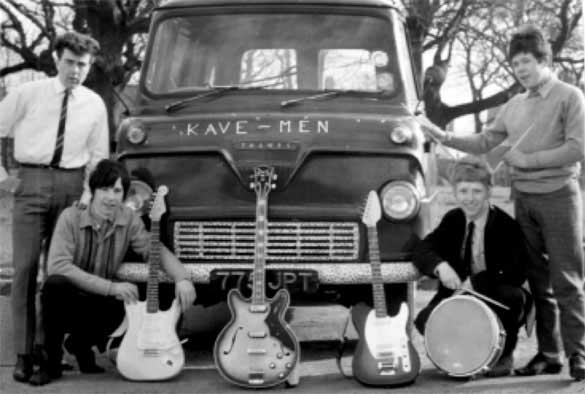 A later picture with Terry Smith,  Ray Minhinnett  - with Terry's pale blue Fender Stratocaster - Dave Battens' Vox bass, Ray's Tele Style guitar ( they think it was a Vox but not sure) Ian Byron and one of Ian's mates who was in the picture because Dave was in the toilet at the time!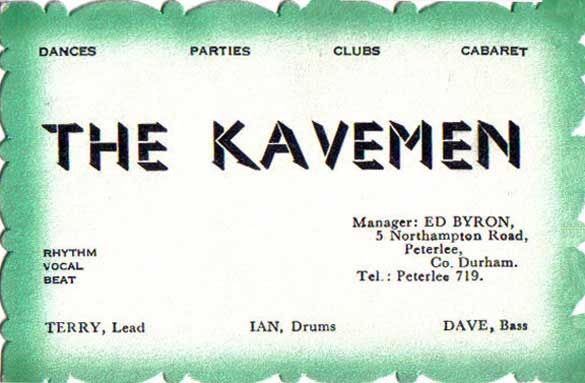 It's always nice to see old business cards. Thankfully Dave Batten managed to hang on to some of the old memorabilia and cuttings. You can see others on this page. Terry Smith, Ian Byron and Dave Batten were members of the trio back then. By the way, don't try calling Peterlee 719 these days because you won't get through!
A brief history of The Kavemen as told by Terry Smith:
The Kavemen formed about 1963 when Terry Smith left a band from Horden called Johnny and the Blue Streaks and joined Ian Byron and Dave Batten as a trio. Steve Burnett joined, was in the first couple of photos to be taken, but only stayed with the band for a couple of months. Terry, Ian and  Dave worked as a three-piece until around mid 1965 when Ray Minhinnett joined. They played regularly all over the area and, for a while, had a regular monthly slot at The Adelphi  Hotel in Coldbath Road, Harrogate.

Around late 1966/1967 the name was changed to The Traine, and in early 1967 Terry left to join another  Peterlee  outfit, The Mizares.

Since then, Terry went on to play with the comedy band Sugar 'n' Spice until 1975, joined up with Chubby Brown to form Allcock & Brown, then went solo until 1980 when he rejoined Sugar 'n' Spice with Denis Fox, from  Durham, and John Barber from Ferryhill. They enjoyed great success on the clubland circuit during the 70's and 80's, and in 1997, with the clubland scene changing, changed the name to My Generation and went back to playing 60's music, using big screen videos of the 60's bands as part of the show, appearing on the same bills as Edwin Starr and The Drifters (with Johnny More) amongst others.

I (Terry Smith) lost track of the lads from The Kavemen over the years but it's pleasing to note that, through this website and Hartlepool Mail, some of us have been in touch again.
Dave Batten says: I left the band in the autumn of 1967 due to family commitments and being put on shiftwork (Hartlepool South Works). I kept in touch with Ian and Ray, on and off, over the next half a decade or so, but completely lost touch with Terry. While I have not been as busy as Terry and Ray, I did in later years get back on the road. After a gap of 30 years, in 1997, I played bass with local band Worbella for a year, and then with Left Hand Drive for about three years, until the summer of 2001.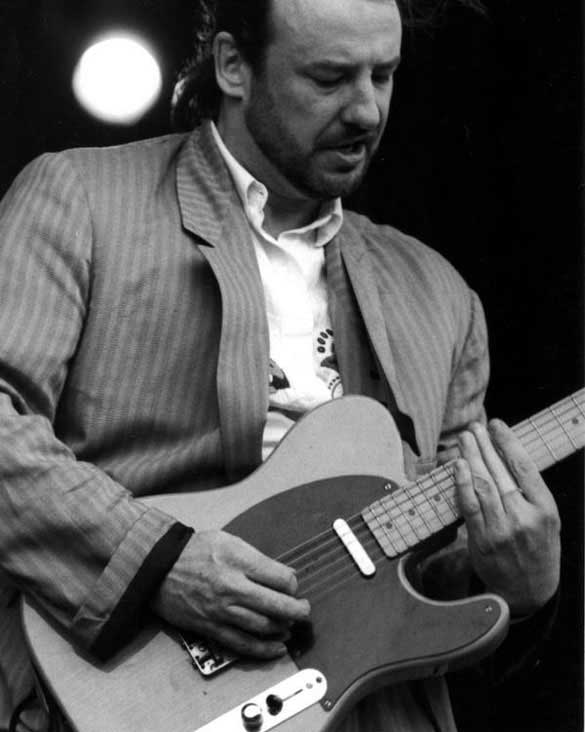 Ray Minhinnett (above) says: Terry Smith, Dave Batten and I have been in touch since this page was created and hope to arrange a meeting with other band members soon! On a personal note, I moved to London in the late 60s and signed with Alan Price and Tappy Wright - Wright Price Agency - around 1969. The band I worked with consisted of myself on guitars and vocals, James E. Hall (who went on to form Frankie Miller's Full House with Frankie and me) and played with Nigel Olsen's Drum Orchestra (Elton John's drummer also from Sunderland).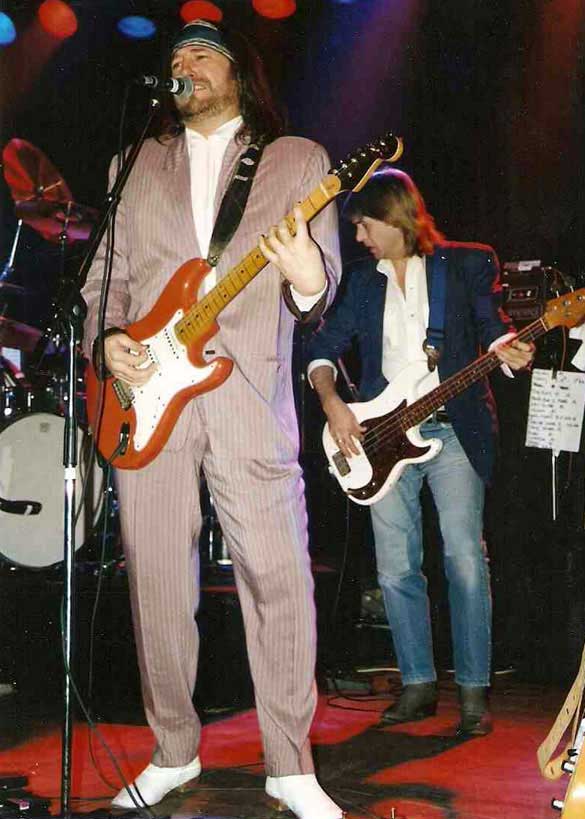 Ray Minhinnett on stage with former Status Quo drummer John Coghlan, the bass player is Chrissie Stewart from Frankie Millers' Full House who also played with Eire Apparrant, Spooky Tooth, Joe Cocker, Ronnie Lane and Van Morrisson.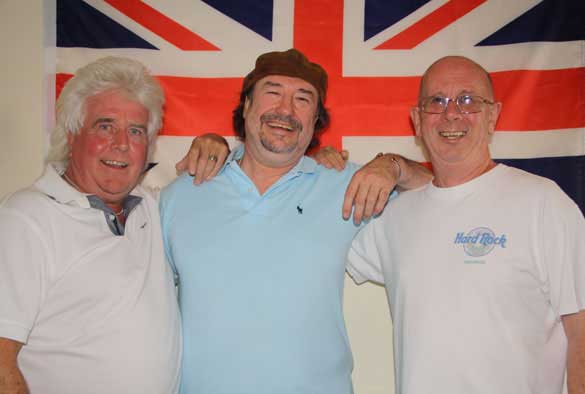 Well, it finally happened after 45 years. Three of The Kavemen met at the Premier Inn in Hartlepool on August 24th, 2012 with Terry Smith, Ray Minhinnett and Dave Batten enjoying a wonderful reunion to talk about old times. Terry and Dave met after 45 years in April 2012 and Terry met up with former drummer, Ian Byron, in France in May - the first time they'd met since 1967. Ian lives in France and couldn't make the journey to Hartlepool but this photograph will bring back many happy memories for him.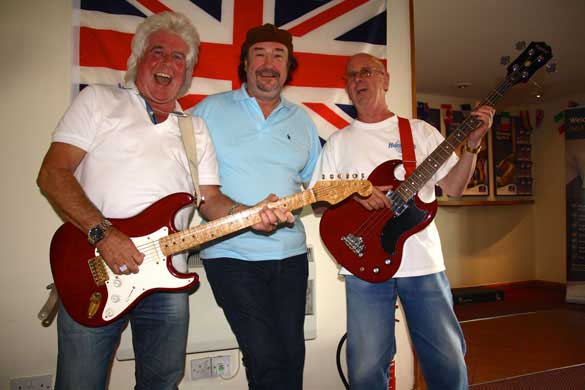 Terry Smith, Ray Minhinnett and Dave Batten getting ready to rock 'n' roll at the Premier Inn, Hartlepool. Photographs © Stan Laundon.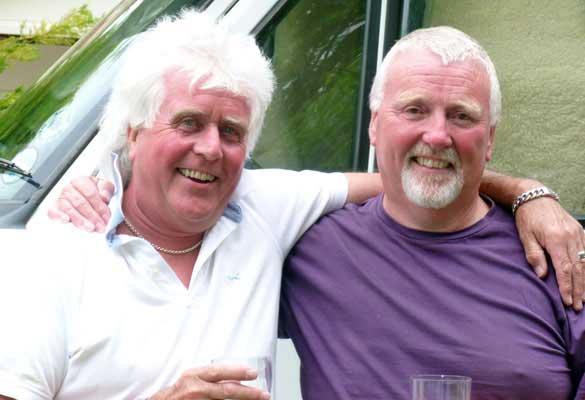 Terry Smith and Ian Byron, the drummer from the Kavemen meeting in Brioux-sur-Boutonne in France during May 2012 - the first time they'd seen each other since 1967. They spent a few happy hours reminiscing but "It wasn't long enough" said Terry "and we must find time to do it again!"
How nice it was to see Hartlepool Mail's Together Again column featuring an article on The Kavemen and their planned reunion thanks to this website and our Bands' pages. Journalist Tracy Walker does us proud! The very latest reunion with Terry, Ray and Dave was also covered in Tracy's Together Again column during early October, 2012.
This website is not responsible for the content of external internet sites
Copyright © Stan Laundon.com