THE CRESTAS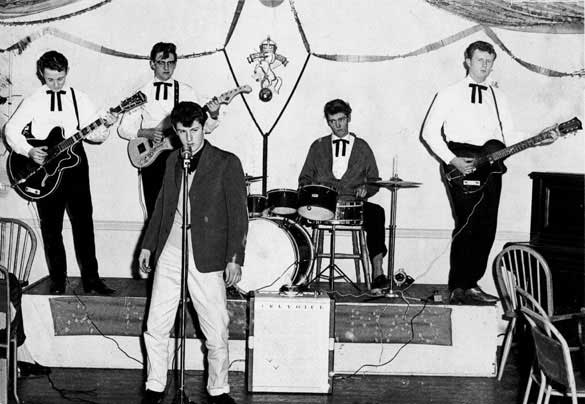 The Crestas first paid booking at the Knights of St. Columbia Club, Church Road, Stockton-on-Tees. It shows Kevin Frank, pre-bass days, Clive Avison on rhythm guitar, Lewis Johnson on drums, Keith Roberts on lead with Ian Carrick on vocals.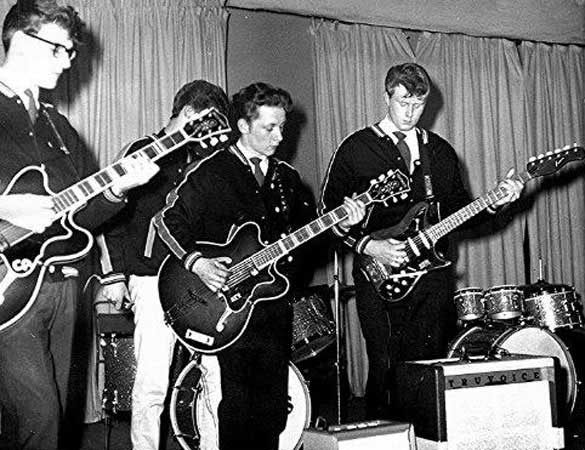 This was taken in 1960 at The Corporation Hall, West Row, at a works function and shows Clive Avison, Ian Carrick, Kevin Frank with Keith Roberts on lead. Lewis Johnson, the poor drummer, as in many band pictures, is totally hidden!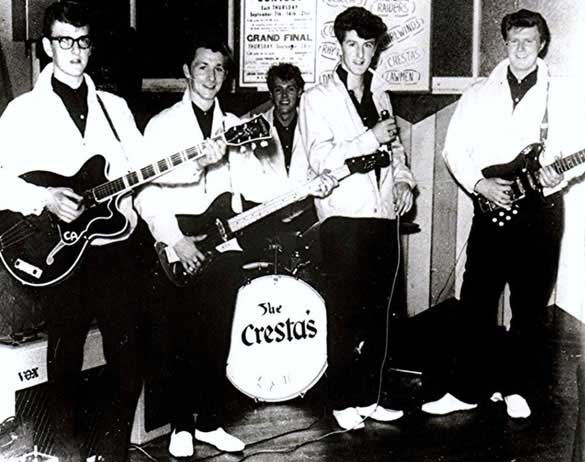 Winners of the 'Grand Final of Rock 'n' Roll' contest at the Pier Ballroom in Redcar, 1962 with Clive, Kevin, Lewis, Ian and Keith.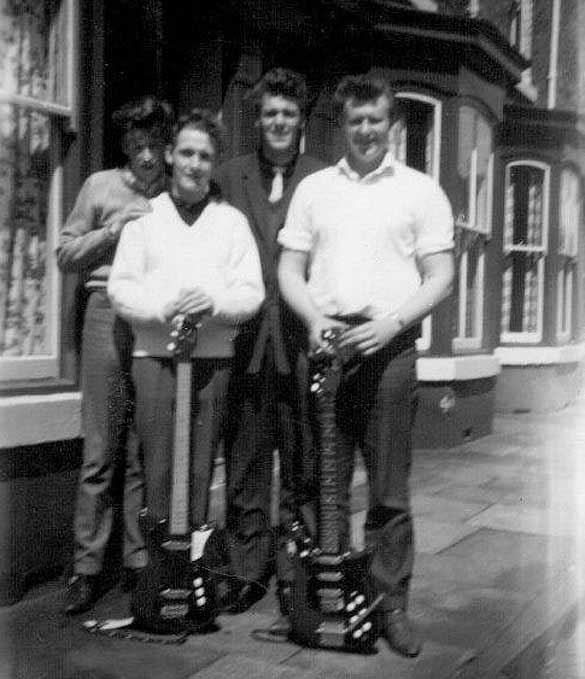 A bunch of posers in Balaclava Street, in Stockton, waiting for other band members to arrive. This shows Billy Roberts, brother of Keith, Kevin Frank, Lewis Johnson and Keith Roberts.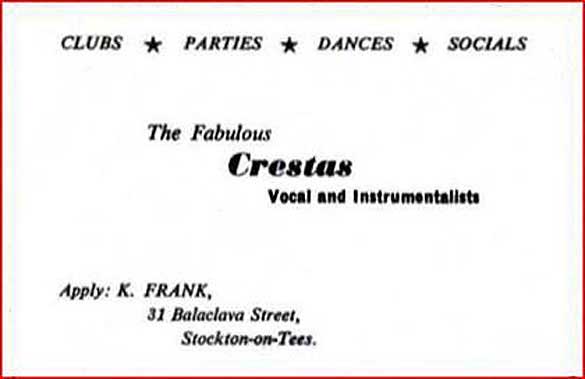 ...and the business card.
A history of The Crestas as told by co-founder member Keith Roberts:
The Crestas was formed in 1959/60 by Keith Roberts and Kevin Frank. We soon had on board another friend and neighbour Lewis Johnson and all three of us began playing together with acoustic guitars we had bought in 1958. We bought the guitars from a mail order catalogue called The British and Empire stores in London, and paid about £2/7/6d for them.
They arrived in a cardboard box containing an orange coloured canvas carrying bag, and we became instantly popular with all and sundry. Another lifelong friend Dennis Coleman (Zephyr's Drummer) had at that time a semi-acoustic electric guitar and amplifier that his brother, who was an electrician, had concocted using a cabinet and an old speaker.
Dennis was well popular I can assure you, because Skiffle was the in thing at the time and with Dennis having a voice pretty similar in pitch to Johnny Duncan we were up and walking......continued here!
My thanks to Keith Roberts for his contribution to this page and sharing his photographs and memories.
This page is dedicated to the memory of Kevin Frank who passed away whilst on holiday in Tenerife in 2023.

You can search this site with Google
The bass playing monkey on this page is by Dave Sutton graphics and free 3D animated gifs for web sites.
This website is not responsible for the content of external internet sites