PHOTOGRAPHY
Photography is very much a hobby of mine these days. I never really took it seriously until I returned to the UK in 2007 after a 14 year holiday in Spain. Do enjoy what you see on this page and pease leave a comment if you wish.
The Infinity Bridge spans the River Tees in Stockton, England. The bridge, which is very picturesque at night, is a major part of the North Shore Development in Stockton. This iconic structure, named Infinity Bridge in September 2008 links the North Shore development and the Teesdale area. I first visited this location in April 2010 and have made several visits since then. Believe it or not I always find different angles to shoot. Photographs © Stan Laundon.
The A4 Pacific 4489 (60010) "Dominion of Canada" at the National Railway Museum in Shildon on May 17th, 2013. She was restored to her former glory having been brought back from Canada in October, 2012. The locomotive will take part in celebrations this year to mark the 75th anniversary of the world record breaking run of "Mallard" (60022) 4468 which reached 126mph on July 3rd, 1938.
The "Normand Flower" leaves Hartlepool's Deep Water Berth for the UK Continental Shelf. The vessel is an Offshore Supply Ship.
Late afternoon sunlight hitting the "MPI Adventure" as she is anchored in the Tees Bay, just off the coast of Hartlepool. She was waiting for the tide to turn before heading for Irvine's Quay to resume her work carrying turbine rotor blades to the Tees Bay Wind Farm near Redcar.
When I was out taking photographs of shipping in the bay I saw this smoke and steam rising in the sky. I just had to take this one of industrial Teesside.
The "PSS Wingfield Castle" at the Maritime Experience in Hartlepool Marina. The lighting is not brilliant here so I tried a rather long exposure to get this photograph.
A huge red, port side, Channel Buoy broke lose from it's moorings in the Tees Bay towards the end of March and was stranded on Middleton Beach. This was taken from a safe distance!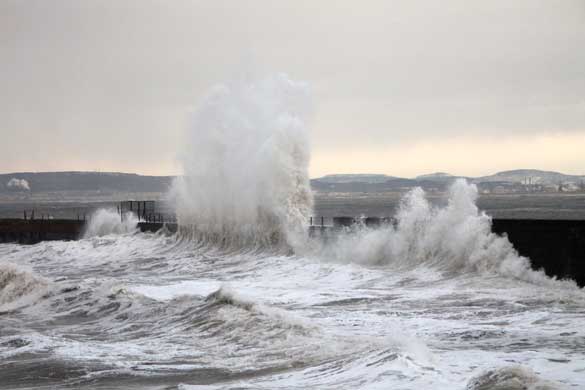 When the wind is wild and the tide is high, the area close to the New Pier (Heugh Breakwater) in old Hartlepool always attracts photographers to monitor the sea and catch the waves.
The flowers might not be in bloom in the gardens, as yet, so I'm perfectly happy to see them in a vase after buying a bunch, or two, from my local supermarket.
I was just about to sit down at my desk to send an email when this little fellow caught my attention. Before he ran off I grabbed the camera, shone a light on him and managed to take this shot before he wandered off into a corner of the room.
Durham Castle and Cathedral took on impressive new looks during the latter part of February with up-to-date lighting installed after the completion of a £600,000 project. Both the cathedral and castle can be seen in a whole new light. Durham County Council paid for the system which illuminates the buildings which form Durham's World Heritage Site.
There was quite a nice sunset over Hartlepool on Sunday evening, February 17th, so I grabbed the camera and drove down to the Pilot's Pier. The lights of the Marina, and the floodlights of Victoria Park, can be seen in the distance.
Snow covered Croft Gardens in old Hartlepool with St.Hilda's Church in the background. The snow makes a picturesque photograph and nice to see on a computer screen!
I'm not a lover of the cold weather and snow but, I must admit, I do like to get out with my camera when the white stuff falls because I think it always makes a nice photograph.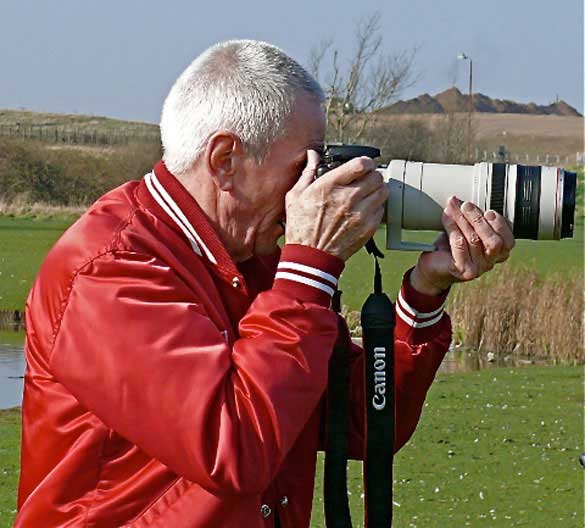 Stan Laundon - Photograph © Larry Drummond.
As mentioned at the top of this page, photography is very much my hobby these days. Friend and colleague Larry Drummond took this one of me at Seaton Carew, near Hartlepool, as we snapped the wildlife in Warrior Way.
If you've enjoyed your visit to this page, and enjoyed my photography, why not tell me about it on our comments page.
All photographs on this page are copyright © Stan Laundon and must not be copied, or used in any way, without prior written permission.
This website is not responsible for the content of external internet sites
Copyright © Stan Laundon.com