ROAD RUNNERS
The Road Runners, from Teesside, started life in 1964. This is their story.....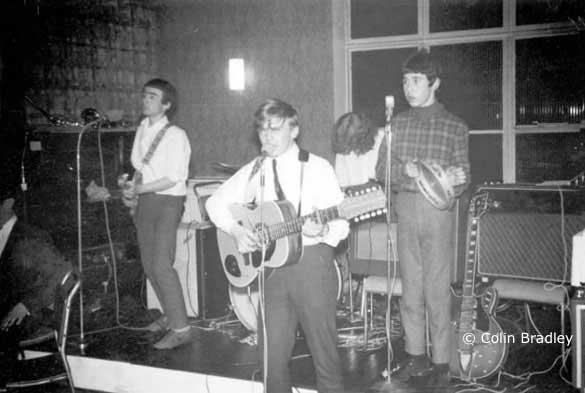 The Road Runners in 1965 - left to right Paul Rodgers, Colin Bradley, Dave Usher and Micky Moody.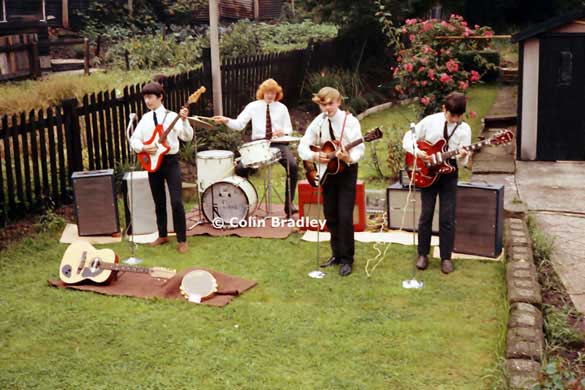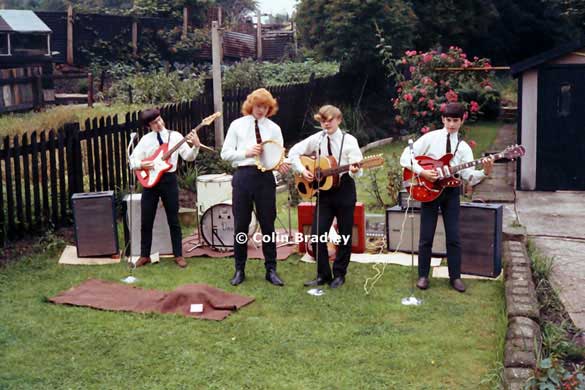 Two photographs of the Road Runners in the summer of 1965 taken in Joe Bradley's garden (Colin's eldest brother) in Norton. Left to right are Paul Rodgers, Dave Usher, Colin Bradley and Micky Moody.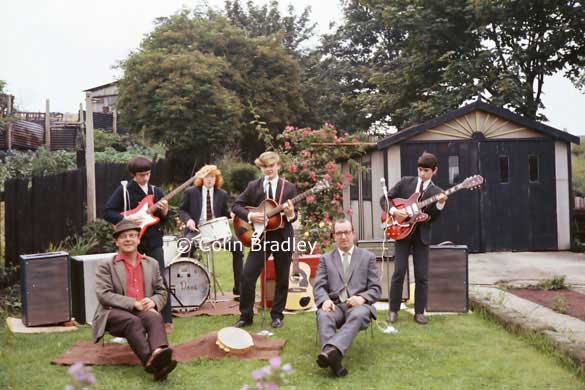 The band in 1965 taken in that lovely garden in Norton, near Stockton, with Joe Bradley, the group's manager on the left, with Paul Rodgers, Dave Usher, Colin Bradley and Micky Moody standing at the back with Ken Taylor, their sound engineer, front right.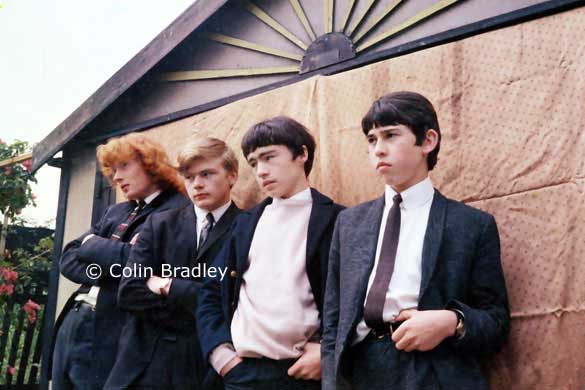 Four very smart young men - Dave Usher, Colin Bradley, Paul Rodgers and Micky Moody.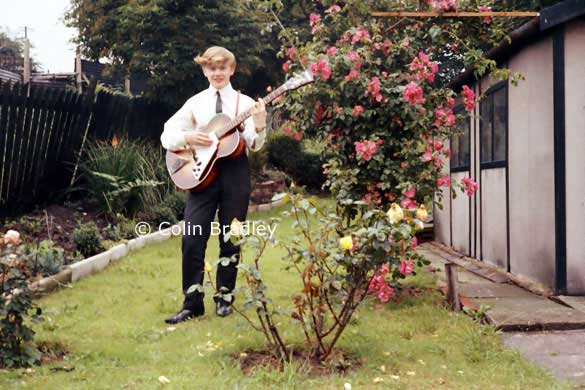 The guitar Colin is holding in this picture is a Hofner Congress, bought by his Mother from Greenwood's pawn shop. He sold it in late 1965 to a fellow in Redcar and then bought a Hofner Verithin. If someone on Teesside still has this guitar, he'd love to learn of it's location and determine if there was a chance of buying it back for nostaliaga's sake. A very long shot we know, but if you can put the word out we'd appreciate it. Drop us a line if you can help!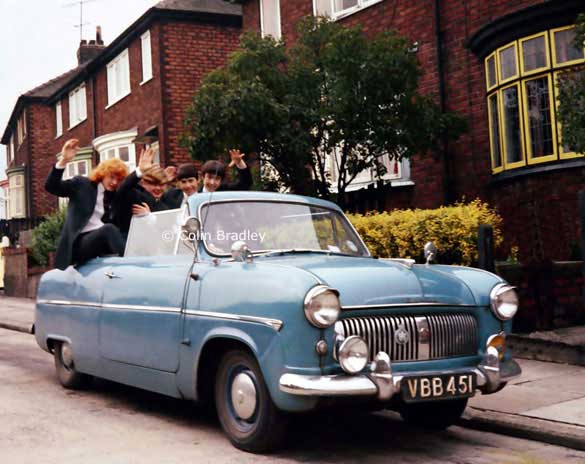 This grand old 1954 Ford Consul Convertible would be worth a few quid today. The happy boys waving outside Joe's home at 31 Brentford Road, Norton, are Dave, Colin, Micky and Paul.
A potted history of The Road Runners by Colin Bradley:
Formed in 1964, the Road Runners consisted initially of Colin Bradley (rhythm guitar and vocals), Micky Moody (lead guitar and vocals), Paul Rodgers (bass guitar and vocals) and original drummer Malcolm Cairns. Bradley and Rodgers attended both primary school (St. Joseph's, Marton Road) and secondary school (St. Thomas' Highfield Road) together in Middlesbrough, and Moody was also a pupil at St. Thomas'. Teacher Vince Early, also a guitarist, facilitated the Road Runners' first public performance at the Middlesbrough Cathedral boy's club on Sussex Street in December 1964. Cairns was soon replaced on drums by Dave Usher from Stockton, who had been recommended by Ian Naisbitt, another local drummer of note. At the time, they were amongst the youngest musicians playing in a local band, but soon began pounding the circuit of youth clubs, pubs and working men's clubs along with the many other talented musicians working in the Teesside and surrounding during the era.
Encouraged and chaperoned by Joe Bradley, Colin's eldest brother who assumed the role of manager and promoter, they were together from late 1964 until late 1966. What set them apart from other groups (the term "band" had not yet become part of the lexicon in this context) was a combination of their tender ages and the eclectic mix of material in their repertoire, which included songs from the Chess record stable for example, juxtaposed with top twenty hits of the period. This, combined with the remarkable voice of a young Paul Rodgers, who eventually assumed the role of lead vocalist and front-man with the addition of Eaglescliffe's Bruce Thomas on bass, gave the Road Runners a unique sound. Prominent local business entrepreneur and musician John McCoy saw something in the band and became a mentor of sorts, using the Road Runners to open many shows for his own band The Crawdaddies and offering them rehearsal space in his club, Mister McCoy's on Bottomley Street. Following the addition of Bruce Thomas to the line-up, the burgeoning professional aspirations of all members except Colin Bradley, meant that the Road Runners would eventually leave Middlesbrough to try their luck with the Cana Variety Agency in London, changing their name to the Wild Flowers as the summer of 1967 bloomed. The London sojourn was short lived and the band folded after a tough period of one nighters and the attendant strain on personalities typical in the circumstances. However, Rodgers, Moody and Thomas would each go on separately to leave indelible marks on popular music culture. Most notably, Rodgers formed the seminal blues rock outfit Free which sold millions of records and has been enshrined as an iconic piece of British rock music history. Subsequently, he fronted Bad Company, another hugely successful and revered blues-rock band which had a string of chart hits. Later years would see him work with a host of notable artists and musicians, including a world tour fronting Queen. Moody had success alongside another of Teesside's sons, David Coverdale, as a founding member of the band Whitesnake. Thomas was a member of Elvis Costello's "Attractions" and as a result, was inducted into the Rock and Roll Hall of Fame. Both Dave Usher and Colin Bradley have continued to be active as musicians from the late 1960's into the 21st century. Colin lives in Toronto, Canada and Usher lives in Ireland.
My thanks to Colin Bradley for sharing his photographs and memories for this page..
The links below are YouTube clips of Colin Bradley playing a regular gig in Toronto as a sideman for local roots singer/songwriter Michael Brennan. Enjoy them!
http://www.youtube.com/watch?v=6f5VLPIFEDM
http://www.youtube.com/watch?v=VFjJSWGRuj8
http://www.youtube.com/watch?v=wnyxOw6-ZfM
Copyright © Stan Laundon.com