THE DELMONTS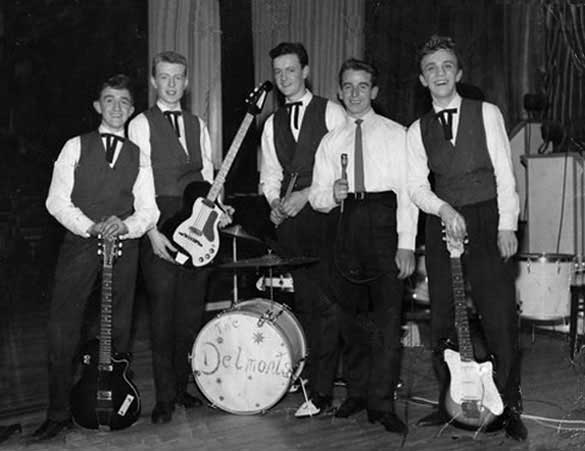 This photograph shows the original Delmonts with Mac Booth on rhythm guitar, Colin Draper on Fenton Weil Bass, Leo McCreaton on drums, vocalist Tony Sidgwick with Ron Taylor on lead guitar. The photograph was taken at Middlesbrough Empire Theatre in 1961 and was used in Hamilton's shop window, in Middlesbrough, showing gig dates.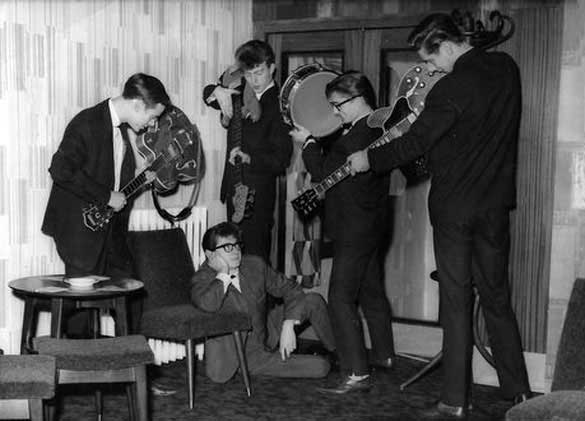 This photograph of The Delmonts shows Nev Henderson the lead guitarist, John McCormick - lead vocalist sitting on the floor - Colin Draper on bass guitar, Harry Simpson on drums and John Prest on rhythm. This photo, as most of the others below, was taken at the Swan Hotel, in Redcar, with four groups playing on that night on a 2 up 2 down basis.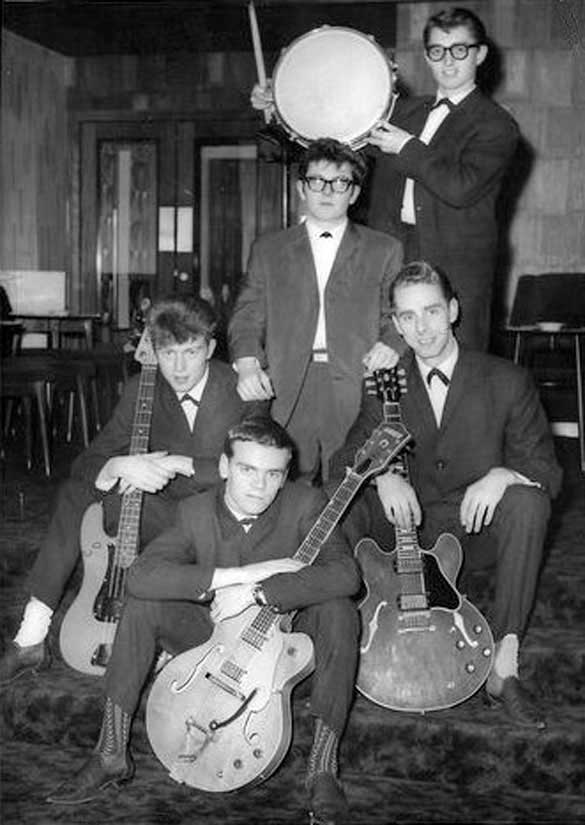 Colin, Nev, John McCormick, Harry and John Prest.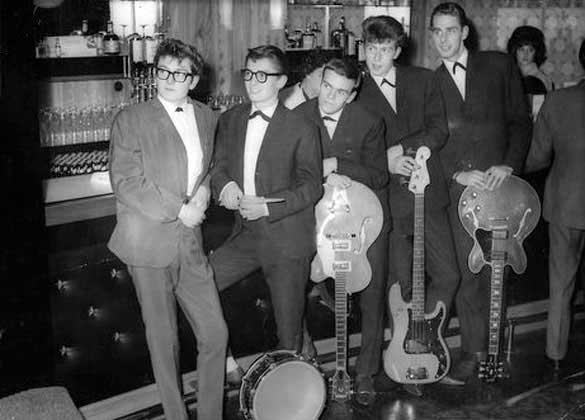 Spending some time at the bar but not drinking, of course, because they had a show to do. This shows John McCormick, Harry Simpson, Nev Henderson, Colin Draper and John Prest.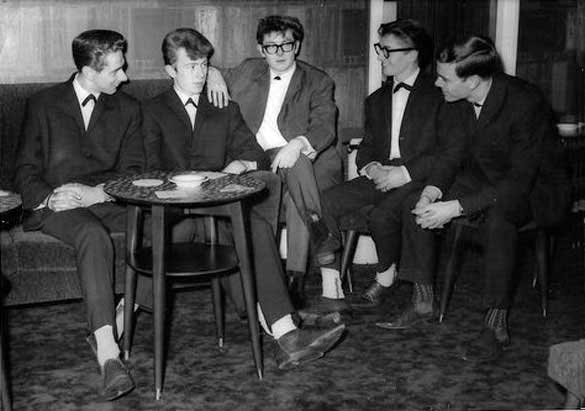 In a serious mood - John Prest, Colin, John Mc, Harry and Nev.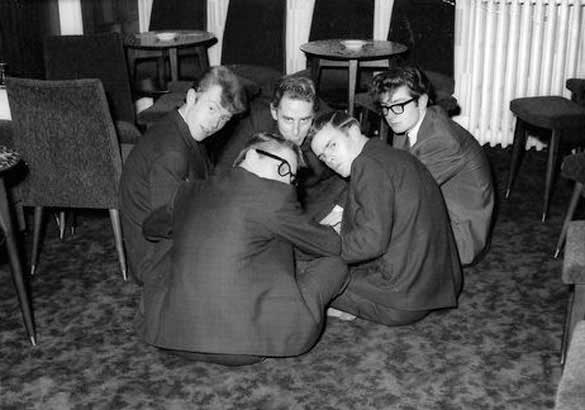 Messing about - professional posers says Colin!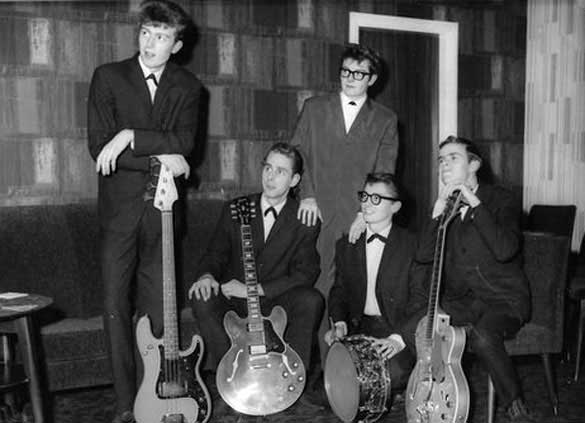 Don't we look nice!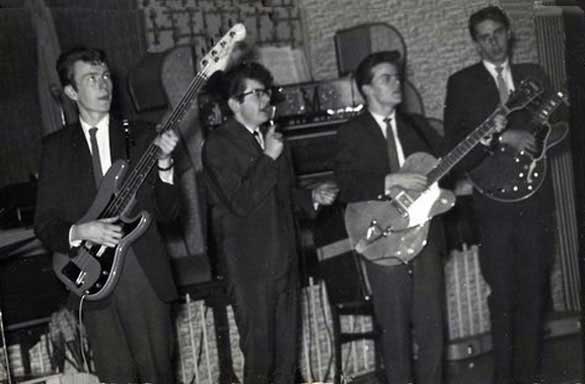 This is in the Pier Ballroom in Redcar, March 1963, with new singer John McCormack, from The Plainsmen.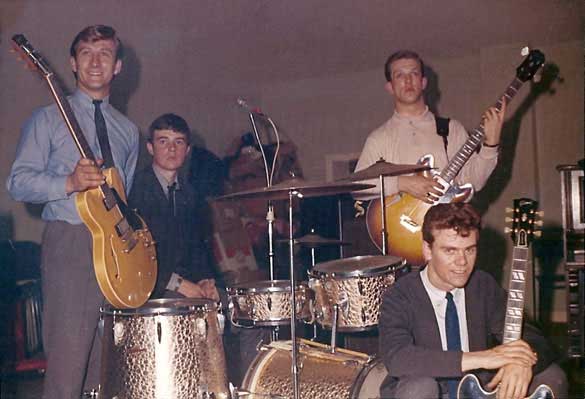 The Delmonts between 1965 and 1970 with Barry Grimwood, Mickey Peacock, Ivan Thompson and Nev Henderson.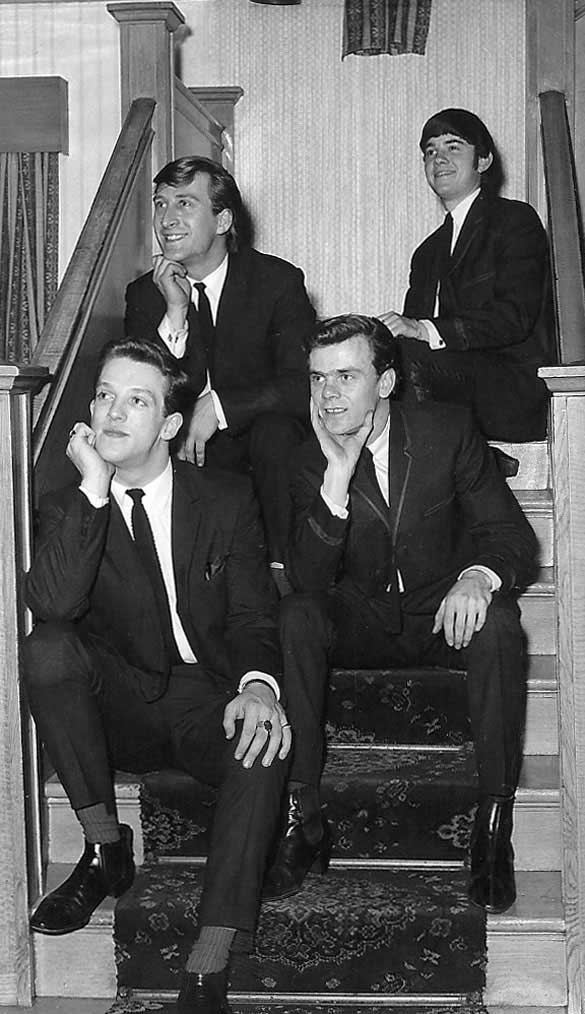 On the staircase with Barry Grimwood and Mickey Peacock at the rear with Ivan Thompson and Neville Henderson at the front.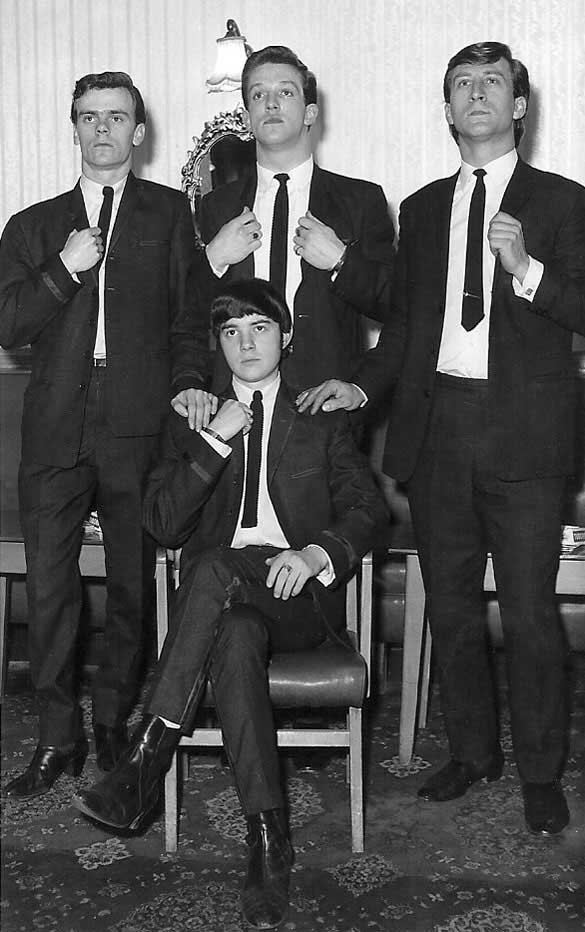 Neville, Ivan and Barry with Mickey seated.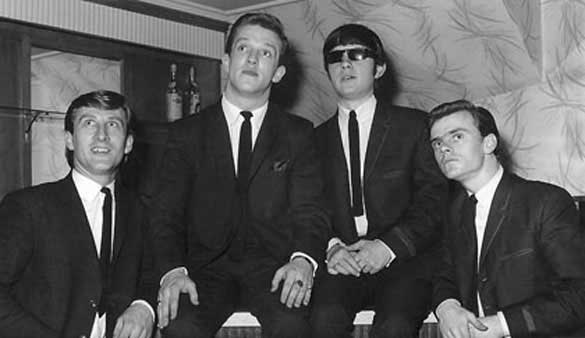 The Delmonts circa 1964/5 are Barry Grimwood, Ivan Thompson, Mickey Peacock and Neville Henderson.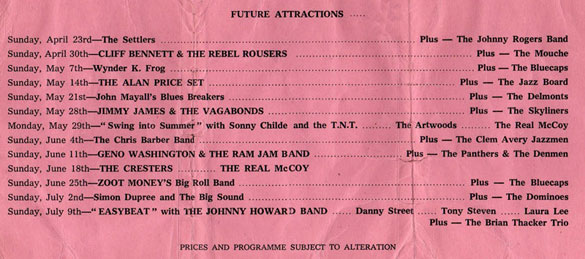 The Delmonts supported John Mayall's Blues Breakers at Redcar Jazz Cub on Sunday, May 21st, 1967. Thanks to Colin Burns for the Redcar Jazz Club flyer which can be viewed larger by clicking on it.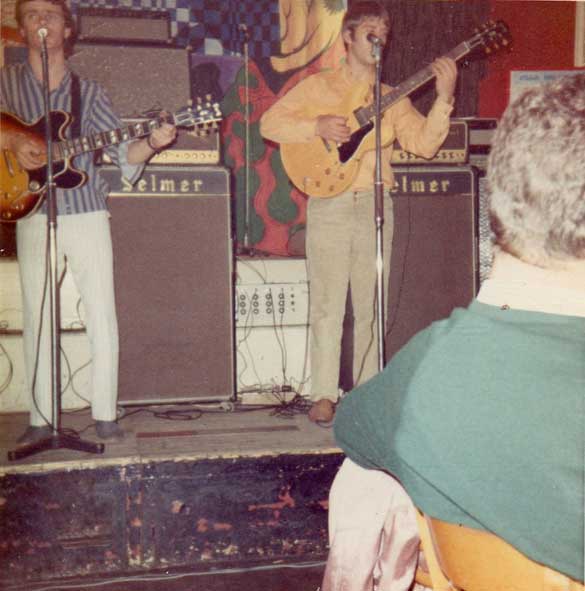 This photograph of The Delmonts, which came to us from the collection of Neville Henderson, was taken at Redcar Jazz Club sometime between 1969 and 1971 and shows Neville Henderson and Barry Grimwood on guitars. It was during a show they did with The Bonzo Dog Doo-Dah Band.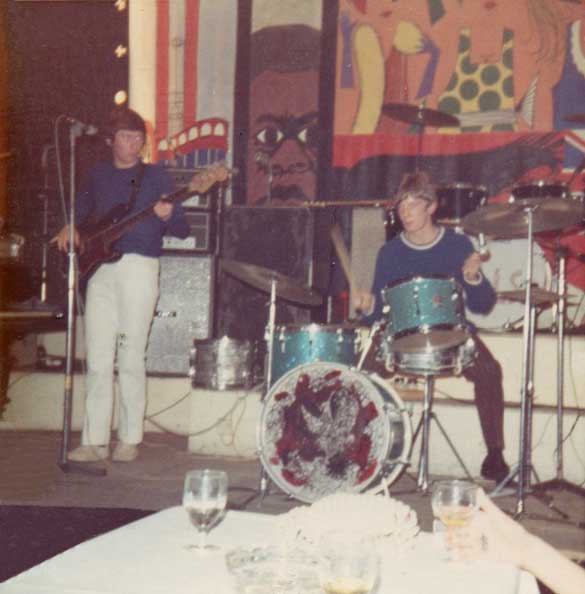 This was also at Redcar Jazz Club at the same show as above but this time with John Feldman on bass and Mike Walls on drums.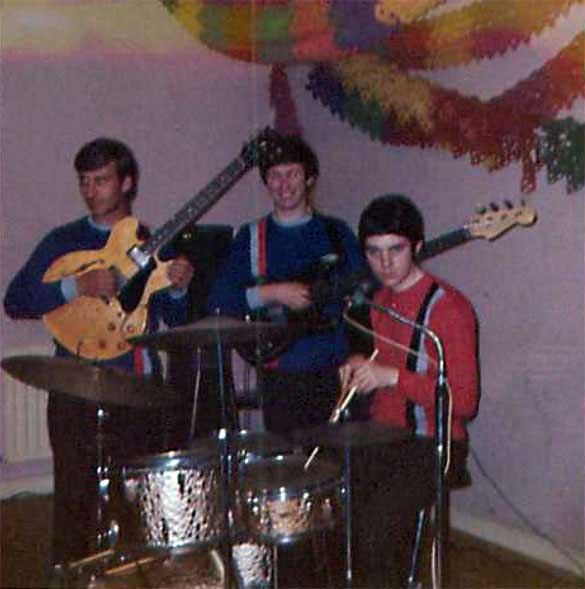 Barry Grimwood, John Feldman and Mickey Peacock at a Christmas show.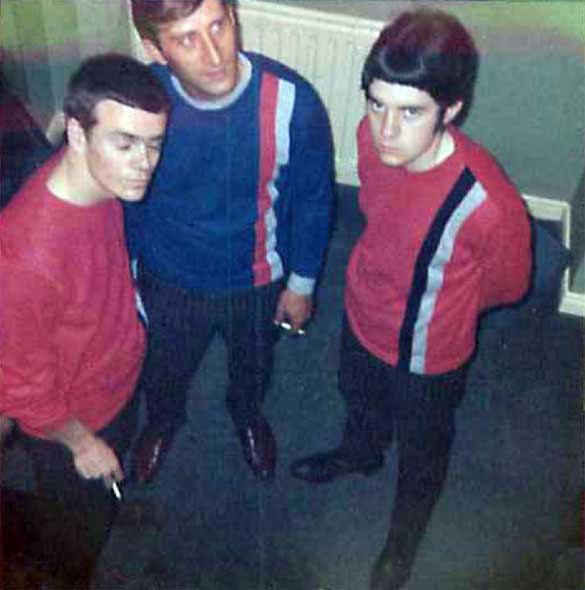 Somebody wake up Nev - it's time to put the cigarettes out and go on stage!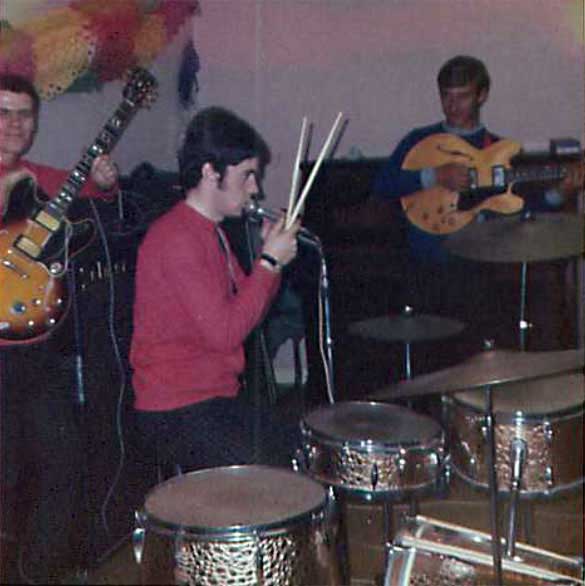 Mickey doing his Winston Churchill impression during a sound check.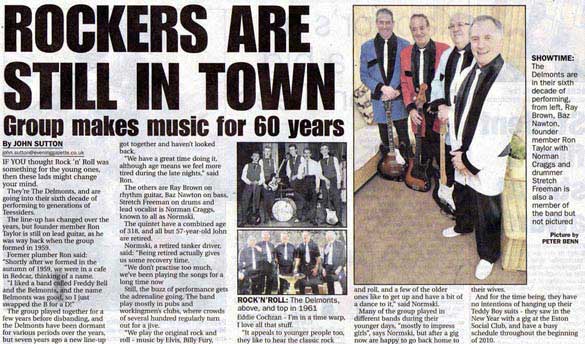 The line-up has changed somewhat since this was written but "The Rockers Are Still In Town" said this headline from the Evening Gazette in Middlesbrough on January 12th, 2010. Click on the image to view it in a larger size.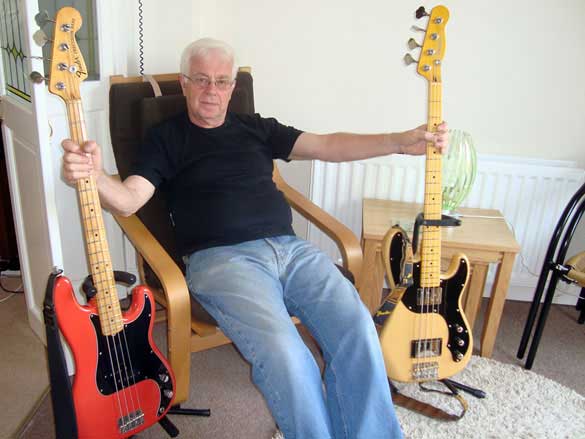 The Delmonts bass player Colin Draper recently bought a Fender Telecaster bass to give a bit of a new sound when he plays at home. It's butterscotch blond, as you can see, with twin hum buckers and not a bad effort to reintroduce an old/new bass by Fender. As from October 2013 Colin returned to the band after 45 years.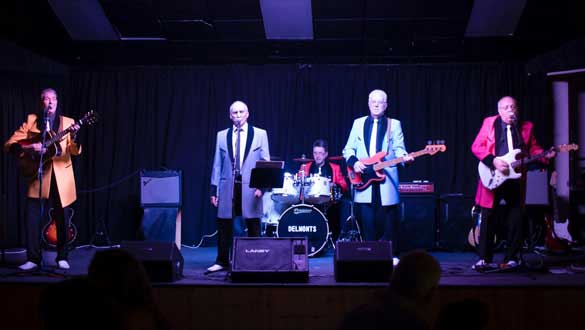 The Delmonts on stage, left to right, are Ray Brown on rhythm guitar, Norman Craggs lead vocalist, Kevin Tierney on drums, Colin Draper on bass guitar with Ron Taylor on lead guitar. The photographs, directly above and the one below, are copyright © IRB Photography. Ron Taylor has since left The Delmonts and retired from the group scene and has been replaced with guitarist Steve Farrow.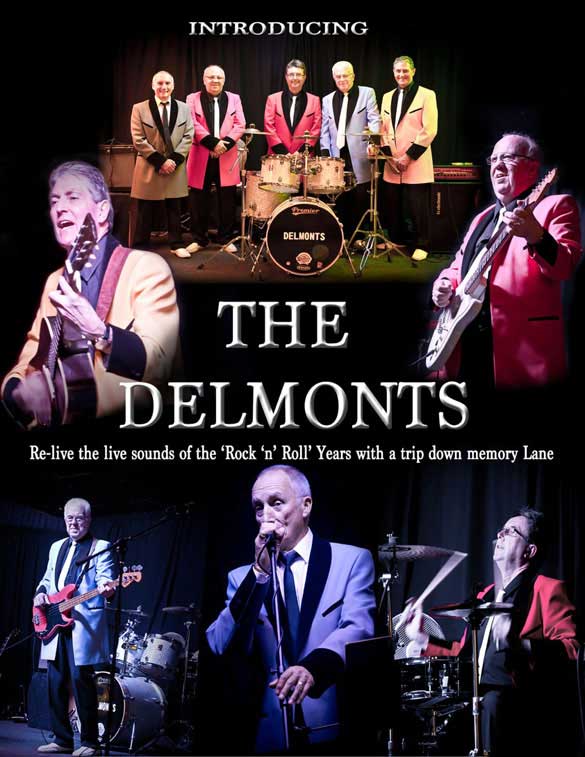 Thanks to Colin Draper and John Feldman for their contribution to this page and sharing their collection of old photographs and memories. As from mid-July 2016 Norman Craggs left the band.
This page is dedicated to Baz Nawton who sadly passed away on April 20th, 2014, to Harry Simpson who died on August 8th, 2014 and Ray Brown who sadly left us on August 29th, 2022, aged 76.
This website is not responsible for the content of external internet sites
Copyright © Stan Laundon.com