THE TEMPESTS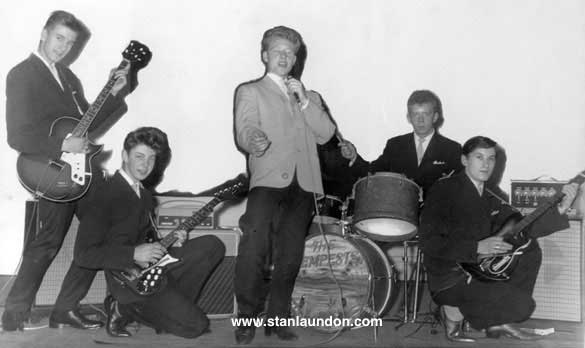 The first ever photograph of The Tempests, from Norton, at Middlesbrough's Empire Continental in August 1961. The booking was for seven consecutive nights and the band had to supply this photograph to display outside the venue for the week.  It shows, from left to right, Malcolm Bell with a Rosetti bass, Laurence Atkinson with his recently-acquired 3-pickup Burns, Terry Cunningham on vocals, Colin Wilson on drums and Reg Davidson playing a Hofner V2 that once belonged to Laurence until he upgraded to the Burns.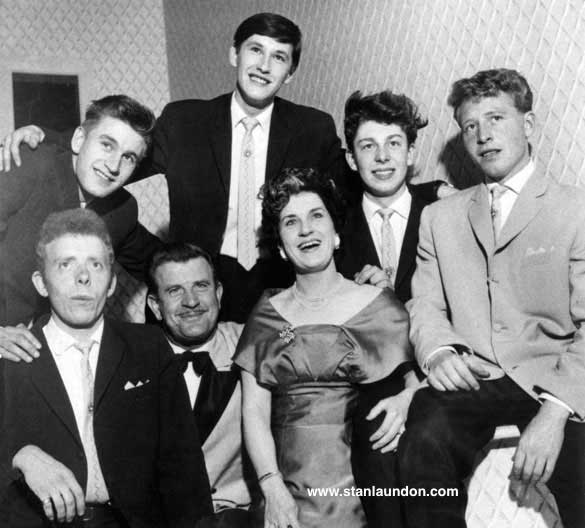 This photograph is of a typical Tempest Concert Party and this shows Colin Wilson, Malcolm Bell, Reg Davidson, Laurence Atkinson and Terry Cunningham with Darlington comedian Lucky Brennan and singer Margaret Brennan, his sister who had also appeared at The Empire Continental.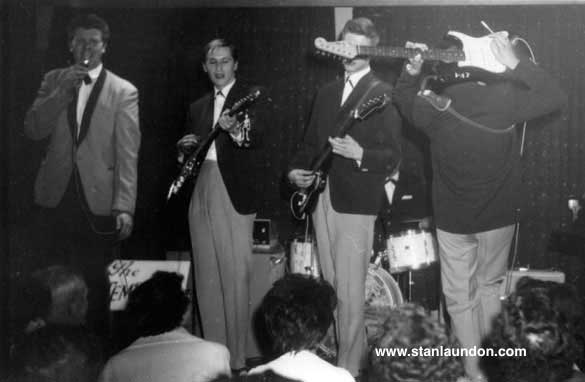 Photographed by a dedicated fan showing Laurence with the old guitar-behind-the-head trick. Malcolm Bell (with his face covered) appears remarkably unfazed, in those days before Health and Safety concerns!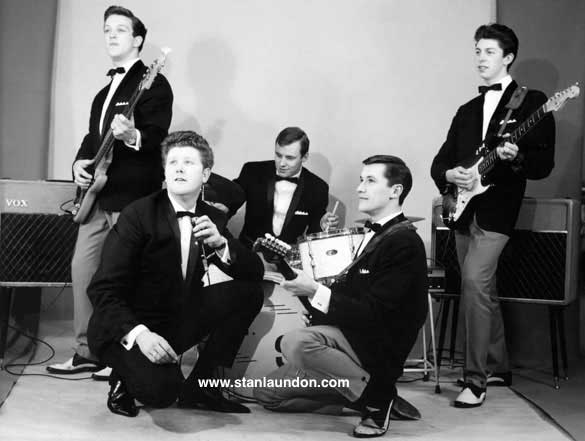 A studio image from 1962 with Ivan Thompson on bass guitar, Alec Geddes on vocals, Bob Simpson on drums, Reg Davidson on rhythm guitar and Laurence Atkinson on lead.
Another studio photograph of the band from 1962 - the order on this one is Alec Geddes (vocals), Ivan Thompson (bass guitar), Bob Simpson (drums), Reg Davidson (rhythm guitar), Laurence Atkinson (lead guitar).
Two photographs taken by a fan in a small club somewhere in 1962 show the group's line-up shortly after Bob's arrival (although Bob himself is barely visible)!  The one of the left illustrates synchronised guitar swinging (probably the F-based middle-eight section from Apache). The one on the right shows a version of The Shadows' walk, but I don't know what we might be playing (although my part apparently requires deep concentration) and I've no idea where the kicking comes in. By this time, Malcolm was playing a Hofner bass, I had upgraded to a Fender Stratocaster and Reg, continuing our hand-me-down tradition, had taken over my Burns.
Two more from the 1962 gig as seen above and showing Alec Geddes on lead vocals.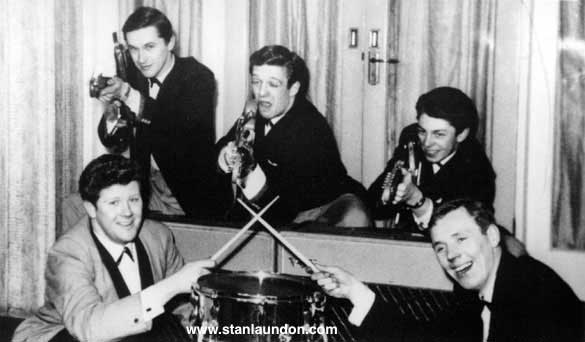 Laurence says "The only photos I have from 1963 show us larking about somewhere. Reg thinks they were probably taken in the foyer of The Ladle Hotel in Middlesbrough - a very popular venue (the ballroom that is, not the foyer)!" At the rear, using their instruments as machine guns, are Reg, Ivan and Laurence with Alec and Bob at the front.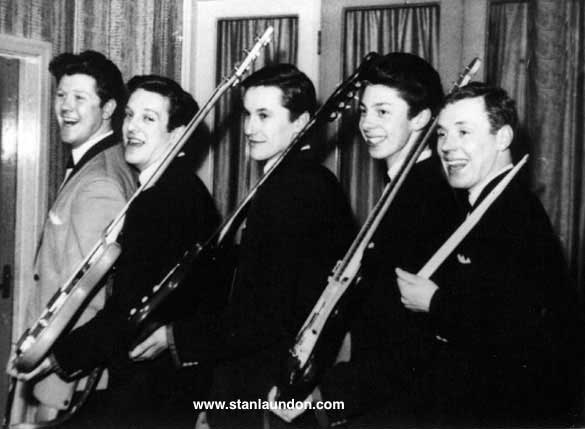 All present and correct! Also at The Ladle Hotel in 1963 are, left to right, Alec Geddes, Ivan Thompson, Reg Davidson, Laurence Atkinson and Bob Simpson.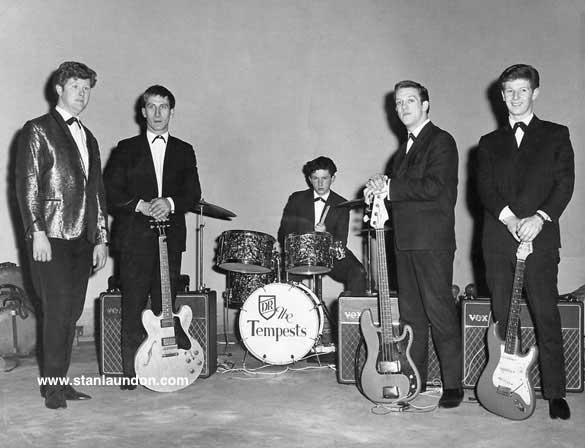 This photograph of The Tempests was sent to us by former band member Jack Freeman who now lives in Canada. It was taken in Newcastle Studios in 1963. Jack says: "I'm the young guy on extreme right. Other band members pictured here are Alex Geddes, Ivan Thompson, Dave Ritchie and Barry Grimwood." Jack says that they also recorded a demo disc. The A-side was a jazz version of "Summertime" with "King Bee' on the B-side but was sadly lost over the years. The memories are so clear in my head and a wonderful part of my life."
A history of The Tempests by Laurence Atkinson (lead guitarist, February 1961 to September 1963).
One evening in January 1961, along with George Kitching, a young chap who worked with my father, I took my guitar to my local youth club on The Green in Norton and we played a few instrumentals (mainly Bert Weedon and Shadows numbers). I was fifteen and George was just a few years older. I played the tunes and George provided rhythm accompaniment.
As a result, we were asked to play at a Valentine's Dance to be held the following month at the Trinity Church Hall in Stockton – for the princely sum of £5. I thought there should be more than two of us and so I found a bass player (Malcolm Bell from Norton) and my father located a professional drummer (Colin Wilson from Billingham). A novel twist. The usual process was to form a group and eventually secure a booking; instead, we already had a booking and so formed a group!
The evening went surprisingly well and, two weeks later, we played our first working men's club (at Coundon, near Bishop Auckland). That too must have gone well because we were re-booked for each of the next three Sundays and, by the end of the following month, we had played there ten times!  I had forgotten the frequency but I do recall that we had to expand our repertoire at a staggering rate.
My father was ferrying us around and, as we played one club, he was visiting others in the vicinity and arranging further bookings. By the end of our second month, with re-bookings and the additional dates arranged by my father, we were playing at least three times a week. We'd even shared the bill with a recording star, Lance Fortune, at the Palais de Danse in Darlington.
The first three months saw a few changes in line-up. George stayed for only a few weeks and we had worked our way through a number of vocalists but, at the end of May, a short period of stability ensued with the arrival of Reg Davidson (rhythm guitar) from Norton and Terry Cunningham (vocals) from Middlesbrough. This period included our first appearance at Middlesbrough's Empire Continental in August 1961. The booking was for seven consecutive nights.
Originally, most of our bookings were at clubs and so, to branch out into dance halls, two events that were significant for us around this time were our first appearance at Stockton's Maison de Danse (July 1961) and our first for Southern Border Dances (May 1961), an organisation for which we would subsequently play many times. At weekends, many of the larger clubs liked to provide other entertainment alongside a group and, to capitalise on this; we often teamed up with local comedians and singers.
Terry's spell with us lasted around three months and, in September, his place was taken by Alec Geddes from Billingham, already a professional club singer.  There were no further personnel changes that year but, early in 1962 while Colin took a break, we had a replacement drummer for a few weeks – Howard Conder from Darlington.  We came across Howard through his cousin, Max Temple, drummer with Chet West and The Stormers.
Our hectic playing schedule left Colin little time to spend with his wife and family and, a short time later, at the end of May 1962, he decided to leave the group.  His replacement was Bob Simpson from Middlesbrough. Originally, my father ferried us and our equipment around and even swapped his car for a Bedford Dormobile to do so but, before the end of 1961, we had bought our own van – an ex-GPO vehicle.
There was only one further change of personnel during my time with the group when, in September 1962, Malcolm left for University.  For a couple of weeks Ray Hudson, of The Midnighters, stood in until, in October, a new permanent bass player arrived in the form of Ivan Thompson from Middlesbrough, together with his Fender Precision bass guitar.
I suppose the next significant event for us was probably the north-east rhythm group competition held at Billingham Synthonia Club in November 1962, in conjunction with Frankie Vaughan's Association of Boys' Clubs.  We won and, as part of our prize, we appeared with Frank Bough on BBC TV's North at Six the following night, making us the first Teesside group to appear on television.
This probably didn't go down too well with The Johnny Taylor Five, with whom we were sharing the bill that evening for a dance at Billingham Technical College. We were due to play a set in each half of the evening but, while we made our way back from Newcastle's BBC studios, the JT5 had little choice but to play the entire first half themselves, leaving the whole of the second half for us - for which we received the best reception we ever had in Billingham. Oh, the joys of fame!
But I don't think they bore a grudge because seven months later, when the JT5 supported The Beatles at Middlesbrough's Astoria Ballroom, Eric Shoosmith's evening exams prevented him playing and they asked me to stand in on lead guitar. An amazing night. Thanks fellas! Following our appearance on the telly, we promptly ordered new business cards to publicize the event and, hopefully, boost our reputation (and our fees)!
They were exciting times. We played all over the north-east and further afield and we got to play alongside a number of big names – some I recall are Lance Fortune, Screaming Lord Sutch, Shane Fenton & The Fentones, Manfred Mann, The Big Three, The Pretty Things, The Merseybeats and The Searchers (twice). And not just groups – I remember sharing the bill with Scottish comedian, Chic Murray, at The Blue Lagoon in Darlington.
I remained with the group until September 1963, when I, too, left for University. I did see the lads once more that Christmas when I played bass at a Tempests gig, standing in for Ivan, and performed a short guest spot on lead guitar. I believe Barry Grimshaw was the lead guitarist at the time. After that I didn't see any of them for another thirty nine years, until Christmas 2002, when I met up again with Reg and Alec.
Alec tells me that 1964, the year after I left, saw Reg and Bob replaced by Jack Freeman (rhythm, from Redcar) and Dave Ritchie (drums, from Stockton) and, towards the end of the year, Alec left to join Bob Miller and The Millermen, a band heard regularly on the radio at the time. The Evening Gazette reported Alec's first radio broadcast with The Millermen, shortly before he joined them full time.
So, musically, what did we all do after The Tempests? Colin returned to weekend work at local clubs, George went on to play with The Kalvins and The Victors but Terry and Reg left the group scene and I know nothing of Ivan and Bob.  Howard has had an eventful time, not only drumming but even working for Brian Epstein at one point – Google will return a good many hits.
Alec stayed in the entertainment world for a while. He sang with The Millermen both in the UK and on a European tour, then formed a double act with Phil Lewis of the Red Hot Peppers and even spent some time as Entertainments Manager at a Butlins holiday camp. The double-act name they used was Lou and Lee Martin - Phil was Lou and Alec was Lee.
I formed a group at University, performing on lead guitar and vocals, but was influenced by the rising popularity of Bob Dylan, Joan Baez, Peter, Paul & Mary and The Clancy Brothers among others.  I bought an acoustic guitar, put away my plectrum, learned to play finger-style and joined the folk scene.  A few years later, inspired by Davey Graham, Bert Jansch and John Renbourn, I migrated to contemporary folk and both ran and hosted a contemporary folk club for a couple of years.
I am still performing today, both playing and singing, mainly at charity and fund-raising events – and the highlight of the year?  I play the guitar for our local village pantomime every Christmas. Oh yes I do! Which rounds off the story rather nicely because, when The Tempests were formed early in 1961, my favourite instrumentalists were The Shadows and the first time I saw them play was around Christmas of that year at The Globe Theatre in Stockton, with Frank Ifield – in pantomime!
I have enjoyed all the music I have performed over the years but much of this would not have been possible without the vibrant Teesside group scene of the early sixties.  I feel privileged to have been a part of it. They were great times. Long may they live in our memories.
This page is dedicated to Alec Geddes who passed away peacefully on September 14th, 2021 aged 84.