THE C-FRETTS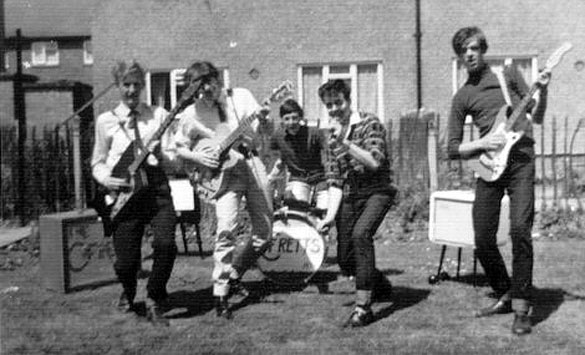 The C-Fretts enjoying themselves in Peter Bell's garden in Coniston Close, Peterlee, around 1963. They are, left to right, Steve Goodman - with a bass guitar he made at school - Robert Ramplin, Stuart Ball, Terry Smith and Peter Bell.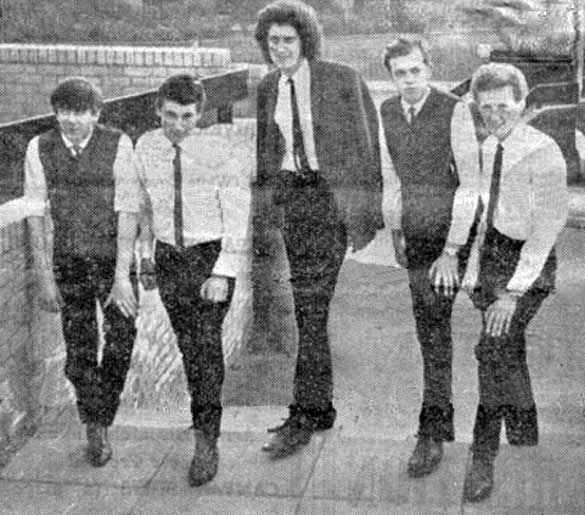 This picture of the group on steps was taken between 1965 and 1966. They are Robert Ramplin, Stuart Foster, Derek Balderstone, Peter Bell and Steve Goodman. The photograph can also be seen on a newspaper cutting in the right hand column.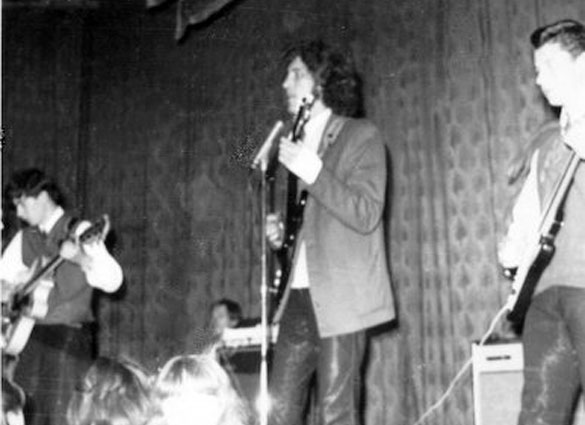 Competition time in 1966 at Spennymoor, in County Durham, when the band came in third place. The might not have won but they certainly had lots of admirers. The line up in on this photograph is Robert Ramplin on rhythm guitar, Peter Bell, the drummer is almost hidden and nearly always at the back, Derek Balderstone, vocalist and guitar with Stuart Foster on lead. Bassist Steve Goodman is out of the picture.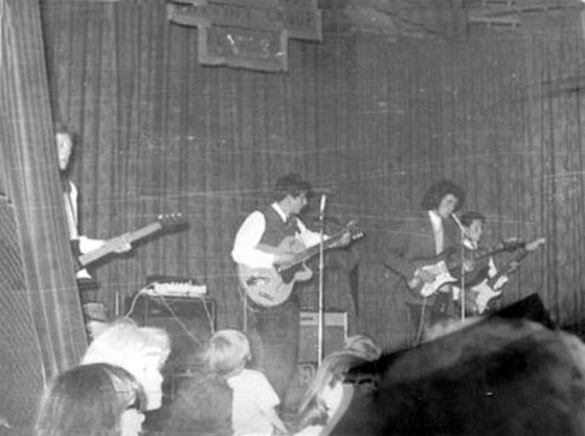 Live at Butterknowle with Steve Goodman, Robert Ramplin, Derek Balderstone and Stuart Foster. Peter Bell is hidden from view.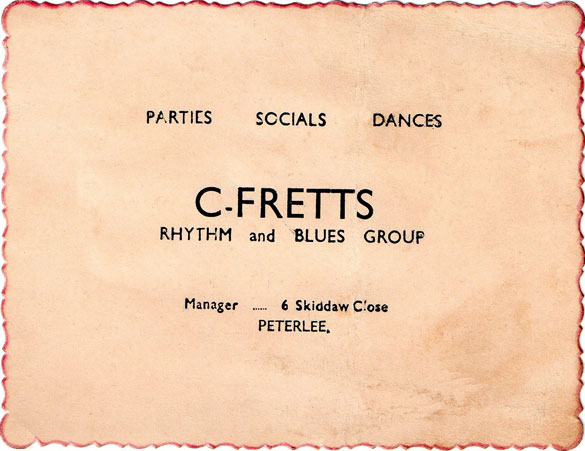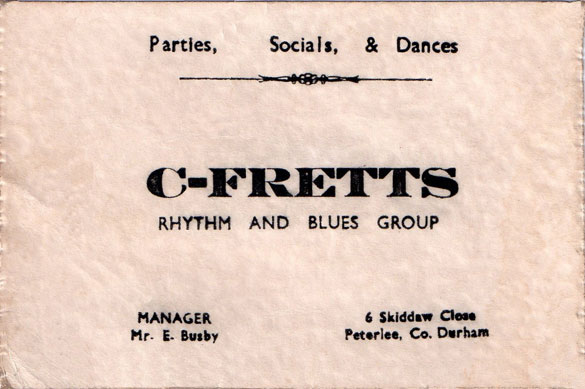 Two business cards from the C-Fretts - a rhythm and blues group from Peterlee. I suppose in those early days you had to write to their manager to book the band or check on available dates.

A few words about The C-Fretts as told by Peter Bell:
"The C-Fretts included Steve Goodman, Robert Ramplin, Stuart Ball, Terry Smith and Peter Bell. Stuart Ball and Terry Smith left the group not long after it started, and to fill the gap we took on a really great singer from Horden called Derek (Tut) Balderstone and a lead guitarist called Stuart Foster. "We played at Acre Rigg School and Peterlee Youth Club before going on to other places mainly in the Hartlepool area such as The Rainbow Coffee Bar in Seaton Carew, the Catcote Hotel on Catcote Road and The Devon in Church Street."Two of the photographs on this page were taken at a competition we were in at Butterknowle, near Bishop Auckland. We came third but were the only group to be mobbed by fans at the end of our stint."I'm still in touch with Steve Goodman and if any of the others want to make contact I would be pleased to do so as there are lots of stories from the old days to tell again."

This website is not responsible for the content of external internet sites
Copyright © Stan Laundon.com