THE EVERGREENS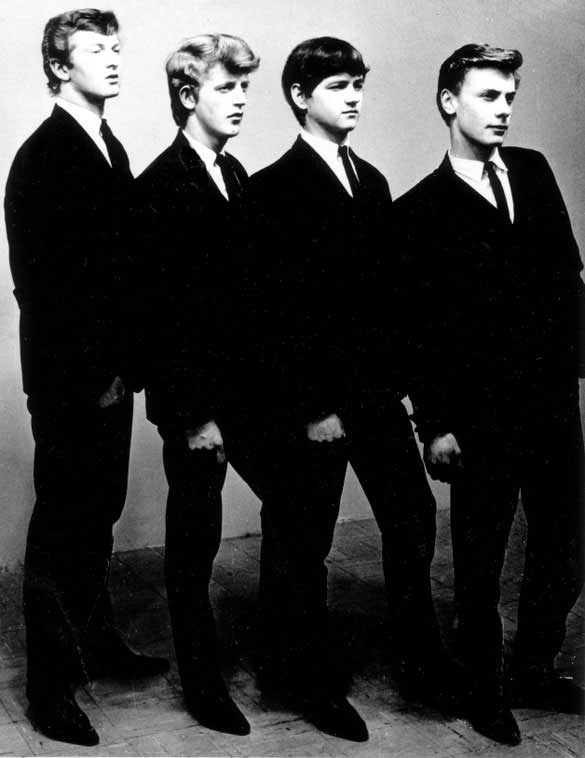 A publicity photograph of The Evergreens, dating to about 1965, with Ken Meredith, Barry Hodgson, Stan Kidd and Richard Holmes.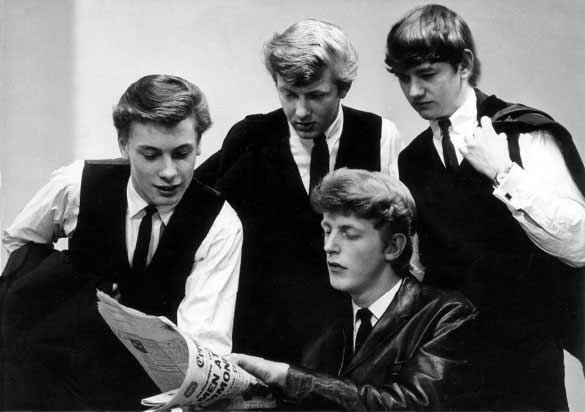 Reading the news in 1965 - left to right Richard Holmes, Ken Meredith, Barry Hodgson and Stan Kidd.
On the left, The Evergreens are Barry Hodgson the bass guitarist, Jim Simpson their roadie, Richie Holmes rhythm guitarist and vocalist, manager Ken Pratt and Stan Kidd, lead guitar and vocalist. The photograph on the right shows the band in London with Stan Kidd, Mic Rafferty, Barry Hodgson and Richie Holmes. The images can be viewed in a slightly larger size by clicking on them.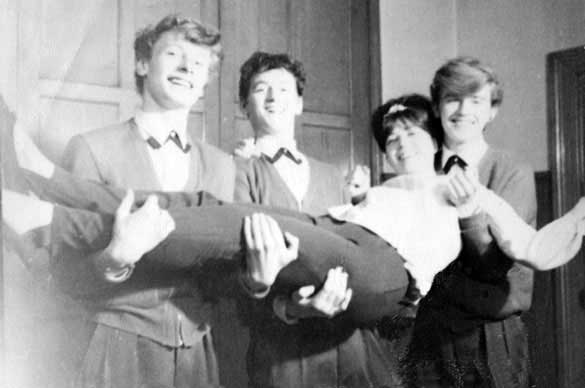 Richie Holmes, Stan Kidd, Maureen Shanley and Dennis Shanley in playful mood at a centre in Woodlands Road, Middlesbrough, in preparation for their Astoria competition entry in 1963.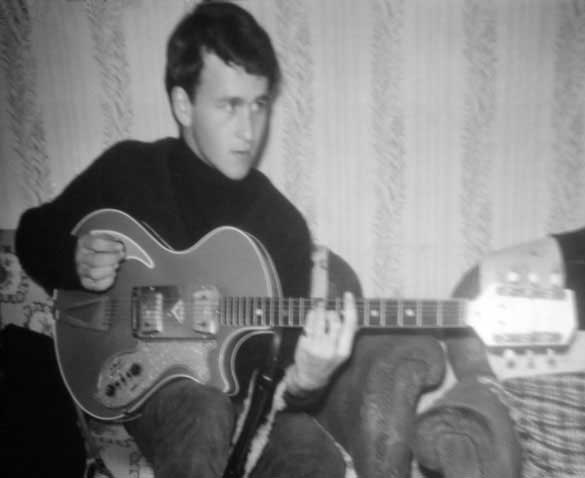 A rare photograph of Mic Rafferty when he was with The Evergreens. It was taken in Stan Kidd's house in North Ormesby, Middlesbrough, in 1966.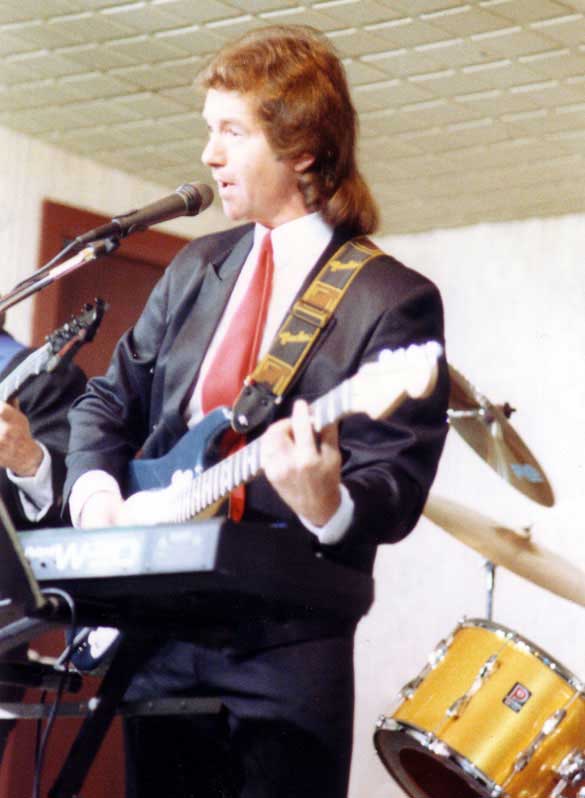 Stan Kidd on lead guitar with The Evergreens, late 60s early 70s, performing at one of the local clubs.
The history of The Evergreens by Stan Kidd:
The Evergreens started life with four school friends who found they could sing close harmony that sounded really tight. Because one of the four was a girl we were versatile and could sing virtually anything. We didn't intentionally start a band but, because I could play the guitar a bit it just seemed a logical thing to do and it didn't take much encouragement for the others to learn to play instruments.
Maureen Shanley a great singer, had natural rhythm and a great high voice so we managed to get a drum kit for her and she took to it very easily. Dennis Shanley (Maureen's brother) learned to play bass guitar and provided the higher harmonies along with his sister Maureen. Richard Holmes played rhythm guitar, had a deep voice and did lower harmonies while I played lead guitar and did the mid range vocals. With our four part harmony and the help of Mike Shanley, who was a great singer and our vocal coach, we sounded great.
Instrumentally, however, it was a different story. Our instruments and amplification weren't the best, mainly due to lack of funds as we were only about 16 years of age, but our singing more than made up for the shortcomings, We must have impressed some people with our singing because every weekend we used to spend camping at Leven in a little wooden chalet on the valley side of the River Leven. We always had our acoustic guitars with us and never stopped singing. We were encouraged to do a few songs in the Half Moon Pub, (now called the Fox Covert). It was then a quiet little country pub but had a big room which was only open for big occasions.
After a few weeks word had got around and the big room had to be opened up to accommodate people coming from all over the area and as far as Darlington, Stockton and Middlesbrough which was a canny trek by car in those days and there were only three buses a day going to Leven. Some people, a lot older than us, took an interest in us and asked us to perform in another pub in Berwick Hills, Middlesbrough called The Eagle were we would get paid by a cap being passed around at the end of the night.
We had to have a name for the band and it was suggested, that because we were always at Leven and out in the countryside every weekend, we should call ourselves The Evergreens. Our first booking at the Eagle was a success and became a regular engagement, but this time and every time after that first booking we were paid a fixed fee of £15 I think.

As we became more popular we did more gigs in different pubs and clubs and we also had a manager Ken Pratt and a road manager Jim Simpson who came everywhere with us. These two guys were a lot older than us and we trusted them and they looked after us.
We were asked to enter a bands competition at the Astoria in Middlesbrough. We were a bit apprehensive as the bands that were in the competition were a lot more experience than us. However, we entered and won our heat which was, in our eyes, a great success which earned us national press coverage and especially because we had a girl drummer. The headlines read "Dave Clark watch out!" underneath was a photo of Maureen sat at her drums in a double page spread.

The band went on successfully for a few years after which Maureen and Dennis left and we recruited two new members from Guisborough - drummer Ken Meredith, who had previously played with the Plainsmen, and a new bass player Barry Hodgson who was one of the original members of the Toledos. Barry had a high voice which suited us. Ken Meredith wasn't our first choice as drummer. After auditioning several candidates, one of the drummers we tried and sacked after one gig for being too loud was a lad called Tony Hicks who, after leaving us joined the Eric Delaney drum band then went on to form a group called Back Door.

Because of our distinctive harmonies we did all the covers of the bands of the 60s but were drawn to the Hollies and we modelled ourselves on them. We supported a lot of the big stars of the 60s usually at the Queens Rink Ballroom in Hartlepool. One of the bands called Them was discovered by Jimmy Savile and the lead singer was Van Morrison. The night we played with them I'll never forget because they all fell out and one of the members drove off with the van with half of their gear still inside it, so they had to borrowed half of our equipment to do their performance. We also performed with Mike Berry (who still owes us a microphone, if your reading this Mike). Also Eden Kane and his band the Downbeats. Eden's brother Peter Sarstedt was playing rhythm guitar in his band.

There were more personnel changes within The Evergreens with Ken Meredith leaving the band for personal reasons and was replaced by Mic Rafferty. The Band went on until 1967 before taking a break and reforming again in the 70s with a couple of changes - Walter Smith replacing Barry Hodgson on bass and John Mills replacing Mic Rafferty on drums. The band continued with success around the north east and after another break reinvented itself as Striking Back with members Stan Kidd on lead guitar and vocals, Richard Holmes on guitar and vocals, Walter Smith on bass and vocals with Ken Meredith on drums.
This page is dedicated to the memory of Mic Rafferty and Maureen Shanley.
Copyright © Stan Laundon.com