QUEEN'S RINK BALLROOM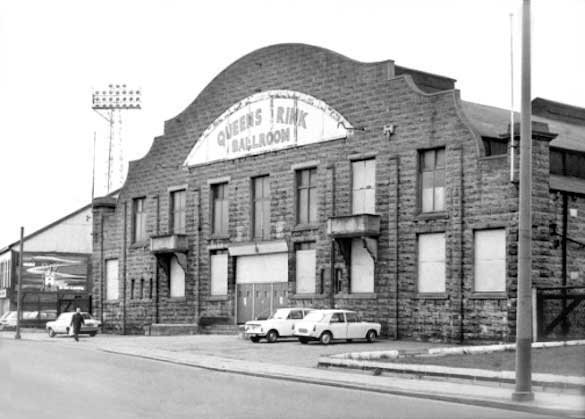 The Queen's Rink Ballroom in Clarence Road, Hartlepool was one of the places to visit during the 1950s and 1960s. During its heyday people would dance the night away to their favourite pop group or big band. For me personally I have fond memories of the old place - dancing there as a youngster and, in later years, playing on stage with The Trakkers. Therefore, it was particularly special when local lady Pamela Swift invited me to take part in a Rink Reunion on April 23rd, 2005, which took place at the Borough Hall, in Hartlepool, to re-live some of those happy days we all enjoyed at the Rink - which had long been demolished. To the left of the ballroom you can see the floodlights of the Victoria Ground (now Victoria Park) the home of Hartlepool United Football Club. The stand in that part of the ground is known as the "Rink End" for obvious reasons.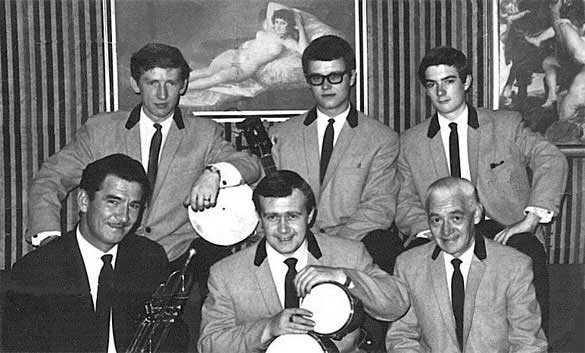 This photograph, from Paul Flush, was taken at Tito's Night Club in Stockton, August 1967, and shows, in the back row, Terry Metcalfe (vocals) Peter Trundley (bass) and Paul Flush (organ) with Russ Nicholson (Trumpet/Bandleader) Johnny Blackham (drums) and Al Flush (piano) in the front.

Paul says: "My father, Al, helped me out at the club by playing piano for a while since my music sight reading wasn't that good yet and we had some pretty big acts to play for. "The first week was Billy Eckstine so you can imagine, at sixteen, I was very nervous!"

"Interestingly, the grey jackets we are wearing in the photo were the band jackets from the Rink for the previous five years!"

"It's a pity that more photos of the Rink don't exist – they were exciting times in the pop music world, those kinds of venues providing major outlets for the groups of the day. The equivalent of stadium gigs now, perhaps!"

"The only major group not to play there were the Beatles. If I remember the story correctly, they were booked but not contracted and pulled out due to some probably much better offer."

Paul also recalls another quick story about the Rink: "In 1966 I was very excited because Lulu was playing on one of the Friday 'name' group nights - she had just had her hit with "Shout."
"Naturally all the boys at school fancied her and I thought I would get to meet her, of course. Her over-protective management wouldn't let anyone near her backstage though, so it was a big disappointment for me. In all these years playing professionally with all kinds of artists our paths never crossed again until New Year's Eve, 2005 when she was co-hosting a TV special in Belfast."
"I was MD for Tony Christie on the show and our tour manager (who also works for Lulu occasionally) promised to finally introduce us. Unfortunately, in the chaos at the end of the show, she left very quickly and I thought that, once again, I had missed my chance. "Luckily, however, we were on the same flight the next morning and she recognised me from the show - and so, after a 40 year gap, since that night at The Rink, I did finally get to meet her!"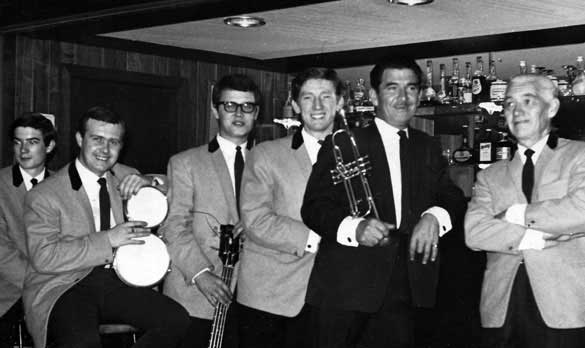 Tito's Band again - but they did play at The Rink and the same 'Rink' jackets as the photograph just above from Paul Flush. It's the same line up here with Paul, Johnny Blackham, Pete Trundley, Terry Metcalfe, Russ Nicholson (of Russ and The Nickels fame) and Al Flush.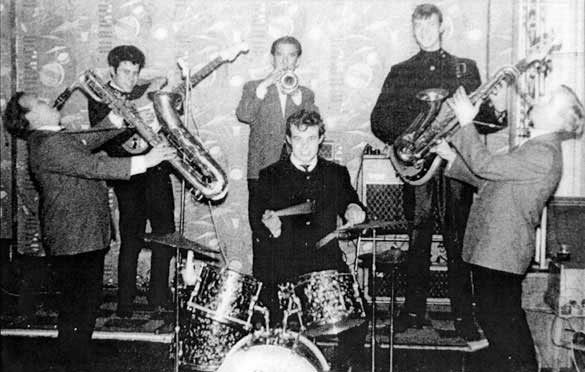 This press cutting came to us courtesy of Barry Cox and was featured in Hartlepool Mail on November 2nd, 1989. It features Russ and the Nickels with Tony Kindlan, ex-Rock-Avons on guitar, Russ Nicholson, the Queens Rink band leader, Keith Berry on bass and Barry Cox on drums. The other members in the photograph with brass instruments are from the Queens Rink Band - the baritone player on the left is Billy Codling and the tenor player, on the extreme right,  is Jack Carter - brother of former drummer George Carter. It was after this time that other members came on the scene - female vocalist Heather, wife of bass player Keith Berry and Terry Metcalfe.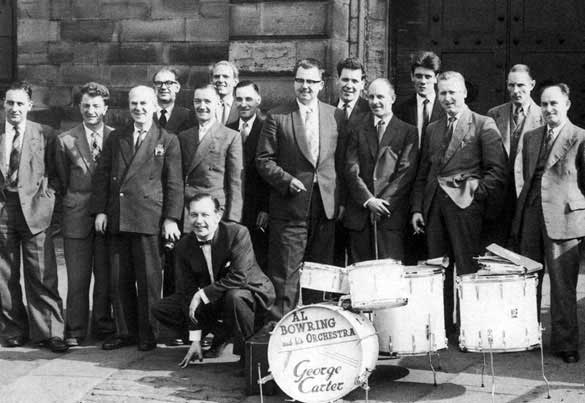 Thanks to George Colley for the use of this photograph which was featured in his book "You Must Remember This" from 1997. It shows The Al Bowring Orchestra, who followed the Benny Nelson band into The Rink. They are, left to right, Gerry Officer, Ernie Meakin, Lawson Carr, Arthur Smith, James Hyde, Albert Butler, George Carter, singer Larry Mason, Billy Hand, Alex Hand, Jack Carter, Jack Farrar, Joe Carter and Jack Swales at the front. The photograph, which was sent to us by Joyce Rae, the daughter of band member Arthur Smith, was taken in 1959 outside Durham Prison shortly after their release. They were all "locked up" until they had performed a free concert.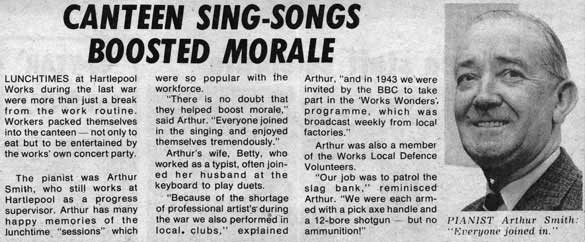 This cutting from the collection of Joyce Rae, was featured in the Steel News in August 1979 and shows her father Arthur Smith who was a member of the Al Bowring Orchestra who played at The Rink. You can read the cutting larger by clicking on the image.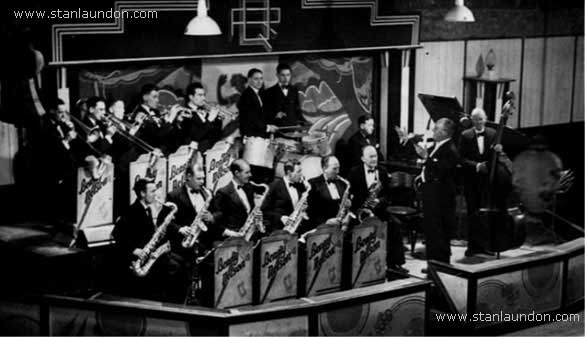 The Benny Nelson Orchestra at The Rink. Copyright © unknown but thanks to Margaret Port for the use of this photograph.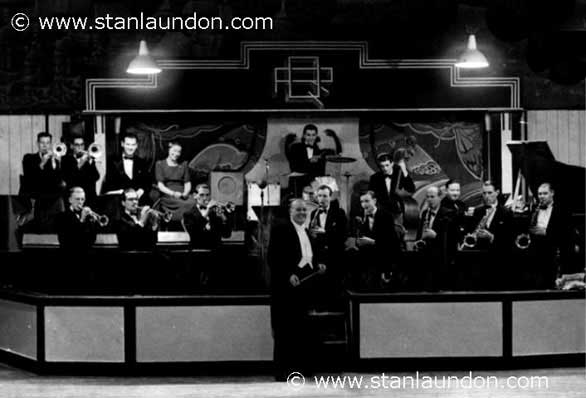 Another photograph of the Benny Nelson Orchestra at The Rink. We are told this would be in the 1950's. Photograph courtesy of Pat Ingram.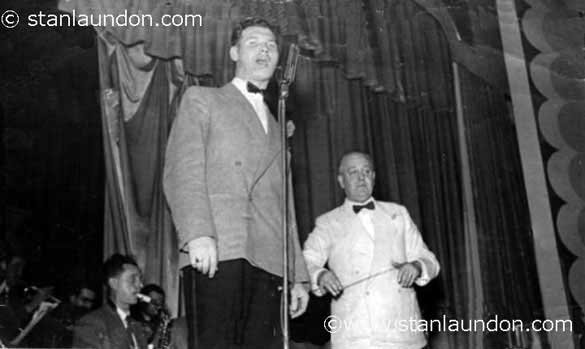 Another rare photograph from those days at The Rink - with the Benny Nelson Orchestra. We are not sure who the vocalist is but I would think it could well be Larry Mason. Photograph with thanks to Pat Ingram.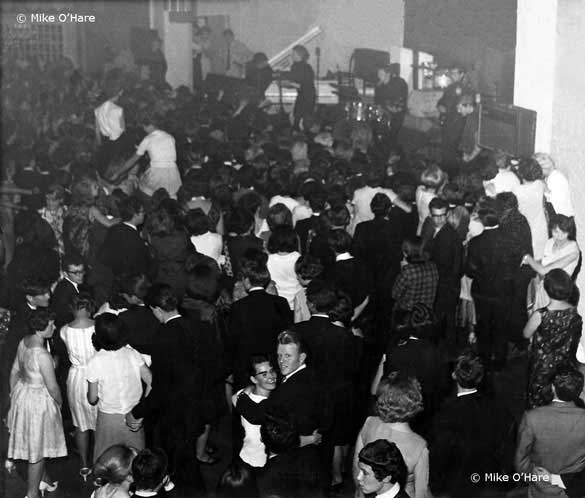 More great memories from those happy days at The Rink with this photograph which was provided to us courtesy of Mike O'Hare. It shows Manfred Mann on stage with Paul Jones, front man Manfred Lubowitz on piano, Mike Vickers and Tom McGuinness on guitars and Mike Hugg (hidden) on drums. Debra Franks, from the DFO International Music Agency believes it is from 1963/4 time.
Mike O'Hare is the gentleman right at the front of the photograph with just his head and face showing! Hartlepool musician Jeff Butterfield tells us: "Apparently Manfred had trouble with his keyboard during rehearsals so either Bruce Moore, or Hoggetts, had to help him out to save the day." Geoff Alder says The Hartbeats were support band at this show.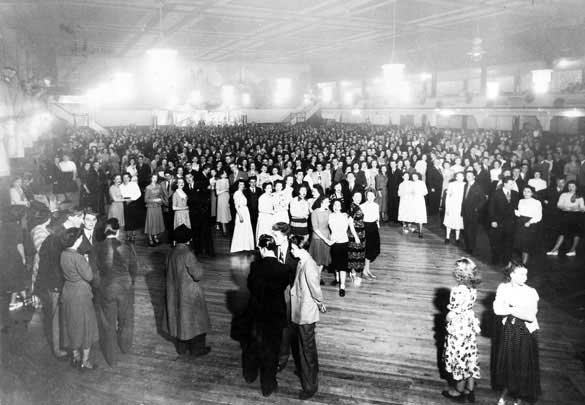 A night out at The Rink. This photograph, from the George Colley collection and also used in Paul Chrystal's book "Hartlepool Through Time", shows a packed ballroom scene as often witnessed here. The Rink was built in 1910 as a skating rink; during the First World War troops were billeted there. It then became a garage and was later re-opened in 1932 for skating and boxing and was converted into a dance hall in 1940. It closed in 1968 and was demolished some years later.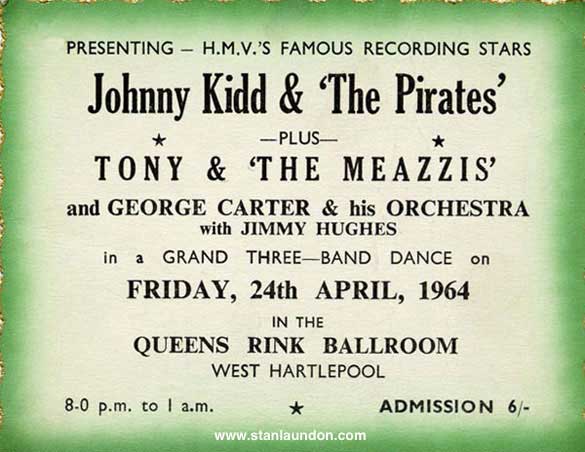 This ticket says it all - Tony & The Meazzis supported Johnny Kidd & The Pirates on Friday, April 24th, 1964. The George Carter Orchestra were resident band at this time.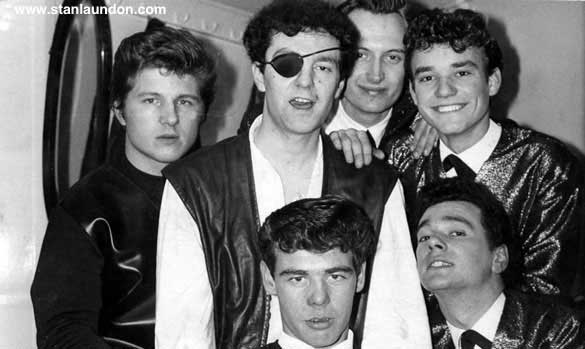 Tony and The Meazzis photographed at the Queen's Rink Ballroom with Johnny Kidd - just weeks before he was tragically killed in a car crash in Bury, Lancashire, on October 7th, 1966. The photograph shows Geordie Jones, Johnny Kidd, Bob Ferry and Terry Edwards at the top with Alf Hext and Fred Lowther below.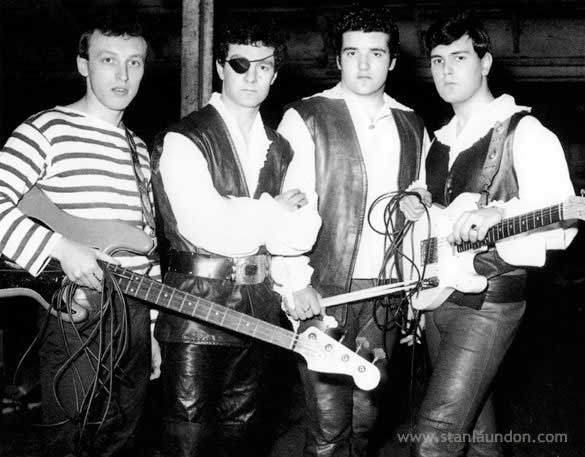 Johnny Kidd & The Pirates were a very popular band during the 1960s with Johnny Spence, Johnny Kidd, Frank Farley & Mick Green. Copyright © Unknown.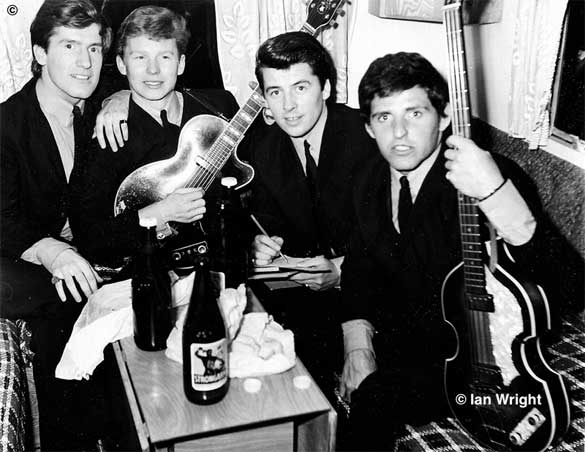 Top Liverpool band The Searchers with Chris Curtis on drums, John McNally on rhythm guitar, Mike Pender on lead guitar with Tony Jackson on bass. Not exactly at The Rink but taken in Hartlepool on July 4th, 1964 when they appeared on the promenade bandstand and took part in the Big Beat Show. Photograph © copyright Ian Wright and used with thanks.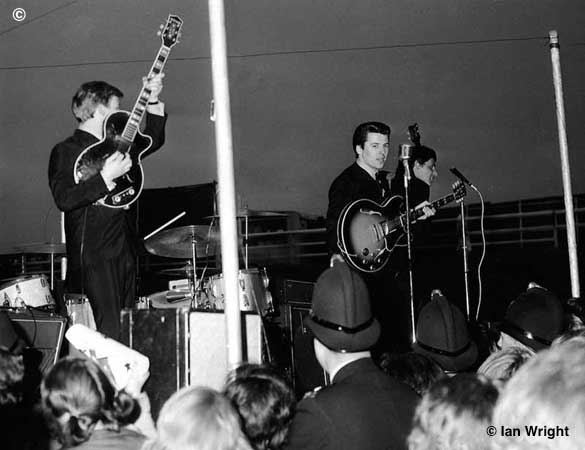 Another photograph of The Searchers appearing at a live concert in Hartlepool on July 4th, 1964. Photograph copyright © Ian Wright and used with thanks.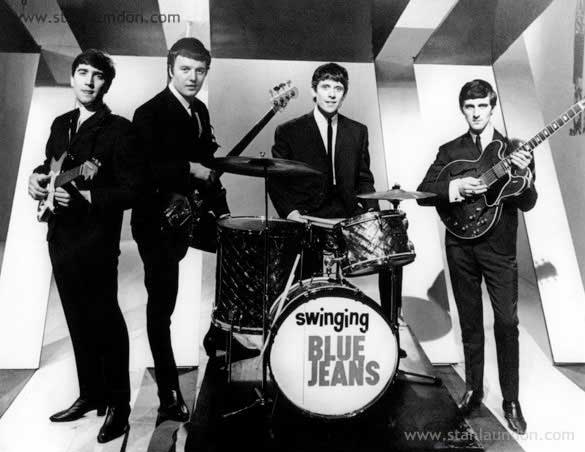 The Swinging Blue Jeans rocked the night away with support from West Hartlepool band The Tony King Sound and disc jockey Billy Vann.
The Rink's Last Dance was featured in Hartlepool Mail on March 28th, 2008. Click on the photograph to see a larger image.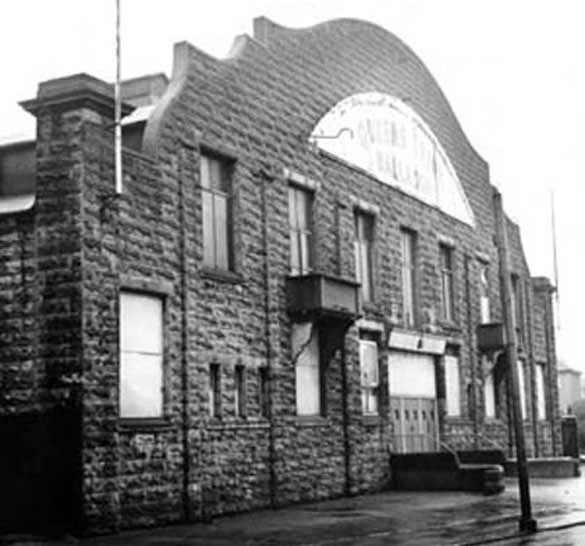 The Queen's Rink Ballroom, which was in Clarence Road, West Hartlepool was demolished sometime during 1968. Photograph © unknown.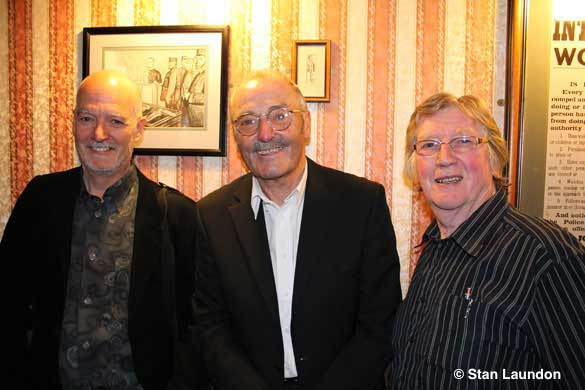 Gathering for yet another Rink Reunion at the Borough Hall in Hartlepool on June 5th, 2012 are former Rink band members Paul Flush, on the left, and Terry Metcalfe on the right. Both played with Russ & The Nickels. In the centre is saxophonist Ray Dales who was in The Fiesta band in Stockton for many years and also a member of The Crawdaddies, The Real McCoy and Rivers Invitation.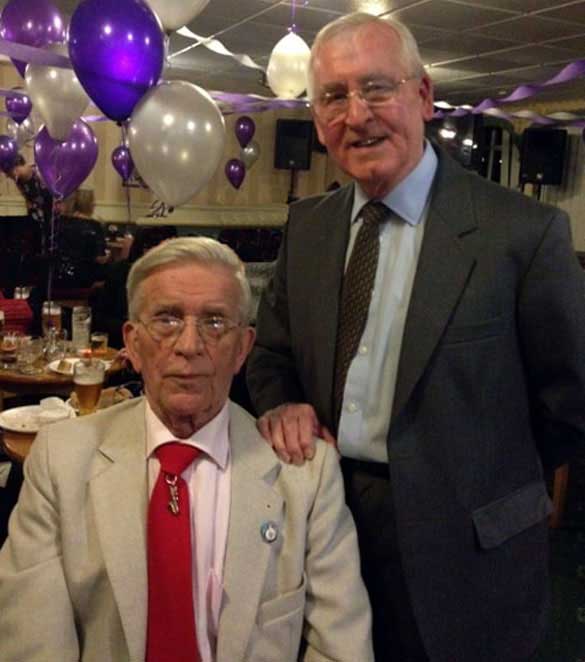 Two musicians who played at the Rink in the 50's were Syd Lavelle and Jack Carter who are pictured here at a birthday celebration in Hartlepool during 2012. Both men, aged 85 and 75 respectively, played saxophone with the Tommy Lough Band. Jack tells me it was Tommy who took over at the Rink from Benny Nelson. Thanks to Kathy Birkbeck for the use of this photograph.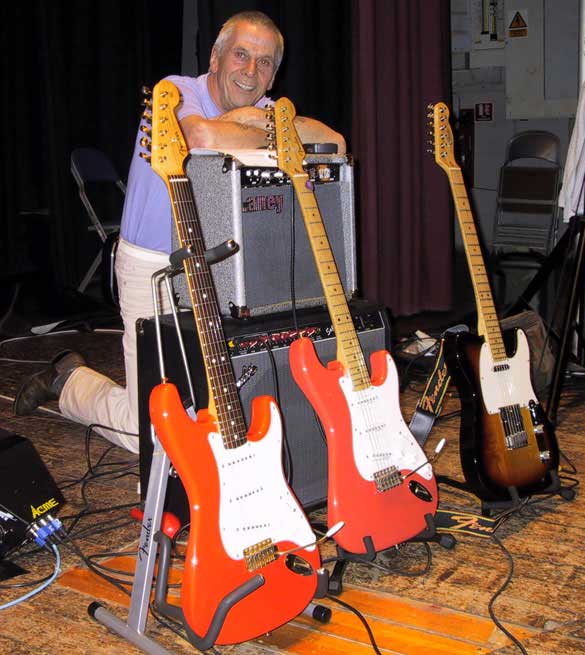 The Queen's Rink ballroom holds many happy memories for lots of people. It was great for me to take part in a Rink Reunion in 2005, which took place at the Borough Hall, in Hartlepool. I am sharing the stage here with Ron Blair's excellent Fender guitars collection.
Polite Notice:
Photographs on this site are © copyright to their respective owners and are not to be downloaded, or printed, for private use by individuals, organisations or social network sites. By viewing a digital image from this collection, you are agreeing to comply with copyright licensing regulations. These state that you will not copy, publish or distribute the image in any way. Please note, we have made every effort to ensure that copyright is not breached.
Thanks to Kathy Birkbeck, George Colley, Barry Cox, Mick Faulkner, Bob Ferry, Paul Flush, Hartlepool Mail, Pat Ingram, Mark Lewis, Claire Neville, Mike O'Hare, Margaret Port, Joyce Rae, Ron Shelley, Rowland Taylor and Ian Wright for the photographic content and memories on this page.
This page is dedicated to local musician Kenny Allen.
This website is not responsible for the content of external internet sites
Copyright © Stan Laundon.com