THE TONY KING SOUND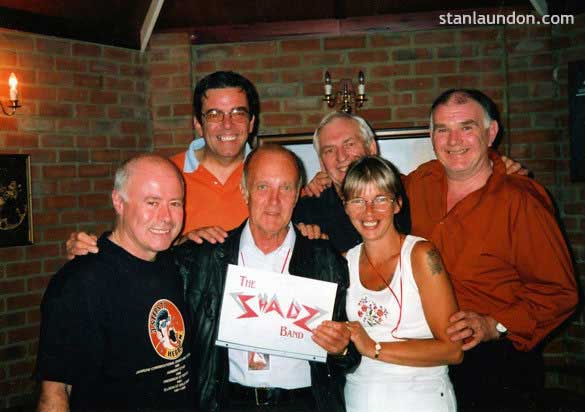 This little piece of nostalgia dates back to 2004 and shows (left to right) Tony Kindlan, John Minto, Jet Harris, ex-bass player with Cliff Richard and the Shadows; Billy Talbot, former drummer with the Rock-Avons; Jet Harris' wife Janet and Tony Dare. Tony Kindlan was a former member of the Hartlepool bands The Rock-Avons and The Tony King Sound. Tony Kindlan became Tony King!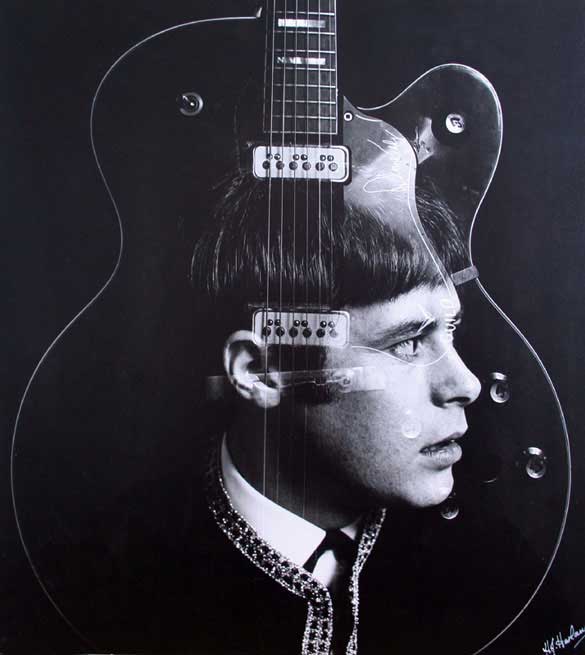 This portrait of Tony, over a Duane Eddy model Guild guitar, was taken by former Hartlepool Mail photographer, Harry Harland. Harry took this from his private collection and was kind enough to offer it for this page. Harry also took a series of studio portraits of Magic Roundabout which you can see on their page.
An early publicity photo, on the left, and a slightly out of focus - but rare - photograph with his treasured Fender guitars.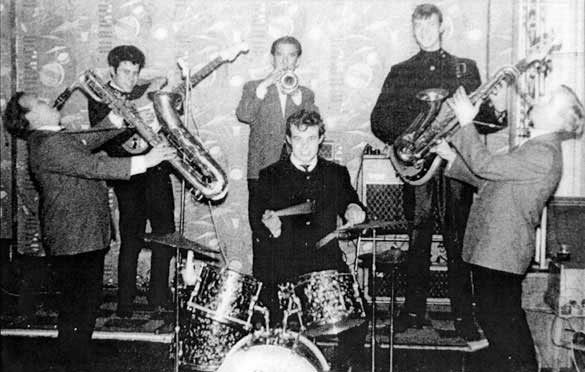 This cutting came to us courtesy of Barry Cox and was featured in the Northern Daily Mail in Hartlepool on November 2, 1989. It features Russ and the Nichols with Tony Kindlan, ex-Tony King Sound and The Rock-Avons on guitar, Russ Nicholson, the Queens Rink band leader, Keith Berry on bass and Barry Cox on drums. The other members in the photo with brass instruments are from the Queens Rink Band - the baritone player on the left is Billy Codling and the tenor player, on the extreme right, is Jack Carter - brother of former drummer George Carter. It was after this time that other members came on the scene - female vocalist Heather, (sister of Tony Kindlan and wife of bass player Keith Berry) and Terry Metcalfe.
Tony photographed in 2000 with Hank B. Marvin's Red Fender Stratocaster guitar - the model which was used on The Shadows hit "Apache" in 1960.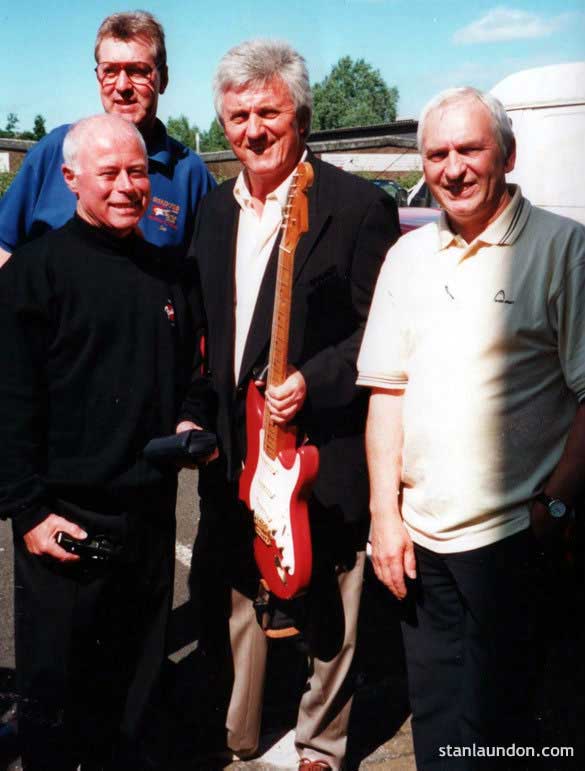 Tony Kindlan, Bruce Welch of The Shadows and Billy Talbot photographed at a "Shadz" meeting in Gateshead 2000. The gentleman is at the back is Joe Armstrong of the Tyneside Shadows Club.
This page is dedicated to the memory of Kenny Allen, Harry Harland and Billy Talbot
The Google monkey on this page was created by Dave Sutton graphics and free 3D animated gifs for web sites.
This website is not responsible for the content of external internet sites
Copyright © Stan Laundon.com