THE PANTHERS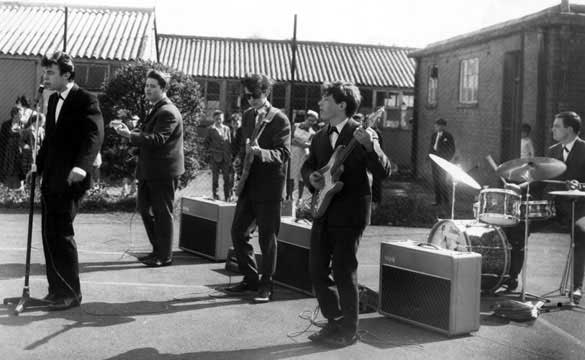 The Panthers playing at a charity fund raiser in Sedgefield, County Durham with Brian Fletcher on lead vocals, Neil Kendrew on rhythm guitar, Jeff Beall on bass, Rowland Taylor on lead and drummer John Lowe.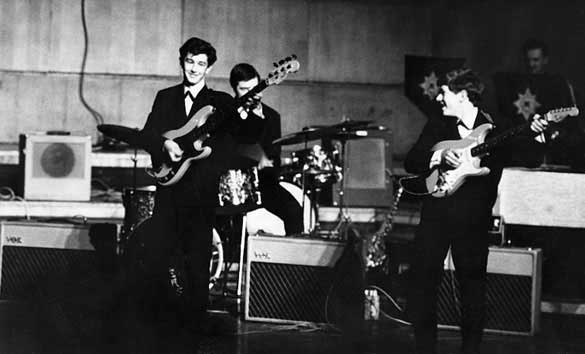 On stage in the grand finale at the Royal Festival Hall, in London with Jeff, John and Rowland. In front of a packed audience, the judges - Millicent Martin, Ronnie Carroll, Albert Locke, Peter Knight and Alan Freeman - voted The Panthers triumphant winners!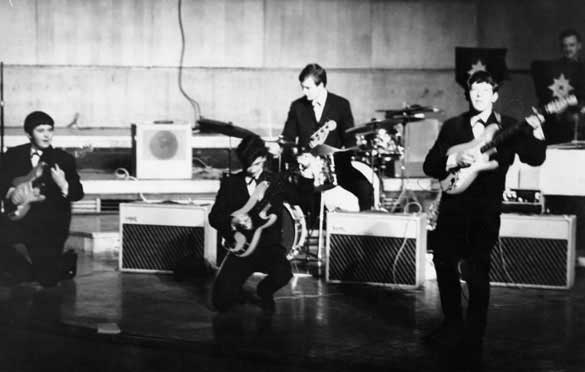 Neil, Jeff, John and Rowland.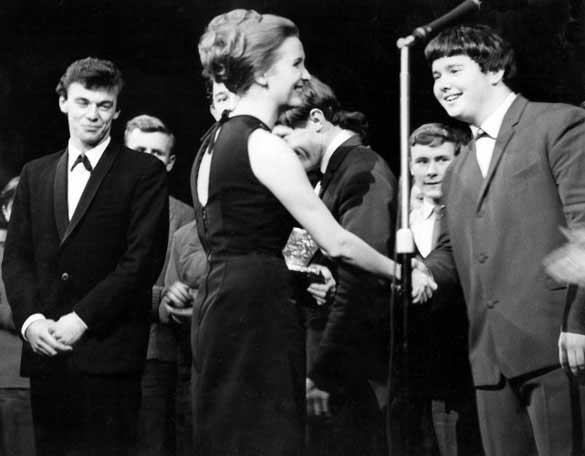 Brian Fletcher is a foreground observer as Millicent Martin shakes hands with Neil Kendrew just prior to collecting their prize....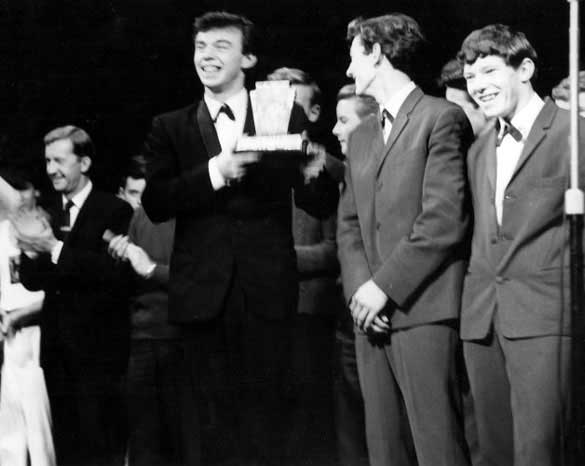 ....and Brian holds the winning trophy as smiling band members, Jeff and Rowland, look on. Applauding with the audience was the master of ceremonies, Norman Vaughan on the extreme left.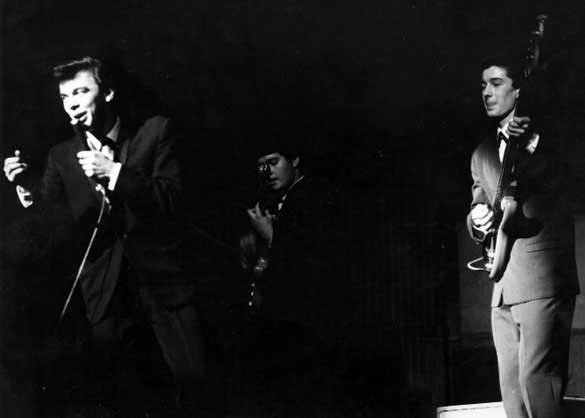 Another shot from London's Festival Hall with Brian, Neil and Jeff.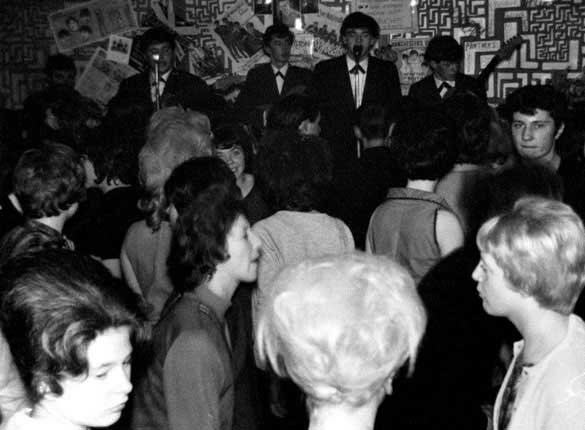 Taken at The Outlook Club in Middlesbrough about 1962/63.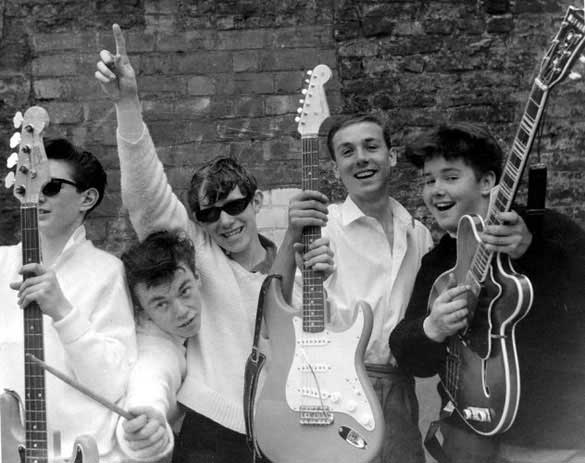 Back to the early days with Jeff, Brian, Rowland (Tala,) Col and Neil.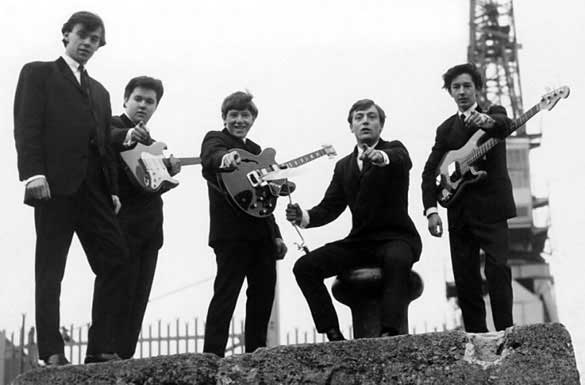 Down by the River Tees at Stockton Quayside, 1964 with Brian, Neil, Rowland (Tala), John and Jeff.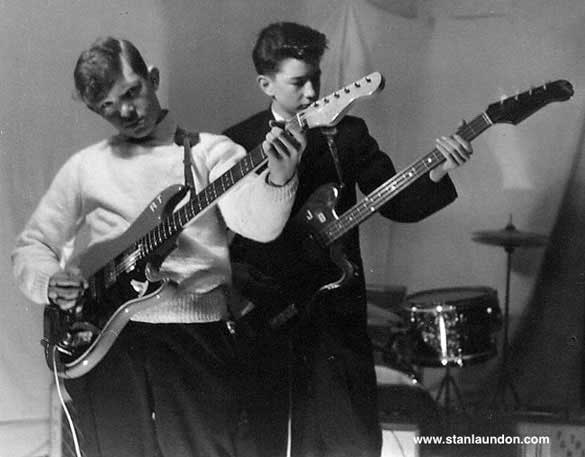 Rowland Taylor and Jeff Beall, aged 15 and 16 respectively, taken in Rowland's house at No.1 Harland Place, Norton. You can read a few more details about this former property in the right hand column.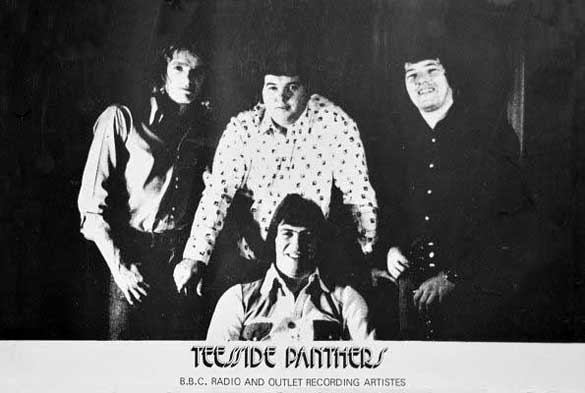 An early publicity card from The Panthers. They are, back row, left to right, Steve Bell, drummer; Neil Kendrew, bass and Rowland Taylor, guitar. In the front is Dave Barrow, vocalist. Thanks to Carol Burnup for this pic.
A selection of business cards from over the years - The Teesside Panthers.
A history of The Panthers from founder member, Rowland Taylor.
Neil Kendrew and I started practicing guitar in his garden shed in 1961. We had several attempts at getting a band together and things started to come right when we linked up with Jeff Beall, Col Stokes and Brian Fletcher. A few more personnel changes - Col left, Brian moved to vocal and John Lowe joined us on the drums. Things happened quickly now and we had plenty of local gigs. We got involved with Billingham Synthonia Youth Club as a regular group (that's what bands were called in those days) and they put us up for a competition called 'Rhythm Group of the Year' (in association with the National Association of Boys' Clubs of Great Britain). We went through several heats ending up at the final at The Royal Festival Hall London, and we WON!

Flushed with the success we decided to give it a go and turned pro in Jan 1964. We had a fantastic time touring the country during which time we played support to many 'names' of that time - Herman's Hermits, Freddie and the Dreamers, The Merseybeats, The Mindbenders, Jess Conrad, John Leyton, Wee Willie Harris, Mike and Bernie Winters and The Alex Harvey Band. We had a name change to The 1234Five to avoid conflict with the Liverpool Panthers. Brian decided to go back to work and we were offered a tour of Scotland as backing group to Dave Adams. After 10 months or so, we found we could not make a living at it and decided to call it a day. Jeff and John left the band and went to pursue careers in Electrical Engineering and Teaching.

Neil and I met up with Brian again and decided to carry on. We had several changes of style and re-focused as a pop rock band with Steve Bell as drummer, Brian Vocals and Guitar, Neil Bass and myself on guitar. This line-up was the Teesside Panthers and continued well into the late seventies. Neil and I continued to go through changes as Brian left again to pursue a solo career; we recruited Dave Barrow on guitar and vocals for a while. Then, when he left, we did a 60's revival show as a trio - Neil, Steve and I - and finally, when Steve left to run a pub in Norfolk, this left Neil and I back where we started. We then went out as a duo Major Minor. We finally hung up our stage suits in 1985. However it doesn't end there. In May of 1992 we were invited to reform by Paul Frost and ex-drummer John to appear at the Kirklevington Country Club on behalf of North Tees Hospital Scanner Appeal. It was a night of 60's nostalgia and included several other bands from that era. Since then John has kept in touch until the three of us decided to get together to do some home recordings of the music we used to play. That was nearly two years ago and we've had great fun trying to reproduce the sounds we used to get all those years ago. The highlight of this so far was a reunion with our bass player from 1962, Jeff. We played a few Shadows numbers we'd not played together for 42 YEARS. We are now in regular contact with Jeff and every so often he comes up from London to visit. Which gives up a chance to play together again, and take a walk down memory lane.
The Panthers history as seen by Jeff Beall.
Neil Kendrew and Rowland (Tala) Taylor had formed a group in Norton but were looking to improve. Myself (Jeff Beall), Brian Fletcher and Colin Stokes were recruited via a mutual acquaintance and the embryo Panthers was born in late '61.  Brian (Drums,) Neil (Rhythm,) Tala (Lead,) Jeff (Bass) and Colin (Vocals.) After months of dedicated practice, the chance to play to an audience arrived when permission was given to play on stage at St. Mary's youth club in Tilery, Stockton. No fee was involved (we could not afford it) but we would at least see how we could perform in front of a live audience. It was a singularly forgettable experience, which I have never forgotten. There were more of us on stage than in the 'audience' and between songs, the hall echoed to the sound of a football being kicked against the walls by the rapidly dwindling patrons. The rest having filtered home since it was approaching their bedtime. New attire was needed. Something eye-catching and 'de rigueur'. It was early 1962 and although we were chronologically in the sixties, musically and culturally we were still hung over from the fifties. So what was it to be? "I know" some bright spark shouted "how about lime green jumpers and moccasins?" "Hey, cool" we cried but since thisavante garde apparelwas not available in the high street, Mums, Aunties, Sisters and the rest were forcibly recruited to get their knitting needles out and prepare The Panthers for future stardom.
Bookings came and went and so did our singer Colin. What do we do now? Advertise in the Gazette of course. The auditionees were many and varied and to call them all singers is really stretching it. One guy arrived and said that he was not much of a singer but that he played a mean trumpet and as if to prove it he constantly 'parped' on it……repeatedly…..ad nausea.  We were unsuccessful in our quest for a singer. Those that could actually sing we felt would not gel with us as a group so we were back to square one. Benevolently our drummer Brian chirped up with "Hey guys I can sing a bit so why don't I give it a try up front and then all we do is get another drummer?" Problem solved since Louis Johnson, previously of The Crestas and neighbour of Brian was available and looking to drop anchor so we were 'sorted.'
Managerless, we drifted from place to place, usually church halls and working mens' clubs, gradually improving with experience and exhaustive practicing, but not really nailing the 'big ones' (could it have been those lime green jumpers?) The Maison was our 'holy grail' to follow in the footsteps of The Midnighters, The Bluecaps, The Zephyrs, Johnny Taylor Five and The Denvers. Louis had 'problems' so we recruited John Lowe on drums and, together with his father Matt, who took on the unenviable task of managing this motley crew, The Panthers finally had stability and were ready to move up a gear. With Matt at the helm, the lime green jumpers were discarded in favour of matching blue suits and the Hofners and Burns found their way to the waste bin at Burdons, being replaced by Fenders, and the Dominators and Leaks were jettisoned and replaced by Vox AC 30s. We appeared on live TV on the BBC 'Look North' programme from Newcastle and stopped at Sedgefield on the way back for fish & chips. A young lad saw us and said "Hey aren't you the lot I saw on telly tonight?" Boy did that feel good. Instant fame!!
Matt arranged bookings at The Maison (at last), The Astoria, Queens Rink, regular (every Wednesday evening) bookings at the Billingham Synthonia junior club and also entered us into the Rhythm Group of the Year contest organised by The National Association of Boys Clubs sponsored by Frankie Vaughan. We won the local contest and then the northern region final in Birmingham. The national final was to be held at The Royal Festival Hall, London. We had to play one instrumental and one vocal so we chose "The Mexican" and the vocal was "Did You Know" written by Neil. We were faultless that night and we won, and to top it off Tom Springfield of The Springfields (no surprises there) asked if he could buy the rights to that song of Neil's. Neil, of course said no since we had already started to think seriously about turning professional and winning that night had gone a long way in convincing us that we should do just that.
January 1964 and we took the plunge. We left our jobs and signed up with an agent - Paddy McKiernan - who was manager of The Merseybeats and also the proprietor of Mr. Smith's Club in Manchester. Initially the bookings came thick and fast and with some commitments still to be honoured from our 'amateur days' we were playing up to 26 nights per month. Eventually the local bookings faded and we spent a great many hours on the road travelling to bookings as far south as Birmingham and north to Scotland. Without question the highlight of our year as professionals was the night we played The Cavern. We had top billing with three other supporting groups and that was very special indeed. On other occasions, we played on the same bill as many 'top names' such as Herman's Hermits, The Merseybeats, Wee Willie Harris, Freddie & The Dreamers, The Mindbenders, Jess Conrad, The Alex Harvey Band and Zoot Money's Big Roll Band. In the autumn of '64 Brian decided that he had had enough of travelling and living out of a suitcase and called it a day. We carried on honouring the bookings as best we could with John and Neil on vocals but then we had a call from our agent to ask if we would support Dave Adams from Sheffield on a mini tour of Scotland under the name Dave Adams & The Bellaires. This we did and it was a great success, culminating in a midnight booking at The Barrowland Ballroom in Glasgow where there must have been about two thousand people in the auditorium. When we were announced and came on stage the screaming started as if it were the Fab Four……what a night.
After that tour came the end of the original Panthers. John and I went to college to pursue careers in Teaching and Engineering respectively but Neil and Tala soldiered on for another twenty years under various names and with several different line-ups. We are now back together, albeit intermittently for me, making recordings of all those sixties hits we played back then and loving every minute. So that is the history of The Panthers in a few short paragraphs. We had a great time and I think we did our bit for the development of pop music on Teesside. Would we go back and do it again if we could? You bet your sweet life!
This page is dedicated to Neil Kendrew who sadly passed away on Thursday, February 16th, 2023. He was born on November 7th, 1945. RIP Neil.
This website is not responsible for the content of external internet sites
Copyright © Stan Laundon.com