THE BLUE CAPS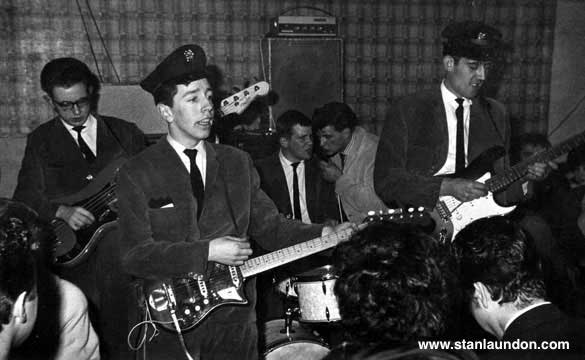 This is Johnny and the Blue Caps (1960) taken at the Gladstone Hotel in Bridge Street, Middlesbrough. The band, playing to a full house as usual, had a residency at this venue every Tuesday night and shows Charlie Peacock, Eric Whitehouse, Mick Kemp, Johnny McNaughton and Howard Rayner.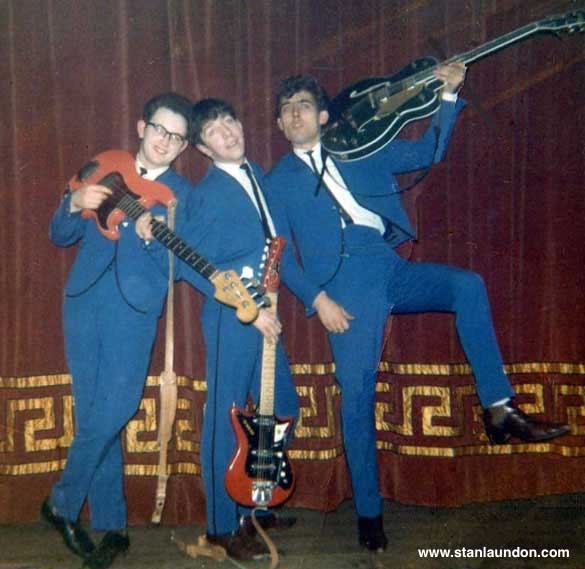 Charlie Peacock, Eric Whitehouse and Howard Rayner around 1960 at Deaf Hill Dance.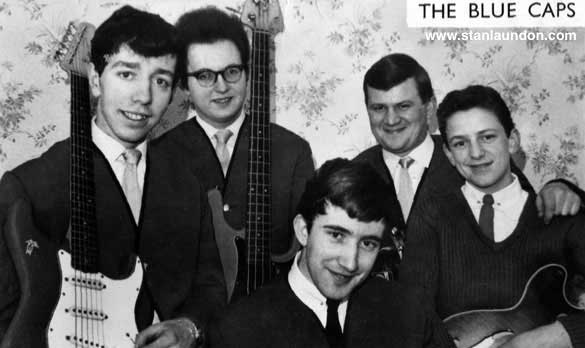 Eric, Charlie, Tony Martin, Mick and Tex. The Blue Caps were founded by the band's drummer, Mick Kemp, in 1959 and after a few personnel changes, they eventually settled with their most successful line up which endured for most of the sixties. This included Mick Kemp on drums, Ian Peacock on lead, Eric Whitehouse played rhythm guitar, Charlie Peacock was on bass and the vocalist was Alby Smith - who used the stage name of Tony Martin. The band played the usual pubs in the area but soon moved into the more lucrative club and dance hall venues. The band started to play outside the Teesside area by regularly playing shows in Northallerton, Loftus, Hutton Rudby, Thirsk and all the Young Farmers' Dances in the area.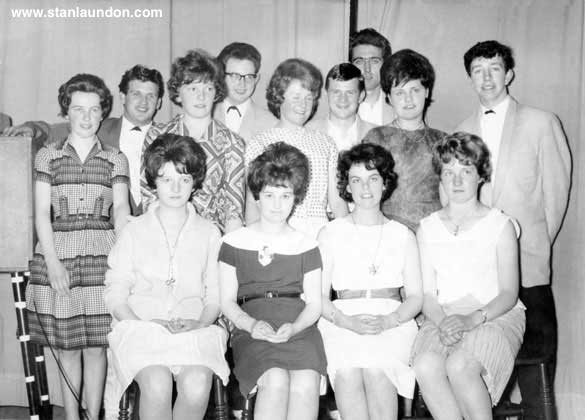 The Blue Caps at Buckie, in Scotland, in 1962. On the back row of the photograph is Johnny McNaughton vocals; Charlie Peacock bass; Mick Kemp drums; Howard Rayner lead guitar and Eric Whitehouse on guitar and only 15 years old at the time - how sweet!
The newspaper advertisement read: Portessie Hall Committee Gala Dance will take place within the Fishermen's Hall on Friday, June 15th. Admission 4/-. Music will be provided by one of Newcastle's (Newcastle?) exciting Rock Groups, Johnny and the Blue Caps. A selection of a short list for the Portessie Gala Queen will be chosen with the Queen herself being chosen at a marquee dance at Strathlene on July 13th. Contestants in the short list will have a free appointment for complete re-style shampoo and set at Mrs Lily Hill, Hairdresser, Seaview Place, Buckie.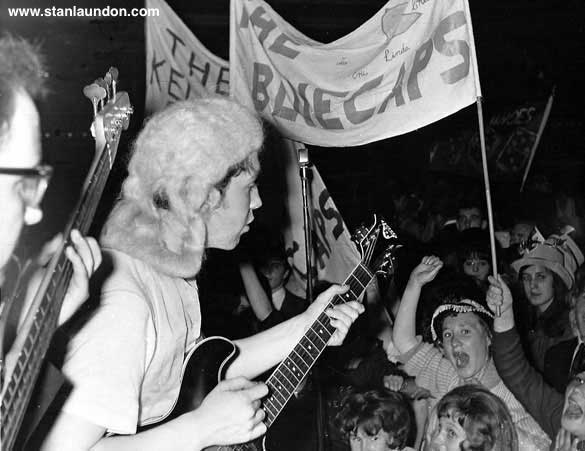 The Blue Caps with some screaming fans at Deaf Hill Dance about 1964.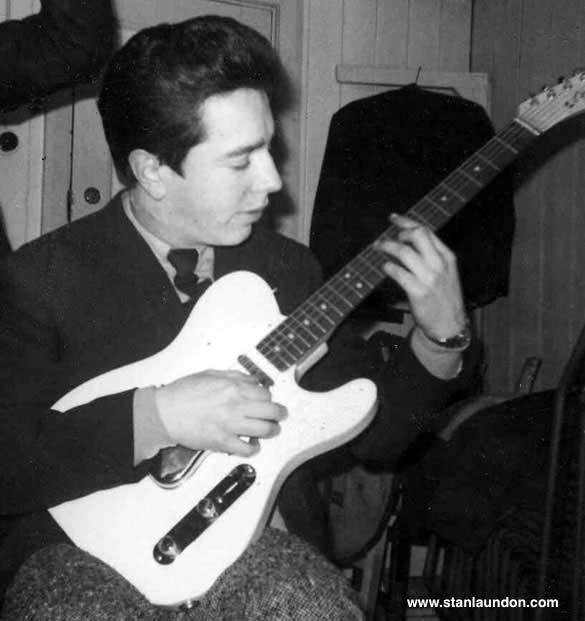 Eric - the proud owner of a Fender Telecaster. He tells us it was the first Telecaster on Teesside and cost him 132 guineas which included a Fender case. It was stolen from outside the Club Fiesta, in Norton, along with a Gibson bass, two Fender amplifiers and all the Blue Caps' stage suits.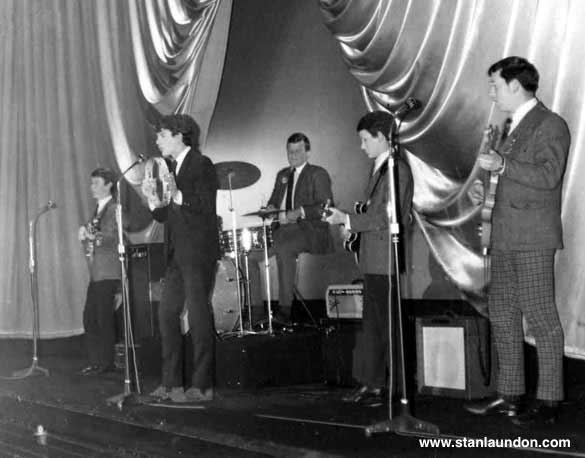 The Blue Caps, seem here early 1966, were the only Teesside band ever to perform on the main stage of the Globe Theatre in Stockton, Eric Whitehouse informs me. The line up (left to right) is Les Bennett (bass guitar & vocals) Peter Embleton (vocalist and ex-Del and the Falcons, Fiesta compere, and who later worked under the name of Peter Saint) Mick Kemp (drums and vocals) Ian "Tex" Peacock (guitar & vocals) and Eric Whitehouse (guitar and vocals).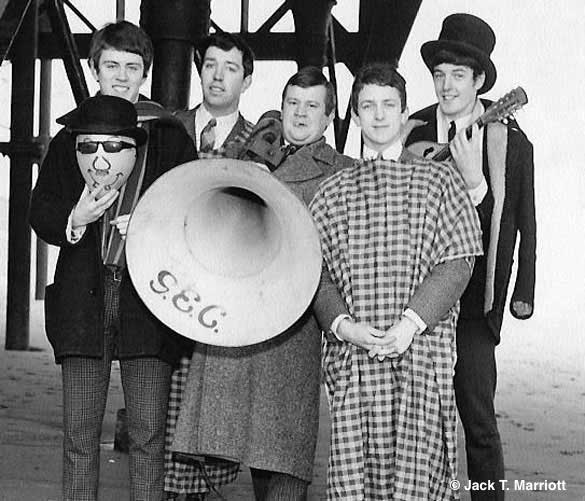 Sunny Saltburn-by-the-Sea with an early Mick Kemp public address system!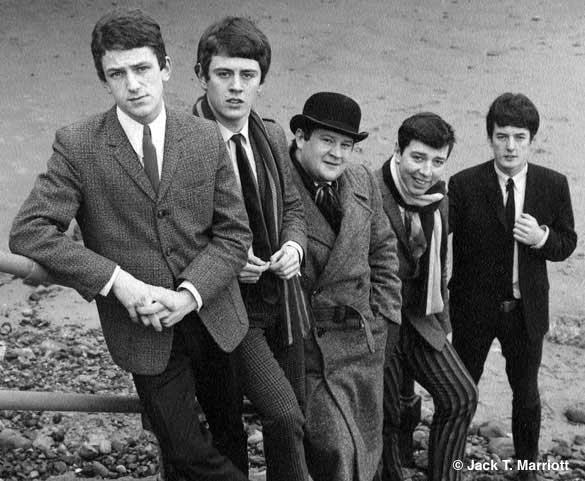 Ian, Les, Mick, Eric & Peter - photograph © Jack T. Marriott.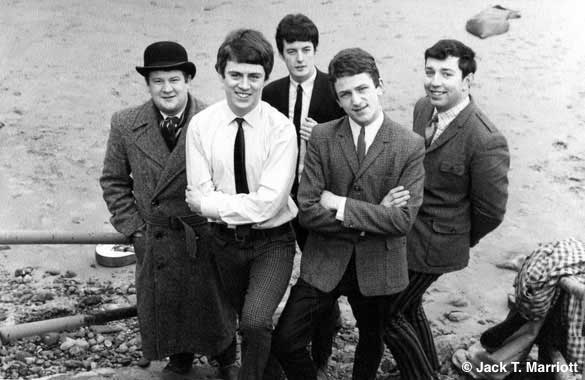 Another publicity photograph down on the steps at Saltburn Beach in 1967 with Mick, Les, Ian, Peter & Eric - photograph © Jack T. Marriott.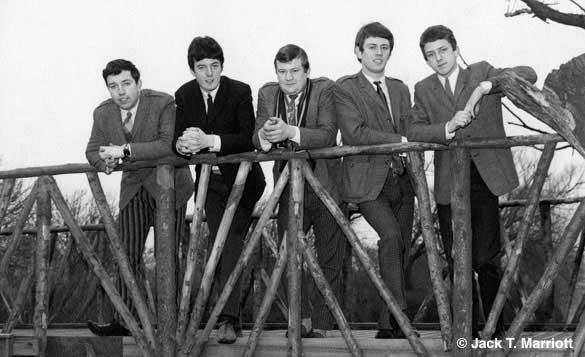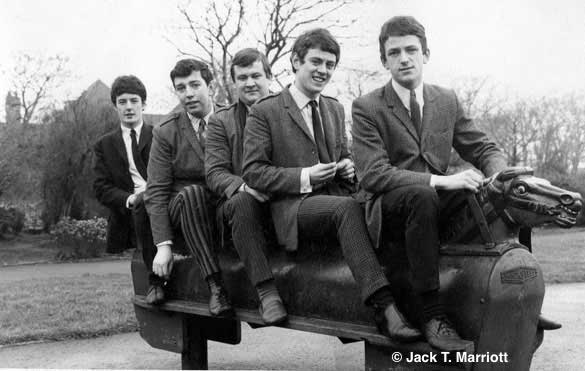 The two photographs above show the boys having some fun in Redcar Park in 1967 - photographs © Jack T. Marriott.
On the left we have another one of The Blue Caps under Saltburn Pier - photograph © Jack T. Marriott and, on the right, Eric Whitehouse playing a Harmony Meteor guitar with Mick Kemp, at the back, on the drums.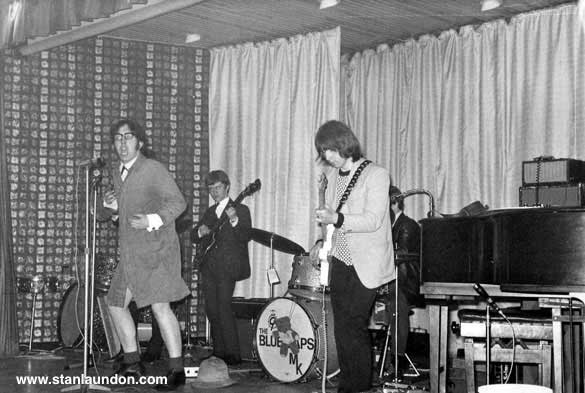 Eric, Les, Ezza and Mick in 1968.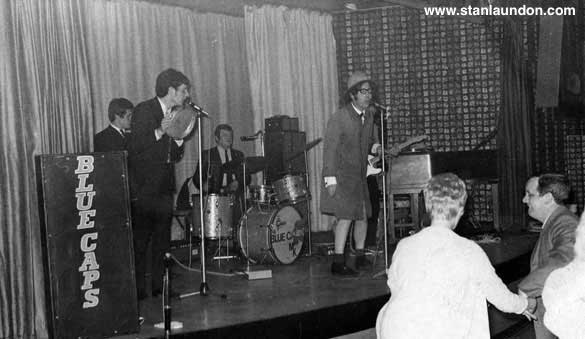 Les, Peter Embleton, Mick Kemp, Eric and Ezza Robinson - 1968.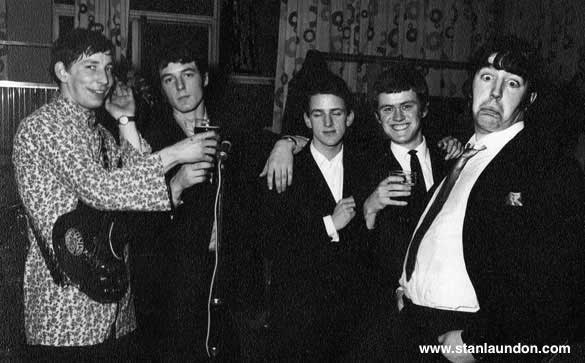 Pedro, Peter, Ian, Les and Eric at the ICI Club, in Wilton.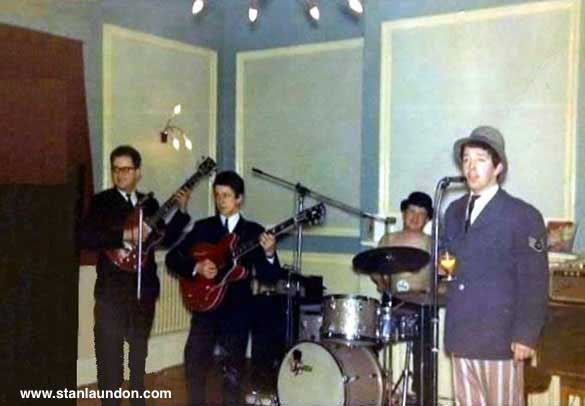 Old Stillington Club, about 1965.
Eric, Les, Ian and Mick - note the loud trousers worn by Eric and Mick!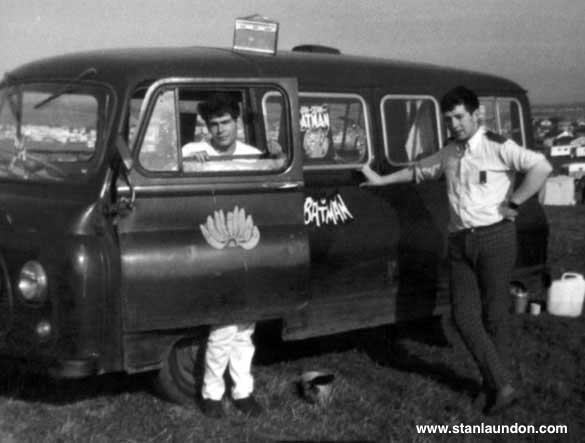 This is the band's second hand J4 which they bought from Fyffe's Bananas. The gentleman at the door is Mick Kemp's cousin, Robbie the Roadie, with Eric on the right.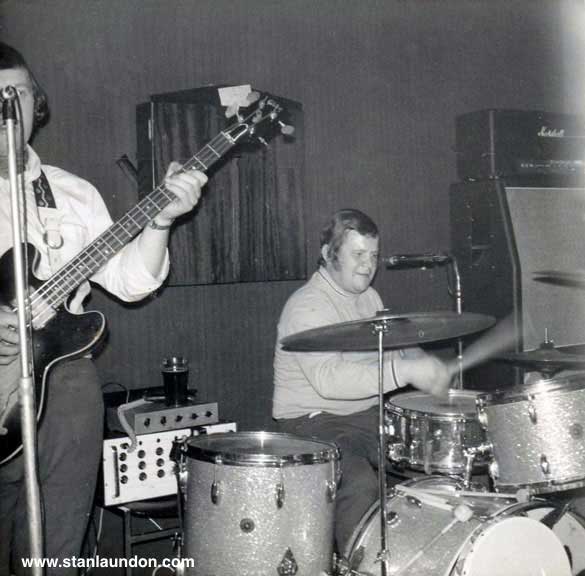 This dates from about 1969 - with Trevor Davis playing a Gibson bass, which belonged to Mick Kemp, and Mick is on drums.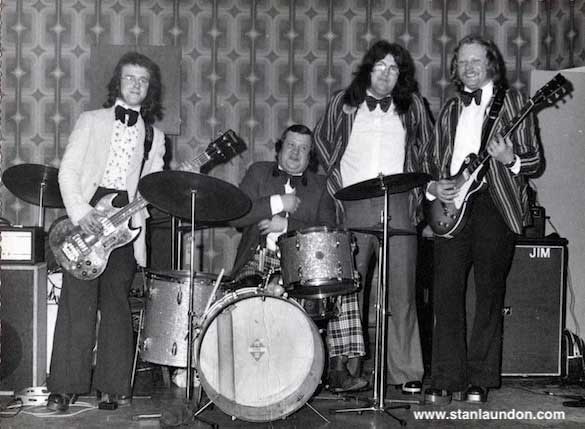 The Blue Caps from 1974 featuring Barry Skeldon on bass guitar, Mick Kemp on drums, Kay Dee on vocals with Jimmy Pugh on lead guitar.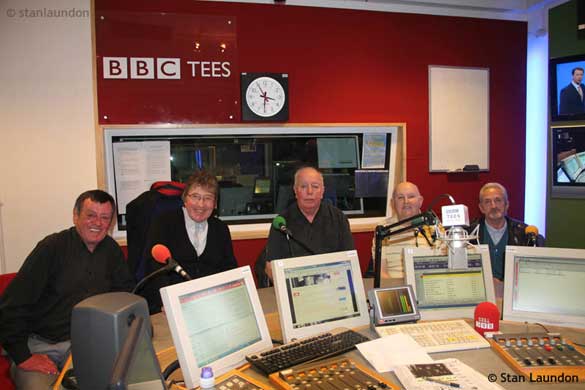 A more up-to-date photograph of those boys from yesteryear. The Blue Caps with Les Bennett, Alby Smith, Eric Whitehouse, Charlie Peacock and Ian "Tex" Peacock in the BBC Tees studios during April 2014. They were guests on the John Foster Show. Photograph © Stan Laundon.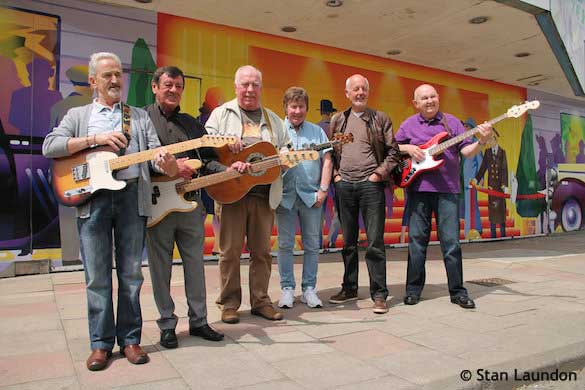 People from across Stockton Borough have selected five acts to be immortalised in Stockton Town Centre. The Bee Gees, Norman Wisdom, Ken Dodd, T-Rex and local band The Blue Caps will join ten other acts in a spectacular piece of artwork installed in the pavement outside The Globe Theatre. The happy smiling faces above are former Blue Caps members Ian "Tex" Peacock, Les Bennett, Eric Whitehouse, Alby Smith, Peter Embleton and Charlie Peacock. A thank you, too, to Tex for using Stan Laundon's Fender Telecaster Highway 1!

"STELLAR: The Stars Fell on Stockton" is Stockton's very own version of the Hollywood style walk of fame. It will see spotlights etched with a portrait of the Globe's past performers surrounded by colourful LED strips. In March 2014 it was announced that ten of the positions would be occupied by Buddy Holly, Cliff Richard, Ike & Tina Turner, Morecambe & Wise, Roy Orbison, Shirley Bassey, Status Quo, The Beatles, The Rolling Stones and Tom Jones.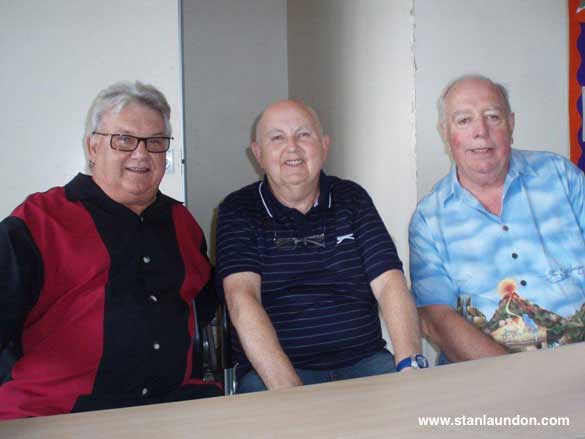 Three of the original Blue Caps meet for the first time in more than 50 years. Johnny McNaughton, who now lives in Brisbane, Australia, visited Teesside in June 2014 and met up with Charlie Peacock and Eric Whitehouse.
Polite Notice:
Photographs on this page are © copyright to Eric Whitehouse, The Blue Caps and Trevor Davis unless otherwise stated and are not to be downloaded, or printed, for private use by individuals, organisations or social network sites. By viewing a digital image from this collection, you are agreeing to comply with copyright licensing regulations. These state that you will not copy, publish or distribute the image in any way.

Be sure to see a brief history of The Blue Caps on YouTube.
This page is dedicated to Les Bennett who passed away during early May, 2020, to Ian Peacock who passed away on April 14th, 2021 and to Charlie Peacock, who died in Rochdale on Tuesday, April 5th, 2022 aged 77.