THE SKYLINERS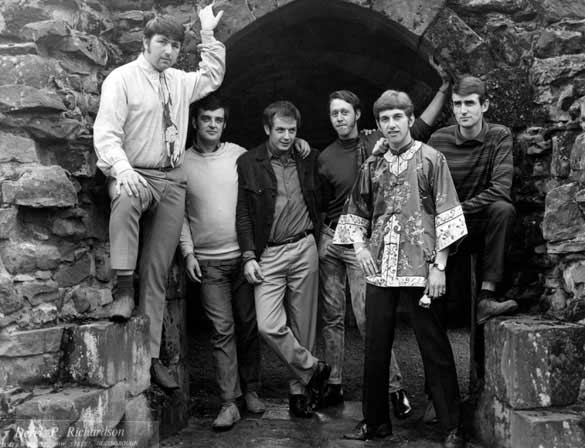 The Skyliners looking all casual in 1967 with Malcolm Buckton, Norrie Roy, Malcolm Bradshaw, Dave Williamson, Billy Cockerill and Brian Rowe. Photograph © Derek P. Richardson.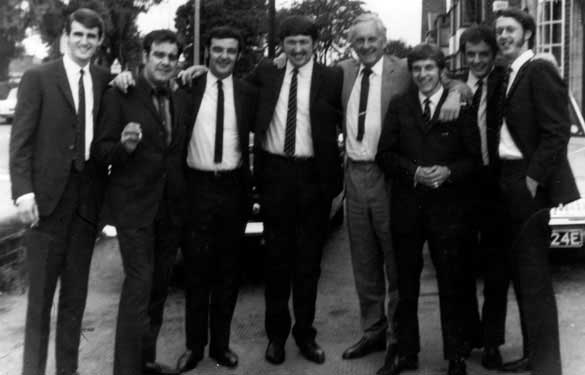 This very rare photograph of The Skyliners was found by Malcolm Buckton which he thought he'd lost. It dates to August 1967 and was taken outside the TV Studios in Manchester after the band took part in the "Opportunity Knocks" programme and shows Brian Rowe, Roy Milo (the programme producer) Norrie Roy, Malcolm Buckton, Hughie Green, Billy Cockerill, Malcolm Bradshaw and David Williamson.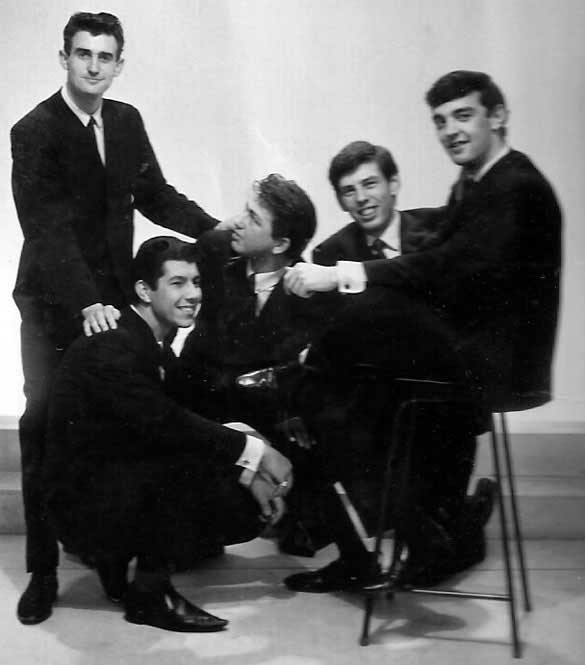 A promotional photograph of The Skyliners which shows, left to right, Brian Rowe on drums, Tony Barker on guitar, Malcolm Buckton on bass guitar, Brian Dixon on lead guitar and Norrie Roy vocalist and keyboard player. Later the line up included Dave Williamson on saxophone and Malcolm Bradshaw on trumpet.
The Skyliners, from Teesside, appeared at various venues throughout the area including the Old Music Hall, in Redcar and the Coatham Hotel - Redcar Jazz club - on Sundays. They also appeared at Middlesbrough Empire and Stockton Palais as well as making appearances on various TV and radio programmes.
They also worked with The Alan Price Set, The Animals, Long John Baldry and Rod Stewart, Cream, The Graham Bond Organisation, Johnny Kidd and the Pirates, Shane Fenton - who later went on to become Alvin Stardust - Dave Berry and Mike Berry also acted as a backing group to Englebert Humperdinck.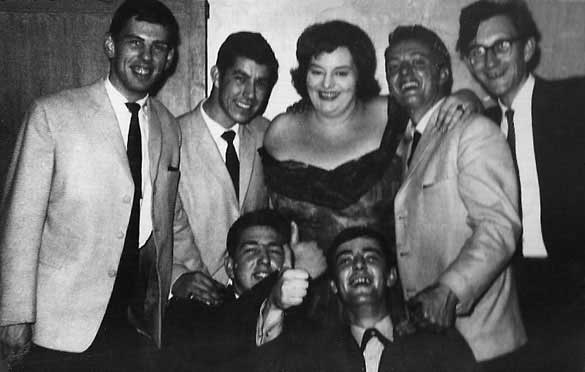 The Skyliners with Hattie Jacques. This was taken at a Charity function at the Coatham Hotel Ballroom in Redcar during September 1962  Eric Sykes was also to appear but was ill on the night. The photograph shows Brian Dixon, Tony Barker, Hattie, Gary Peckover, Terry Wealleans, the group's manager, with Malcolm Buckton and Norrie Roy in the front.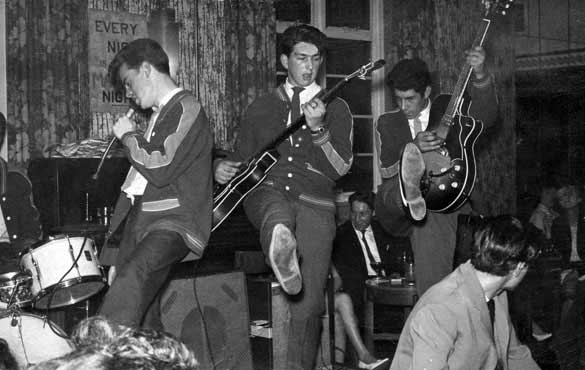 This was taken at The Magnet Hotel in Grangetown and shows, left to right, half of Gary Peckover on drums, Neville Henderson, Malcolm "Buck" Buckton and Tony Barker. The other guitarist in the band, and out of shot, was Roger Barker. Neville recalls "If I remember rightly the song we were doing was probably "Tallahassee Lassie" the Freddie Cannon hit".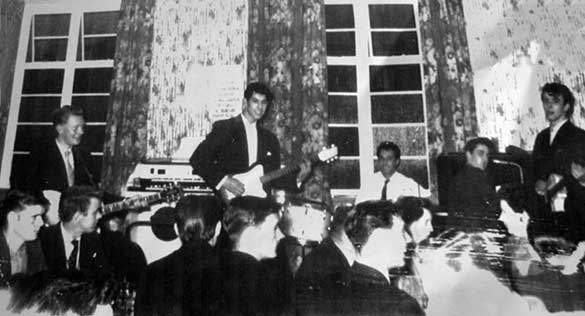 Another rare one of The Skyliners and also at The Magnet Hotel in Grangetown. The photograph was kindly supplied by Mrs Bess Brown and used with thanks. It shows, left to right, Roger Barker, Tony Barker, Brian Saul on drums, Norrie Roy singer and keyboard player and Mick Boothby on bass.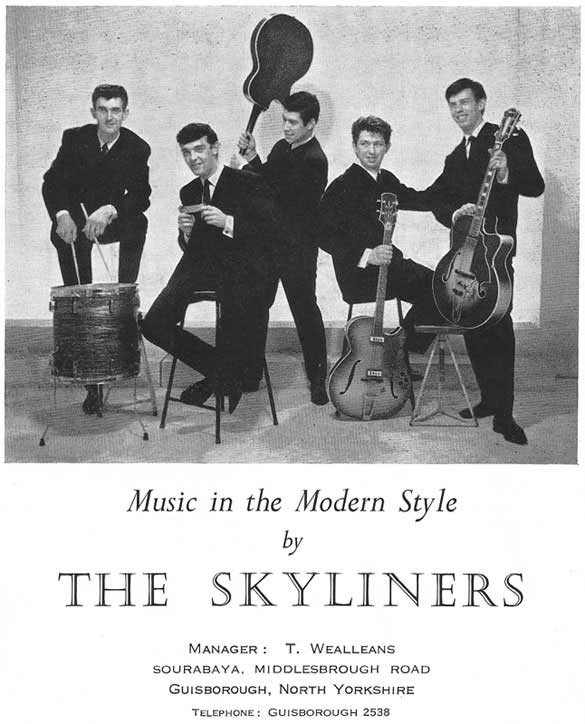 A flyer of The Skyliners - Music in the Modern Style - which came to us courtesy of Justine Barker the daughter of the late Tony Barker who, sadly, passed way in 2008.
A brief history of The Skyliners by Malcolm Buckton:
The Skyliners had a very long and successful period in the music business from 1960 until 1969 when they changed the band name to Government and became one of the most successful bands from Teesside.
In the early years the group played mostly around the north east in dance halls, pubs and youth clubs with the most successful period being 1964/67. With a line-up of Norrie Roy on vocals, keyboards and harmonica; Tony Barker on guitar and vocals; Brian Dixon on guitar and vocals; Malcolm Buckton on bass guitar and Brian Rowe on drums, they entered a competition organised by the very popular TV show "Ready, Steady, Go" which was presented by Kathy McGowan and Keith Fordyce. From a total of 8,000 groups only 60 were invited to appear on the show over the ten weeks which it ran. They even ran buses from Middlesbrough with our fans to the TV studios at Wembley.
This was followed in 1966 with more television work on the George Romaine TV show "Glamour Trail" and with Hughie Green on "Opportunity Knocks." By this time Brian Dixon and Tony Barker had left the group to be replaced by Billy Cockerill on guitar and vocals, David Williamson on tenor sax and Malcolm Bradshaw on trumpet. In fact, Billy Cockerill had only joined the group three weeks before the "Opportunity Knocks" show and found himself supporting the Bee Gees the week before the show and then a week with Tommy Cooper after - a bit like, later on, when David Coverdale joined the group and his third gig was supporting Joe Cocker!
The Friday after "Opportunity Knocks" Billy and myself were in Ivor Mairants music shop in London buying strings when two of the Bee Gees came in, recognised us, and wanted to know how the show went. How times changed for them.
With further changes in personnel taking place in 1968 when Norrie Roy and Billy Cockerill left the group - David Coverdale on vocals, Ray Johns on hammond organ and Mick Martin on guitar were recruited and a new band called Government was born.
This page is dedicated to the memory of Roger Barker, Tony Barker, Gary Peckover & Norrie Roy who helped start it all and to Derek P. Richardson for his photography.
This website is not responsible for the content of external internet sites
Copyright © Stan Laundon.com