BANDS
The Bands' pages are dedicated to the groups from Hartlepool and Teesside who were operating in the 1960's. If your band is not mentioned here and you'd like to be considered, send me an email with all the details. If we don't know about you, we can't mention you!
The Blues 'n' Roots Festival planned for June at Crathorne Hall has been cancelled. A notice on the RoosterRoxxx website says "It is with great sadness that we announce that Rooster Roxxx 2015 will not be taking place on June 6th as planned. Due to circumstances beyond our control we are unable to provide an experience of the high calibre we, and you, would expect from a premium festival. It has been the hardest decision to make, but we have reluctantly no alternative but to cancel".

The Searchers are all set to play at Norton Cricket Club on Saturday, July 11th. Tickets are £30 pounds and are available from the club by calling (01642) 554031 or you can send an email to cic74@nortonsportscharity.co.uk. Payment by cheque, cash or debit card.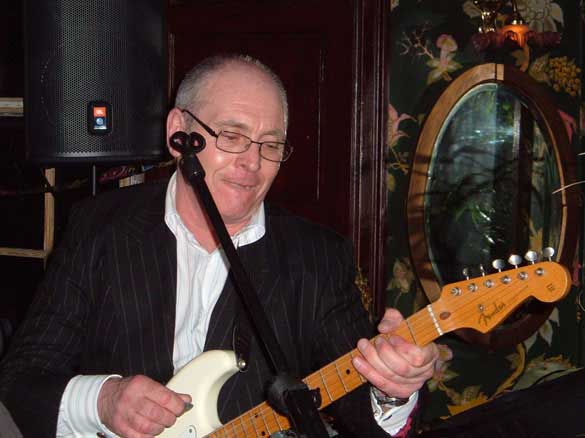 A tribute page has been launched for Teesside musician, John Whittingham, a former member of such bands as Down and Out, Elastic Band, Cycle, Desperado and Raised on Rusks. Former band members Colin Bradley, Nev Reed and John Taylor have contributed with their thoughts and photographs. See the John Whittingham page for full details.
How it all started: For almost fourteen years I lived on the Costa Blanca in Spain. Following a visit I made to my hometown of Hartlepool in June 2004, it was suggested to me to start a web page featuring some of the old bands, or groups, that graced the pubs and clubs of the area back in the 1960's. The idea started after Billy Crallan, George Hart and Ed Saul all joined forces to play some of the old songs to help celebrate Ron Blair's 60th birthday. Billy Crallan, Ron and I played together in The Trakkers and George, of course, was the original lead guitarist of The Hartbeats.
The photograph above shows George, Billy, me and Ron at Hartlepool Cricket Club. So, what started as an idea has now expanded into many pages - and is dedicated to the great bands of that era and the friendship we all enjoyed. Photograph © Marion Crallan.
If you've enjoyed your visit to this site why not tell us which pages, in particular, you've enjoyed seeing. I'd certainly like to hear from you and your comments would be passed on to the people in question. You can reach us directly by using the form on our Contact page.
This website is not responsible for the content of external internet sites
Copyright © Stan Laundon.com