BANDS - FROM HARTLEPOOL & TEESSIDE IN THE 60'S
Geoff Callaghan, from Thornaby, was kind enough to send us this photograph. It features a band called Al and The Vendors at an unknown venue on Teesside about 1963-ish. On the right is singer Alan Drew, who came from Teesville in Eston, at the rear and almost hidden is Barry Pottage the lead guitarist who came from Stockton, George Temperton the rhythm guitarist is in the centre and also from Stockton. We do not, as yet, have a name for the bassist but we do know that Geoff Callaghan is the drummer.
Geoff also says that he has no contact with the guys now but sincerely hopes they are all well and, like him, enjoying their families and retirements. He also says he'd like to get involved with a 60's style band again so if you are interested let me know and your email will be passed on to him.
Two of the latest bands to grace our music pages are The Legends and The Mizares. Both groups were in action during the mid to late 60's and were based around the Horden and Peterlee area. You can view these photographs in a larger size, and read details about the individual band members, by visiting our Various bands page.
An excellent and informative new website on the Teesside band The Freelanders titled "There Is A Story To Tell" is now published - and what a story! It has been created by John Blench and covers their career from start to finish from their biography to music. It's their highs and lows, the many laughs and the 'occasional' differences they had and the chance to see, and hear, the experiences of the band as they moved from being a semi-pro outfit to a professional one.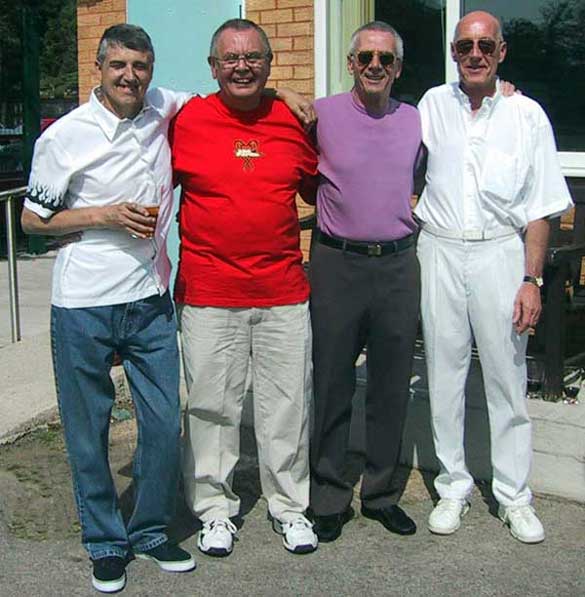 How it all started: For almost fourteen years I lived on the Costa Blanca in Spain. Following a visit I made to my hometown of Hartlepool in June 2004, it was suggested to me to start a web page featuring some of the old bands, or groups, that graced the pubs and clubs of the area back in the 1960's. The idea started after Billy Crallan, George Hart and Ed Saul all joined forces to play some of the old songs to help celebrate Ron Blair's 60th birthday. Billy Crallan, Ron and I played together in The Trakkers and George, of course, was the original lead guitarist of The Hartbeats.
The photograph above shows George, Billy, me and Ron at Hartlepool Cricket Club. So, what started as an idea has now expanded into many pages - and is dedicated to the great bands of that era and the friendship we all enjoyed. Photograph © Marion Crallan.

This website is not responsible for the content of external internet sites
Copyright © Stan Laundon.com