BANDS - FROM HARTLEPOOL & TEESSIDE IN THE 60'S
How nice it is to see John McCoy and The Kirklevington Country Club being nominated by the Form UK Blues website as one of the finalists to lift the 2018 Lifetime Contribution to the Blues in the UK. It would be nice, through this page, if we could create a lot of votes for John. You would, of course, have to register on the site enabling you to do this - so we can always hope and best wishes to John and The Kirk.
The Crathorne Arms at Crathorne, near Yarm, was the venue on Tuesday, January 23rd, 2018 for a great music night featuring acts of today and yesteryear. Do enjoy this slideshow of 40 images featuring Peter Ayton, Harriet Bradshaw, John Brady, Brian Dales, Ray Dales, Paul Donnelly, Kevin Eland, Alan Fearnley, Mike Gutteridge, Al Harrington, Colin Holt, Ray Johns, Paul McClenaghan, Ottie McLoughlin, Jeremy McMurray, Jeff O'Donnell, Elaine Palmer, Paul Smith, John Taylor, Mark Toomey, Emma Wilson and The Fabulosa Rhythm and Blues Big Band. Photographs copyright © Stan Laundon.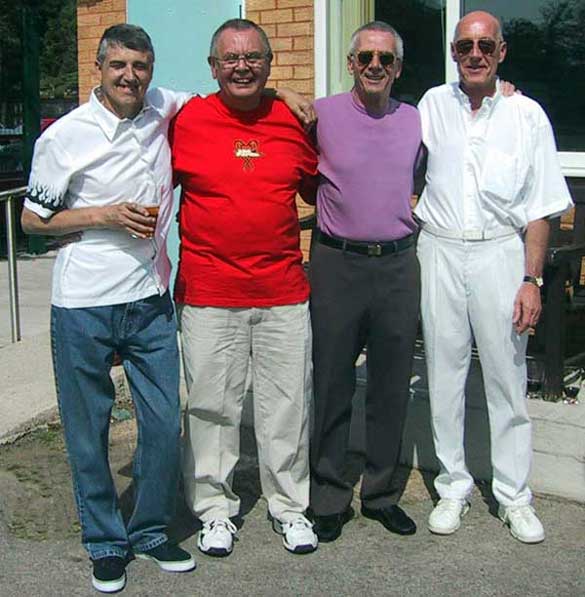 How it all started: For almost fourteen years I lived on the Costa Blanca in Spain. Following a visit I made to my hometown of Hartlepool in June 2004, it was suggested to me to start a web page featuring some of the old bands, or groups, that graced the pubs and clubs of the area back in the 1960's. The idea started after Billy Crallan, George Hart and Ed Saul all joined forces to play some of the old songs to help celebrate Ron Blair's 60th birthday. Billy Crallan, Ron and I played together in The Trakkers and George, of course, was the original lead guitarist of The Hartbeats.
The photograph above shows George, Billy, me and Ron at Hartlepool Cricket Club. So, what started as an idea has now expanded into many pages - and is dedicated to the great bands of that era and the friendship we all enjoyed. Photograph © Marion Crallan.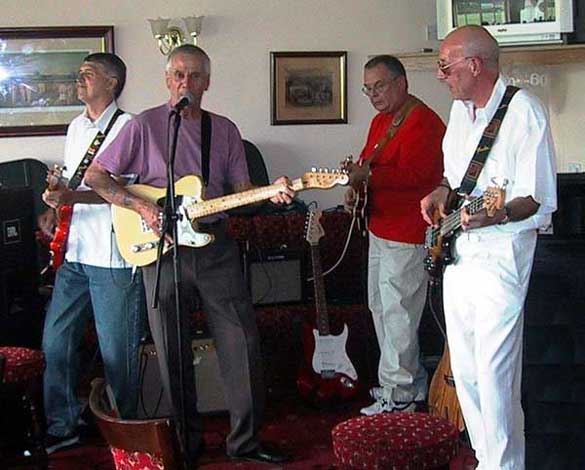 George Hart, Stan Laundon, Billy Crallan and Ron Blair re-living the sixties at Hartlepool Cricket Club and celebrating Ron's 60th birthday in June, 2004. Photograph © Marion Crallan.

For sale - my American Fender Telecaster Highway 1 guitar. It was bought on September 15th, 2004 and they are no longer made. I have the gig bag, hard case, stand, strap, all the Fender tags to go with it as well as the official receipt. It is in mint condition and offers please around £750. You can reach me through my usual email address if you have it or through the form on the contact page.
This website is not responsible for the content of external internet sites
Copyright © Stan Laundon.com