BANDS - FROM HARTLEPOOL & TEESSIDE IN THE 60'S
It's nice to know that the 60's Hartlepool band The Vistas, with members Mick Tracey, Kenny Butcher, Tom Tracey and Billy Talbot, are to be featured in a new book due to be published later this year. It's called "What About Us? A Rocklopaedia of Britain's Other Recordings Groups 1962-1966". The author, Bruce Welsh, from Canada, had the first edition released in 2012 and was given a five-star review by Record Collector who also selected it as one of their Top Book Picks for that year. Bruce was doing some research on The Colorados which brought him to this site. The Vistas, of course, used that name when they appeared with Jess Conrad on the stage show "As Long As They're Happy" in 1966. They also made a record under that name which was produced by Joe Meek. Before this new edition of the book is published you can get an idea of Bruce's other work by looking at his website What About Us Rocklopaedia.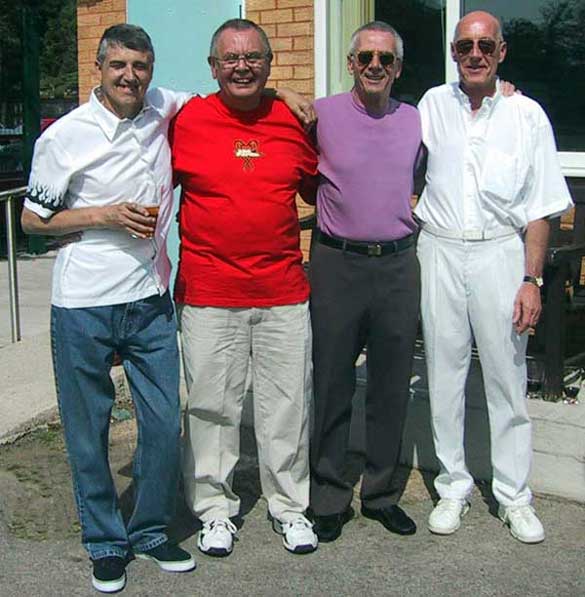 How it all started: For almost fourteen years I lived on the Costa Blanca in Spain. Following a visit I made to my hometown of Hartlepool in June 2004, it was suggested to me to start a web page featuring some of the old bands, or groups, that graced the pubs and clubs of the area back in the 1960's. The idea started after Billy Crallan, George Hart and Ed Saul all joined forces to play some of the old songs to help celebrate Ron Blair's 60th birthday. Billy Crallan, Ron and I played together in The Trakkers and George, of course, was the original lead guitarist of The Hartbeats.
The photograph above shows George, Billy, me and Ron at Hartlepool Cricket Club. So, what started as an idea has now expanded into many pages - and is dedicated to the great bands of that era and the friendship we all enjoyed. Photograph © Marion Crallan.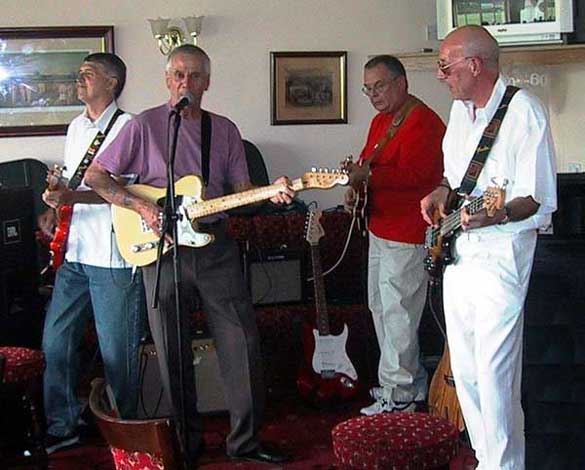 George Hart, Stan Laundon, Billy Crallan and Ron Blair re-living the sixties at Hartlepool Cricket Club and celebrating Ron's 60th birthday in June, 2004.
The bass playing monkey on this page was created by Sevenoaks Art - graphics and free 3D animated gifs for web sites.
If you'd like to be kept up to date with any changes we make to our bands pages do drop us a line through our Contact page and your name will be added to a list to receive periodical emails.
This website is not responsible for the content of external internet sites
Copyright © Stan Laundon.com