BANDS
The Bands' pages are dedicated to the groups from Hartlepool and Teesside who were operating in the 1960's. If your band is not mentioned here and you'd like to be considered, send me an email with all the details. If we don't know about you, we can't mention you!
Rob Parrish, who was the lead singer with the Teesside band Government from 1972 to 1998, sadly passed away on Sunday, October 12th. 2014. After six months of chemotherapy which failed to cure his Lymphoma, he was discharged to spend his final days at home in Saltburn with his family.

Fellow Teesside musician, Terry Metcalfe, has one of his treasured guitars for sale and asked me if I would mention it on this page to see if there's any interest. The guitar was made by James Cairnes "master guitar builder". Jim had been making guitars from the 60s and building them for many prominent musicians - including Chris Rea. He was the designer of the Colt 45 Westone guitar that was aimed at the USA market with reasonable success. He also made pick ups for Burns as well as his own design. This guitar is one of Jim's last, if not last, guitar he made before he passed on.
This 504 Custom Classic has the resemblance of a Telecaster along with its own unique features: inlay neck design, head stock, Jim's own pickups metal nut that give it a fantastic sound. Its in mint condition, plastic coverings are still in place and only played by Jim and a little by Terry.
Terry bought it on the 29-11-08 and is wanting around £800 or reasonable offer. It comes in a new black hard case with red velvet inlay. You are invited to try it at anytime with no obligation to buy. Please contact Stan Laundon for further photographs or Terry's details.


The Stars Fall on Stockton - people from across Stockton Borough have selected five acts to be immortalised in Stockton Town Centre. The Bee Gees, Norman Wisdom, Ken Dodd, T-Rex and local band the Blue Caps will join ten other acts in a spectacular piece of artwork installed in the pavement outside The Globe Theatre. The happy smiling faces above are former Blue Caps members Ian "Tex" Peacock, Les Bennett, Eric Whitehouse, Alby Smith, Peter Embleton and Charlie Peacock.

"STELLAR: The Stars Fell on Stockton" is Stockton's very own version of the Hollywood style walk of fame. It will see spotlights etched with a portrait of the Globe's past performers surrounded by colourful LED strips. In March it was announced that ten of the positions would be occupied by Buddy Holly, Cliff Richard, Ike & Tina Turner, Morecambe & Wise, Roy Orbison, Shirley Bassey, Status Quo, The Beatles, The Rolling Stones and Tom Jones.

During the last two months members of the public have been nominating acts who performed at The Globe to complete the line-up. Through the voting it emerged that the Blue Caps should be remembered alongside some of the biggest recording artists of the 1960s and 70s.

The Blue Caps formed in the late 1950s and were the only Stockton-based band to ever perform on the stage at the town's iconic Globe Theatre. They played at the Globe eleven times along with other major theatres and night clubs across the North-East, supporting various acts ranging from Brenda Lee to Freddie and the Dreamers and Georgie Fame. They may not have had national success but in Stockton and across the North-East the Blue Caps fabulous live performances led them to become a household name.

Original member of the Blue Caps, Eric Whitehouse, said: "We are chuffed to bits to have secured a place within the Stellar artwork and would like to thank the people of Stockton for remembering us half a century later. The Blue Caps have fond memories of The Globe and it was a fantastic stepping stone for us – performances there led to the band performing in cabaret at Club Fiesta with the likes of Brenda Lee and Frankie Vaughan, and Redcar Jazz Club with the likes of Long John Baldry, who included us in his band with Rod Stewart and Reg Dwight."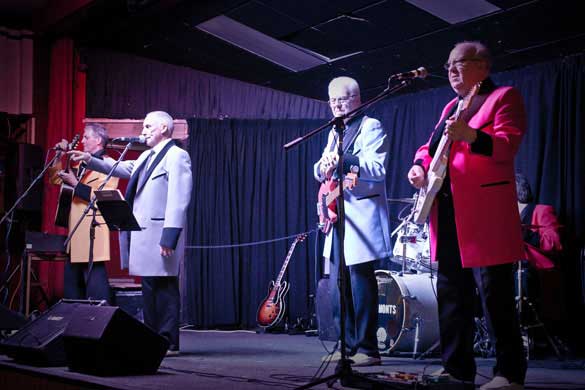 The Delmonts had a series of concert photographs taken and have a healthy concert schedule over the next few months. They are, left to right, Ray Brown on rhythm guitar, Norman Craggs lead vocalist, Colin Draper on bass guitar, Ron Taylor on lead guitar with Kevin Tierney on drums almost hidden at the back.

How it all started: For almost fourteen years I lived on the Costa Blanca in Spain. Following a visit I made to my hometown of Hartlepool in June 2004, it was suggested to me to start a web page featuring some of the old bands, or groups, that graced the pubs and clubs of the area back in the 1960's. The idea started after Billy Crallan, George Hart and Ed Saul all joined forces to play some of the old songs to help celebrate Ron Blair's 60th birthday. Billy Crallan, Ron and I played together in The Trakkers and George, of course, was the original lead guitarist of The Hartbeats.
The photograph above shows George, Billy, me and Ron at Hartlepool Cricket Club. So, what started as an idea has now expanded into many pages - and is dedicated to the great bands of that era and the friendship we all enjoyed. Photograph © Marion Crallan.
This website is not responsible for the content of external internet sites
Copyright © Stan Laundon.com