BBC RADIO TEESSIDE
Please note: This is purely a personal page by Stan Laundon and not the website for BBC Tees. You can get in touch with them directly on their own site.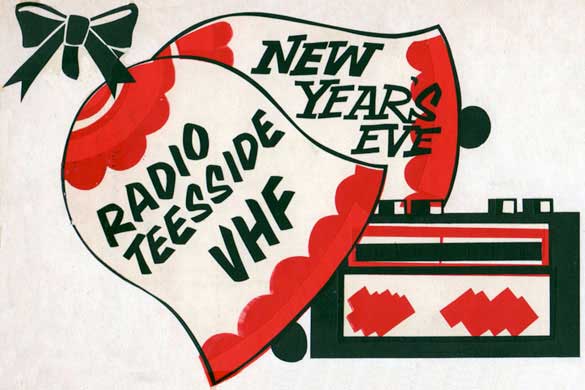 BBC Radio Teesside started life on New Year's Eve, 1970. This little painting was brought into reception by a young listener which, eventually, found its way into one of my scrapbooks.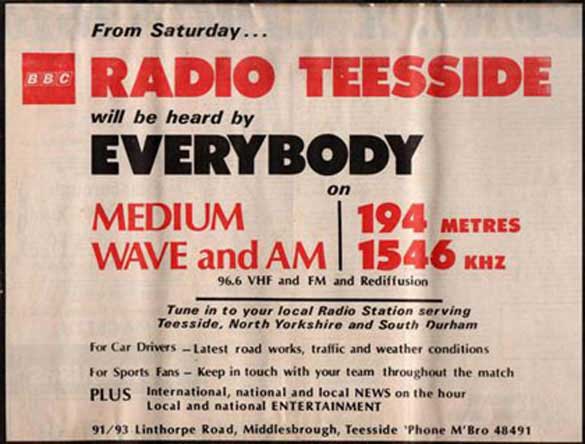 Advertisements for the new radio station appeared in all local newspapers.
A series of articles which appeared in the Radio Times in the 1970s. If you click on each image, you can view the page in a larger size. The first photograph - a Radio Times article dated August 27th, 1970 with Radio Teesside Station Manager, Allan Shaw talking about Middlesbrough being 'his kind of town'. The second - a Radio Times feature, December 17/24th 1970 just before BBC Radio Teesside officially went on the air and, the third photograph here, shows the programme schedule for the first day's broadcasting - December 31st, 1970 from 6.00pm until 1.00am and then closing down until 7.00am on New Year's Day, 1971 when Graeme Aldous presented the early morning news.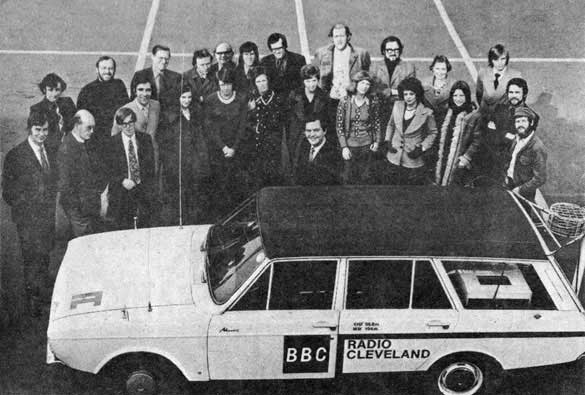 The faces behind the voices - "It might not be the most beautiful picture of the year," so the story said, "but you can't take photographs of voices - and it's voices not faces that count. "These are some of the broadcasters, engineers, technical assistants and secretaries who work together as a team to bring you the sound of BBC Radio Cleveland." The photograph, taken on the roof of the Cleveland Centre in Middlesbrough, in 1974, when BBC Radio Teesside changed its name to BBC Radio Cleveland. The good looking staff members on the photograph are, left to right on the back row, Keith Moxom, Norman Goddard, Iain Hindmarsh, Ernie Brown, Ken Boar, Stan Laundon, George Lambelle, Eric Sumner, Ian Judson, Margaret Heseltine and Tony Baynes. Jim Brady is on the extreme left of the next row with Parkin Raine, Peter Hedley, Mike Hollingworth, Liz Horsfield, Pam Smith, Barbara Littler, Sandi Marshall, Ruth France, Trisha Wharton, Vanessa Gittings, John Watson and Graeme Aldous. Station Manager Allan Shaw is right at the front. In 2007 BBC Radio Cleveland changed its name to BBC Tees. This photograph, which we believe was taken by the Evening Gazette, did not appear in the newspaper - but a similar one did which you can see in the right hand column.
Mike Hollingworth with the BBC Radio Cleveland radio car near the Transporter Bridge in Middlesbrough. Mike did several outside broadcasts for the radio station.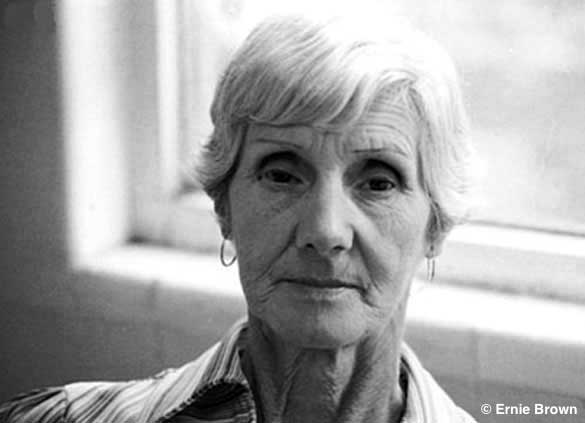 Nellie - BBC Radio Teesside's first cleaner. We all believe that Nellie deserves a special place on this site. She kept us all going in the mornings and was a wonderful, kind, caring lady. I was very fond of her.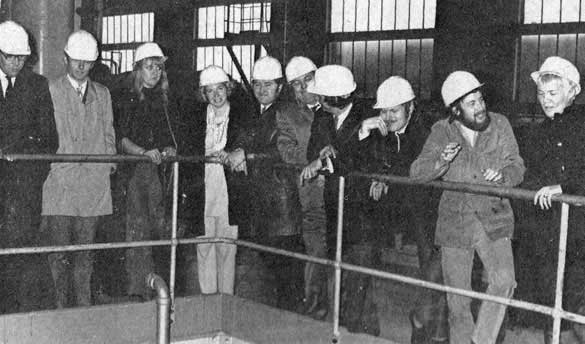 BBC Staff on a visit to ICI Wilton. They are, left to right, Iain Hindmarsh, Colin O'Keeffe, Jenny Colley, Juliette Greathead, Jim Latham, Dave Williams, Stan Laundon, Derek Hobson, Graeme Aldous and Joy Mason.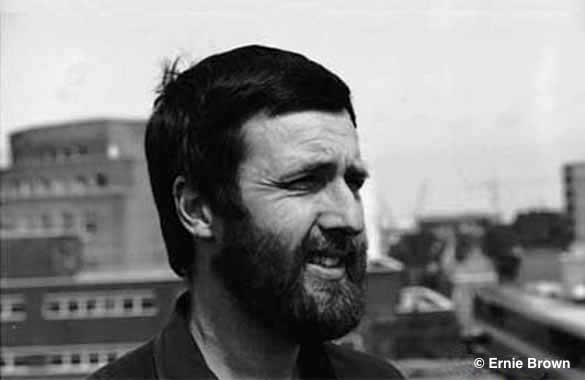 Graeme Aldous, on the roof top at Broadcasting House in Middlesbrough, was with BBC Radio Teesside from the very beginning and produced and presented various programmes over the years including "Polished Brass." Graeme has retired from radio and lives on the North York Moors.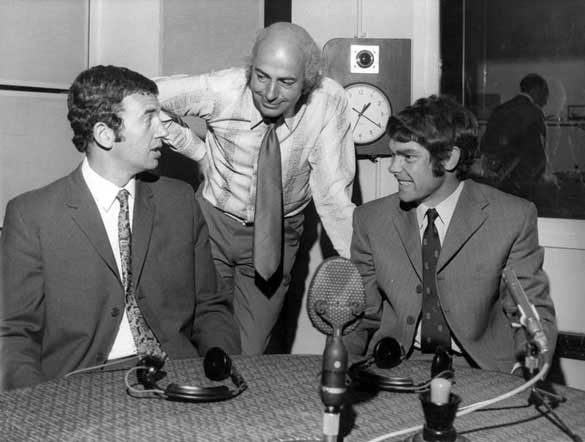 Peter Cook, in the centre, during his time producing sport at BBC Radio Teesside in the 1970's. Allan Jones the manager of Darlington Football Club is seen with the Hartlepool manager, Len Ashurst.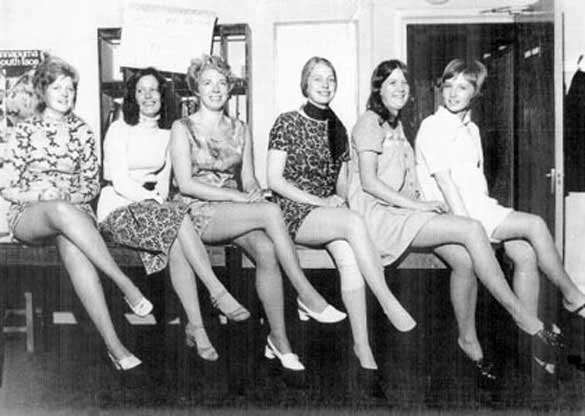 The Radio Teesside Girls - secretaries, receptionists and broadcasters - Linda Tutin, Barbara Littler, Juliette Greathead, Sabina Taylor, Noreen Moss and a name required please.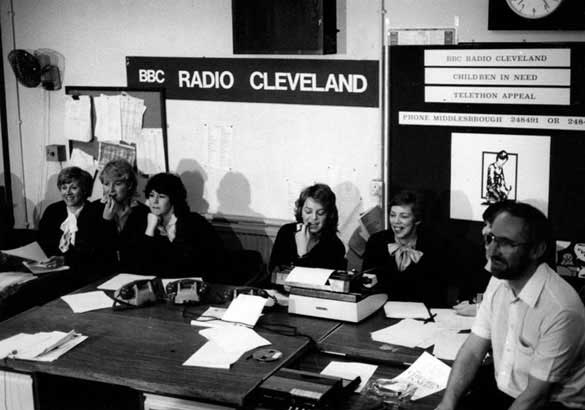 Behind the scenes at a BBC Children in Need night - the faces who take your calls are Mary Hughes, Lisa Gorman, Jenny Lindsay, Elaine (surname needed please) Doreen Hogbin, Eileen Ross (partly hidden) and Keith Proud.
Ann Davies was kind enough to send us this old BBC Radio Cleveland magazine from December, 1978. The caption speaks for itself.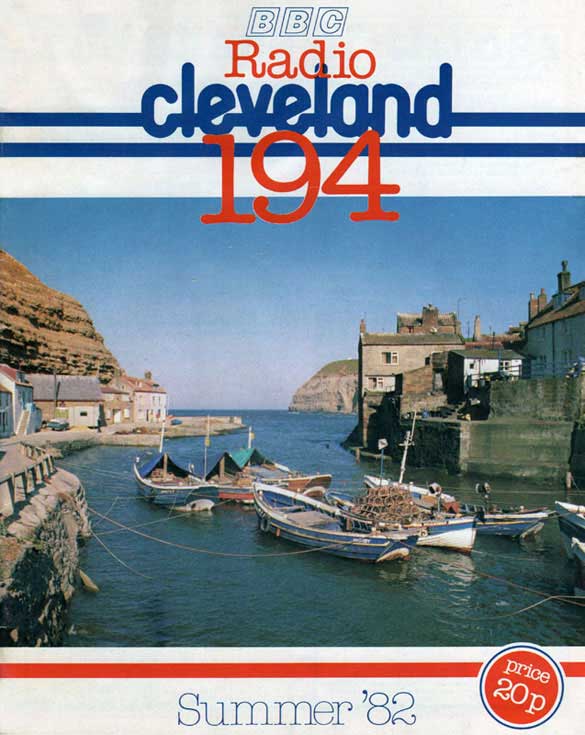 Another BBC Radio Cleveland magazine - this time from 1982 when the station manager was Bryan Harris. In an article inside Bryan talks about "The shape of things to come" as we prepare to leave Linthorpe Road and move to a new purpose built building known as the Newport Triangle. Cover photograph courtesy of Cleveland County Council.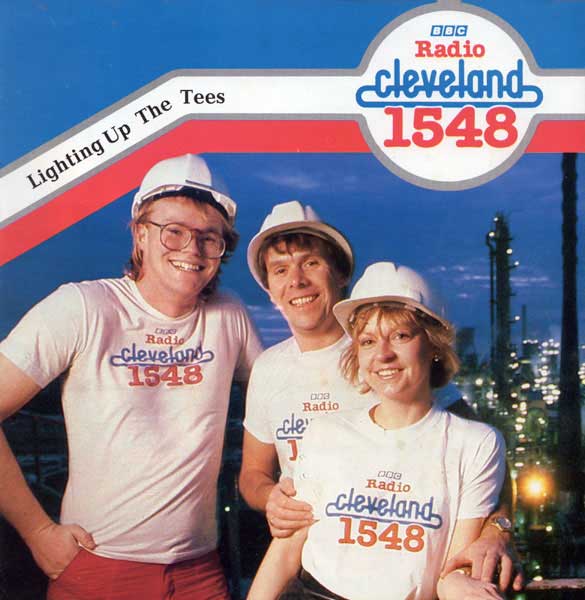 A publicity leaflet when BBC Radio Cleveland switched wavelengths from 194 to 1548 on the medium wave band. Phil White is with Colin Bunyan and Caroline Salt.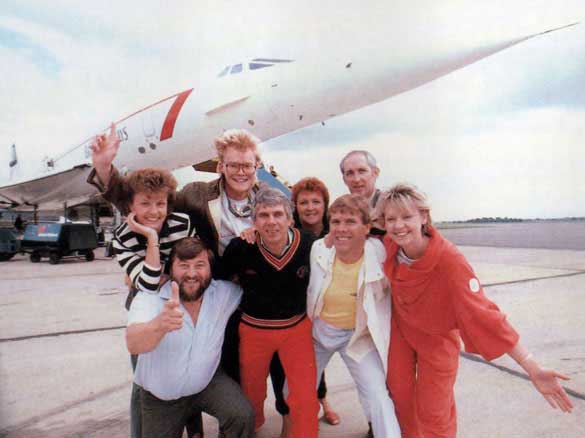 This photograph was taken at Teesside International Airport underneath Concorde in 1986. We had to get special permission to get so close to the aircraft and walk out onto the runway. The picture shows Karen Partridge, Stewart McFarlane, Phil White, Stan Laundon, Ann Davies, Colin Bunyan, Keith Proud and Caroline Salt.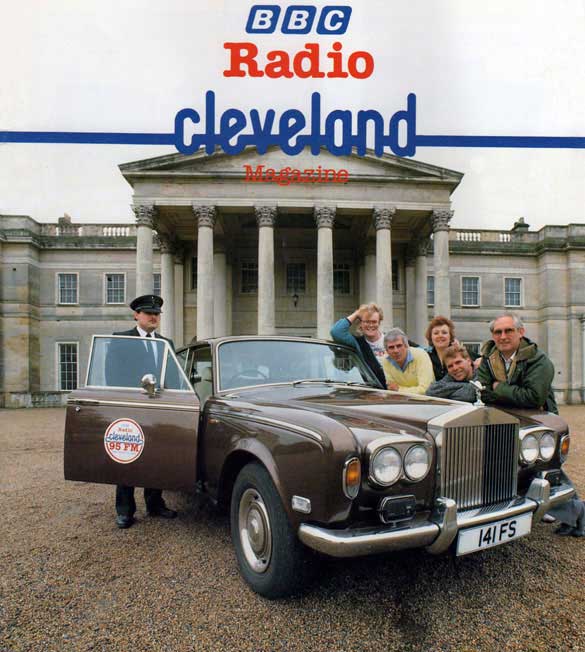 From the Graeme Aldous collection - the front cover of a BBC Radio Cleveland Magazine, from the summer of 1987, with presenters Phil White, Stan Laundon, Ann Davies, Colin Bunyan and Keith Proud. The photograph was taken at Wynyard Hall just outside of Billingham. The Rolls Royce Silver Shadow was supplied by J.Howe of the Dog and Gun, Potto.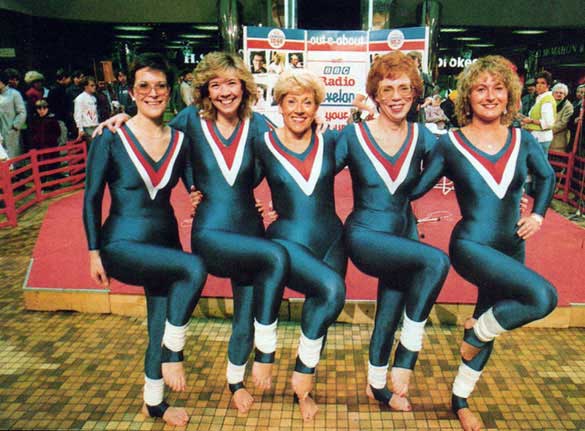 BBC Radio Cleveland girls Pam Wykeman, Elaine Finch, Mary Hughes, Doreen Hogbin and Lisa Gorman stage a disco dancing display in the Cleveland Centre in Middlesbrough for the BBC Children in Need appeal. This came from a BBC Radio Cleveland magazine which was published in 1987.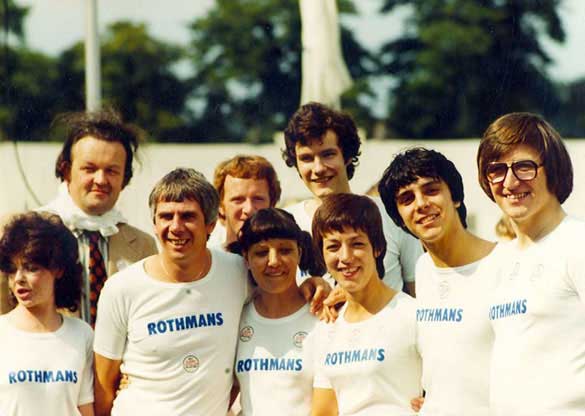 This photograph, by Ernie Brown, dates to August 1979 and was taken at a BBC Radio Cleveland Sports Day, which was sponsored by a well-known cigarette manufacturer. It shows Barbara Jones, Keith Morton, Stan Laundon, Frank Birks, Barbara Everitt, Mark Waddington, Marion Birks, Nick Clarke and Chris Hodder.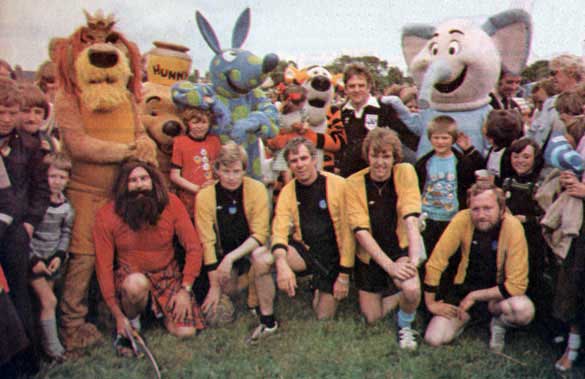 This is another from the archives and I have no idea of the year in question. It could well have been taken at a Redcar Steel Gala or Teesside Show. It was titled 'Football Crazy' and shows, in football strips, Dave Picken, Stan Laundon, Mark Page and Jim Wilson. The referee is Pat Partridge.
George Lambelle with Middlesbrough Big Band. The leader, Derek Bridge, is in the centre right behind George and third from the left is a trumpet player called John. We don't recall his second name, but he went on to play with the Three Degrees Band.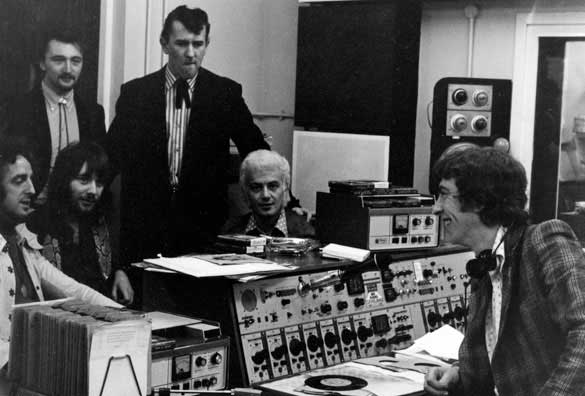 We have no idea what this year was but Keith Harrison, on the extreme right, is seen here interviewing pop singer Heinz and his band of musicians.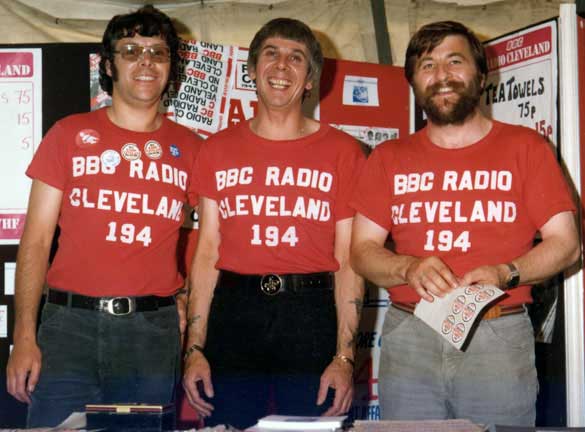 Colin Bunyan, Stan Laundon and Stewart McFarlane handing out publicity stickers at Hartlepool Show, August 1980. Photograph by Ernie Brown.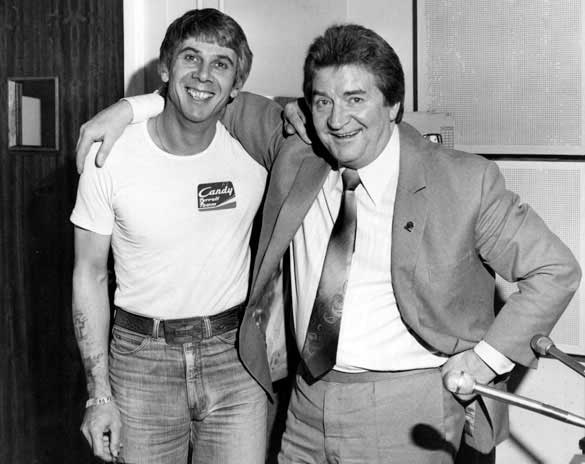 Actor Peter Adamson, who played the part of Len Fairclough in "Coronation Street," on a visit to the BBC studios. This must be about 1980 because of the Candy Team Tyrrell F1 shirt I am wearing.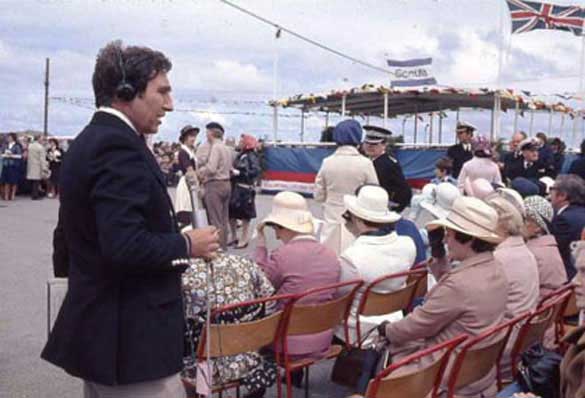 Mike Hollingworth presenting an outside broadcast for the Royal National Lifeboat Institution, in Hartlepool Marina. Some years later - in the 1990's - listeners to the radio station raised enough money, through donations, to buy an inshore lifeboat for the Hartlepool station - called, coincidentally, BBC Radio Cleveland. You can see a photograph of the vessel in action in the lower left hand column.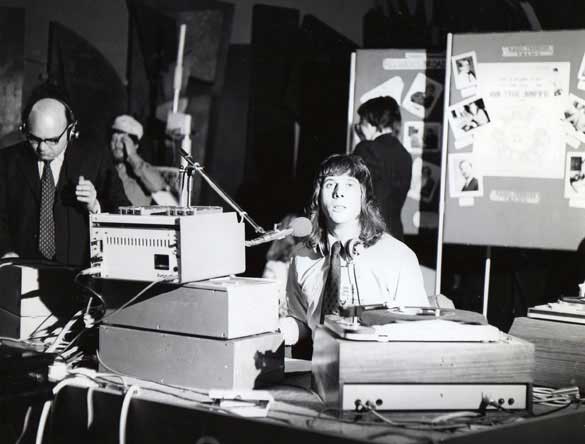 At an outside broadcast in the Cleveland Centre in Middlesbrough. Station Engineer, Ken Boar, is on the extreme left with Graeme Aldous, in the background, giving a salute of appreciation to my music - I hope! The person directly behind me could well be news producer, Chris Hodder or even Ken Daly?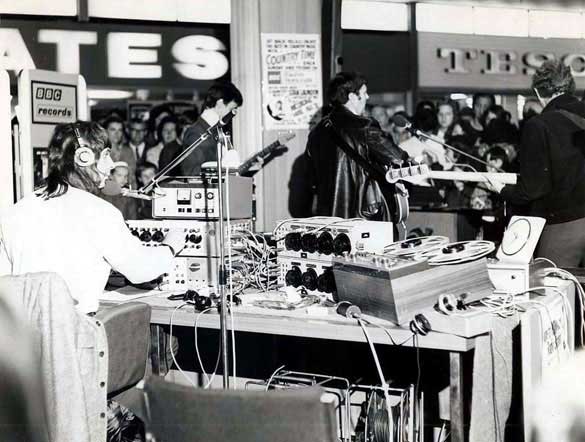 An outside broadcast in the Cleveland Centre with Cliff Ledger and the Country Boys. Mervyn Dempsey on lead guitar, Cliff on rhythm and vocals with Shay Brogan on bass and vocals.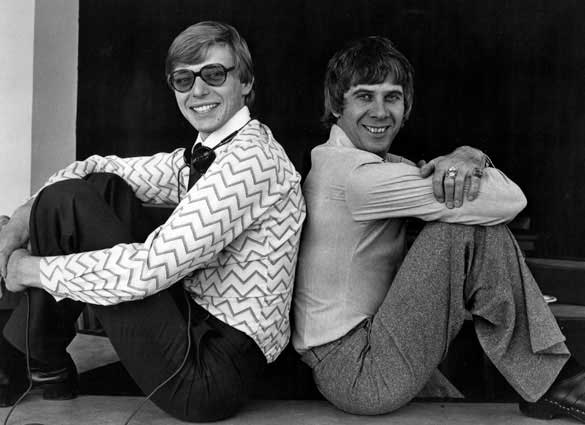 BBC Radio Cleveland broadcasters Tony Baynes and Stan Laundon at a function organised by Sedgefield District Council.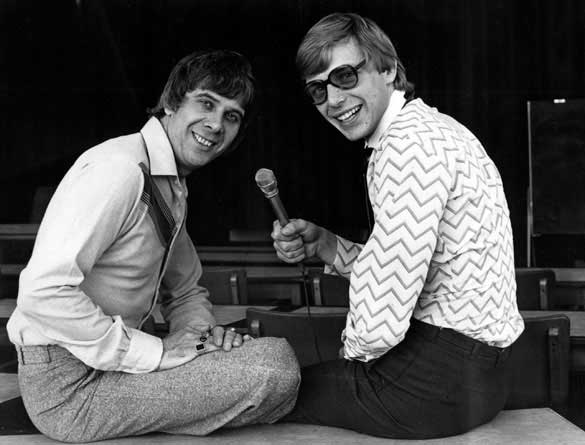 Stan Laundon and Tony Baynes at Sedgefield District Council.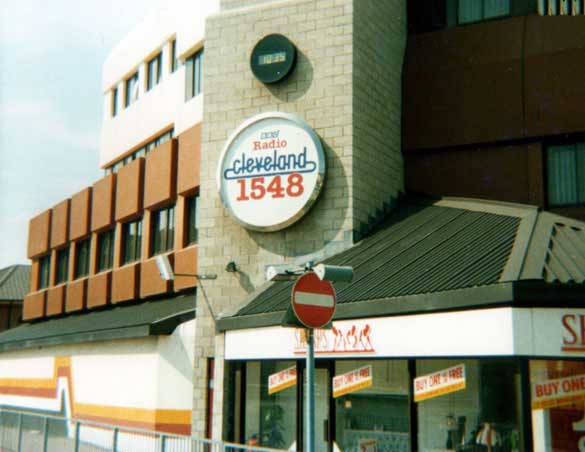 This was taken in September, 1986 - and shows the BBC building on the Newport Triangle. If my memory serves me well, that clock never worked properly when it had the sun on it!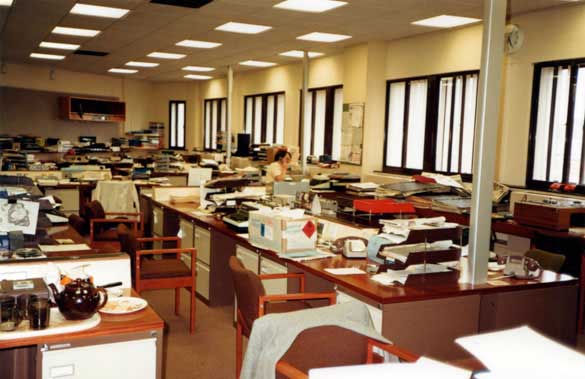 Inside the new building on the Newport Triangle. It really didn't take too long before the place was cluttered. That's Mike Wadding on the telephone - making out he's working for the benefit of the photographer!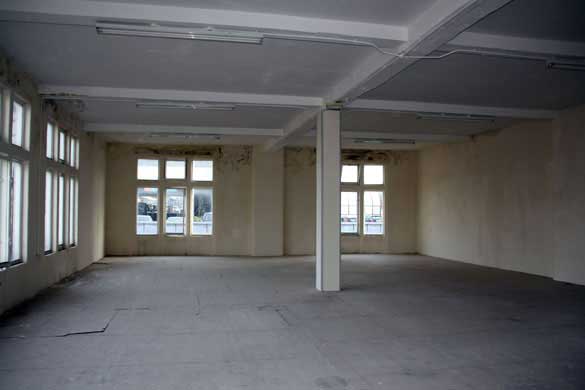 If this room could talk what a tale it would tell......
Forty years on and the old building is still there. For those who might remember, this is where the original studios used to be in Linthorpe Road, Middlesbrough. The Cleveland Centre roof top car park can just be seen through the windows. Photograph Stan Laundon © December, 2010.
Colin Bunyan, Stan Laundon and George Lambelle return to the room on Linthorpe Road where it all started forty years ago. Photograph © John Foster.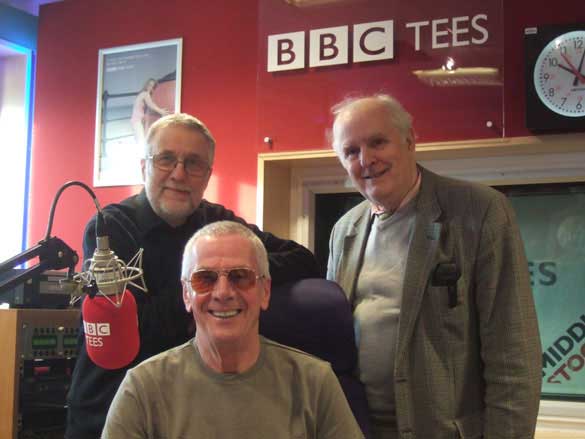 Graeme Aldous, Stan Laundon and George Lambelle were invited to BBC Tees on the last day of January 2011 to co-present the final thirty minutes of the Breakfast Show with John Foster. All three were also asked to present one-off programmes they produced, and presented, in the past - "Polished Brass" with Graeme, "All That Jazz" with George and "Country Time" with Stan. In my case it was a pleasant experience - but I am still searching for the turntables!
This page, about the early days and the launch of BBC Radio Teesside, is purely personal and is not supported, or endorsed in anyway, by the BBC or BBC Tees.
Thanks to Graeme Aldous, Ernie Brown, Colin Bunyan, Peter Cook, Ann Davies, John Foster, George Lambelle, Mary McCourt and David Peel for additional photographs on this page.
This page is dedicated to the memory of Hal Bethell, Robin Cradock, Dave Eastwood, Doreen Hogbin, Ian Judson, Allan Shaw, Brian Smart, Eric Sumner and John Watson.
This website is not responsible for the content of external internet sites

Copyright © Stan Laundon.com